Recently Discussed Complaints
2.
(42 mins ago)
Debbie Travis
Debbie Travis does not stand behind her products
5.
(21 mins ago)
Kohl's
Rude employees and unwritten policy!
Consumer Tips & Tricks
Latest News & Stories
Latest Questions
CASH NET USA, Colorado Complaints & Reviews - scam

CASH NET USA Contacts & Informations

CASH NET USA

scam

Complaint Rating:

Contact information:
cash net usa


Colorado




United States




I recieved a call from my husband yesterday stating that someone from Cash net had called my sisiter and told her I was going to jail tomorrow for fraud. She had caller ID and gave the number to my husband whom called me and told me to call it back. Thankfully, I was smart enough to realize my rights as a U.S. citizen and that this Foreigner was a scam artist. He told me the same story about how I was going to jail for not paying them and recited my last 4 digits to my social. I told him he needed tofigure a new technique because in =theited States the police don't just pick you up because you did not pay a debt and that he should look at his paperwork more carefully because I never used that company. My husband tried to call the number back but it just rings. The worst part about this is that my husband actually believed him, thank goodness he did not call him trying to get the money I never owed. By the way, they have all of your information including: phone, references info. address, etc.

Comments
United States
Collections Agencies





Comments

Sort by: Date | Rating

As an employee of CashNetUSA, I can tell you that what you're experiencing does not sound like it's coming from our team. Our in-house collectors follow strict policies and procedures, industry best practices, and comply with the law, one of the reasons why our customer satisfaction ratings are so high.

Without knowing the details of your situation, it sounds like you're experiencing a debt collection scam, using our name to lend it legitimacy. Here is a link to our security alert regarding debt collection scams. http://www.cashnetusa.com/consumer-notices. See below on how to assess whether your call(s) are from fake collectors and also below is a list of what to do about these calls. The first two items in that list gives you two of our specialized numbers to call depending on your specific situation (depending on whether you have or have not taken out a loan from CashNetUSA or our affiliated companies).

Recognizing Fake Collectors
Our in-house collectors follow strict policies and procedures, industry best practices, and comply with the law. These fraudulent collectors do not. You should be suspicious that a collection caller is fraudulent if:

· You have never received a cash advance from/through CashNetUSA, Payday Advance, Cashland, Cash America or SuperPawn.
· You received a loan with one of our businesses, but paid it back in full.
· The caller threatens violence, intimidation or uses foul language.
· The caller threatens arrest or other criminal action, or references your driver's license or check fraud.
· The caller threatens to garnish your wages.
· The caller is unable or unwilling to provide loan agreement information or payment history when you ask for it.
According to some of the people who have received fraudulent collection calls:

· The callers have a strong Indian (Asian), Middle Eastern, or other foreign accent.
· The caller reads out your bank account, Social Security Number or date of birth (this is done by the fake collector to show legitimacy).
· The caller has very poor English speaking skills.

Reporting A Fraudulent Collector Call
· If you have never received a loan from/through CashNetUSA, please call 888.801.9075 to provide us with the details of the incident that we can share with authorities.
· If you have never received a loan from/through Cash America, Payday Advance, Cashland or Super Pawn, please call 800.773.3147 Ext 3822 to provide us the details of the incident that we can share with authorities.
· Contact your State Attorney General's office and the Federal Trade Commission and file a complaint. Use the FTC link https://www.ftccomplaintassistant.gov/ and reference "fake payday collection fraud."
· Do not give out any personal information to inbound callers.
· Tell fraudulent callers that you have contacted the authorities and that you have been instructed not to pay or give out any personal information.
· If you are a current CashNetUSA customer, log in to your online personal account to confirm the status of previous loans. If you are a current Cash America, Payday Advance, Cashland or SuperPawn customer, please contact the customer service number located on your loan documentation.
For more information, please refer to the CFSA or Better Business Bureau websites or read this consumer alert from the West Virginia Attorney General's Office. The FTC has also published a list of Debt Collection Questions and Answers to help consumers found athttp://www.ftc.gov/bcp/edu/pubs/consumer/credit/cre18.shtm


I hope this information helps, and please call our numbers above with any questions.

Finally, please know that this information is not provided by a lawyer and is not intended to be legal advice.

I received a phone call from 720-292-1995 today stating that Cash Net USA was suing me for $500. I never received any money from this company. They had all my information and said that they would start to garnish money from me. They wanted to do settlement and I said I have no money. I know there was a weird company that kept taking money from my bank and I put a stop to it. I only get child support and that goes in my bank. I am scared and confused on this whole situation.



Videos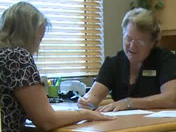 Latest Groups
Today's Mess-Up Photo