Share with Others
Recently Discussed Complaints
Consumer Tips & Tricks
Latest News & Stories
Latest Questions
Beyond The Rack, New York Complaints & Reviews - SCAM- no customer service, never refunded

Beyond The Rack Contacts & Informations

Beyond The Rack

SCAM- no customer service, never refunded

Complaint Rating:

Contact information:
Beyond The Rack


New York




United States


Phone:

18777334660


beyondtherack.com


I was excited to see a discount designer website that seemed legit but I guess "too goo to be true" is very true in this case. I ordered very expensive vitamins in September 2010. I sent 9 e-mails to the customer service email and never once got a non-automated response so they never helped me find my order. Delivery was a max of 15 days but I never saw my item until December 2010. When it arrived, all vitamins were expired. I then tried the customer service phone number and after 45 minutes on hold I got through to an actual human being. The were actually very kind and was very apologetic. They actually acted as if it happens all the time. She told me that I would receive a full refund and they would pay for the return shipping. I followed her instructions. It's now been 3 weeks and I have not gotten a phone call, email, or any refund like I was promised. i know paid for items that I returned. Unbelievable.

I saw other sites with the same situations posted all over it. I should have looked before I ordered. Shame on me. Please don't let this happen to you.

Comments
United States
Clothing, Shoes & Acc





Comments

Sort by: Date | Rating

Was this issue ever resolved? I returned a Gucci purse over 20 days ago, and still haven't received a credit. Now I'm worried.

I was a big sample sale shopper & yeah some of the deals were good as others said there customer service was the worst! Also the items would take so long for them to get them it took twice as long to get the items i ordered, what they don't tell you is they don't have the items in stock, they wait for who ever promised them so many piece's of that item to be sent to there warehouse! And they don't charge the credit card until they get the items in which takes so long some times you forget( if you shop like me) it would be to much to deal with, And last but not least, what ended it for me was i ordered a kimmora lee hello kitty ring & i wanted it very bad so i waited month`s for it & they kept giving me the run around & it finally came thrown in a big box with other things i ordered so i almost threw it out not seeing it anyway it was nothing like the one i purchased not a bit & i was told well they didn't get enough of the ones they showed for sale so in other words take it or leave it! All that said if things went smooth you couldn't beat the deal`s so now if & i mean if i order its not big & its months ahead.

I also fell for the scam of ordering from this company. I posted right on Face Book my what a scam company they were-after numerous emails to "their customer service' email. The Face Book post was immediately erased and a private mail sent to tell me to write "customer service". that was 4 days ago-I Have writen 3 mails with order number and facts about the items paid for. These items were ordered over 2 months ago. Do not throw away your money away with these people. Rip-off -scammers. I am not a complainer-but this is ridiculous!! Guess they are making their money by not delivering merchandise. Being disabled and shopping a lot on line makes me so mad-and I do not throw the disabled card around easily. I am not proud of it-in fact I hate being this way.

BEYOND THE RACK IS A SCAM. The so-called designer brands are actually cheaply made and over priced, the names of the brands of their products are actually made up brands only available from beyond the rack... at least some or most of them. I bought a comforter said to be valued at $300 for $150 and it literally is so cheaply made. The fabric is cheap, stiff and the filling of the comforter feels like they just stuffed a bunch of cotton balls in it. The sheets that came with it were also cheaply made and an overall disappointment.
It took forever to arrive, Id say well over 2months. I also bought extra sheets that were said to be 300 thread count and said to be expensive but reduced and they were also very cheaply made. When all was said and done I bought over $300 in bed linens that I could of probably purchased at the dollar store for about $50. I would not do business with them ever again.

"I recently purchased some 1200 thread count sheets from Beyond the Rack. After receiving them I stored them in the linen closet. Soon after I had guests come and put them on the bed in the guest room. While taking them out of the package they appeared to be high quality and I was satisfied with my purchase. After my guests departed I laundered the sheets according to manufacturers instructions I noticed the fitted sheet was covered in "pills" ( little bumps like the sheets were old) I then went back on to the website and tried to contact customer service. After numerous attempts to contact with a person they kept rerouting my call to additional numbers trying to sell me additional services I went back to the website. I promptly received a reply email with a direct customer service number. I call immediately and explained my problem. I was very up front and told the service representative I was aware that I was past the return date but could she offer any help with a replacement or credit. She then ask me to photo the sheets and send her pictures. After she received the pictures she replied back by email that I was past the return date a (Which I had previously stated) and I could have a $15 credit on my next purchase. I am saddened by Beyond the Racks customer service and will not trade with them in the future."

Same thing happened to me, but I didn't even get offered the $15!!! Just told me tough luck.

Wow, lots of complaints and unhappy customers.I have picked out several summer tops, dresses and tunics.They are ALL extremely cute and different.I have about 14 items in my cart.Now with reading all the comments and complaints, I'm a very weary.So sad.Do not know what I'm going to do.What if I have a return????
Thank you for all the comments.

After ordering a pair of shoes on March 16 2014 . Last pm I got a phone call from someone from some foreign country wanting to have faster shipping for a FEE. I already knew the ship date was after the first of April and was ok with that. I would cancel my order however the money has already been taken from my credit card. This will be my one and ONLY ORDER ...

I ordered 4 pictures, the price was 30% of the other sites for the same thing. It took 2 weeks to get them, but I was happy with product, maybe some things are k

I ordered a dress on March 12, 2014 and have yet to receive it. I called customer service on April 3rd and the told me they are not in the warehouse yet and they would send me an email when it was available. They already took the money they are a rip off and this is my one and only time i order.

Total Scam, I ordered watches up to $ 500, I have still not received them yet. Customer service no pick up call. I will never ever buy stuff from this site.

after reading all these posts, i am not ordering anything from them. i will stick to amazon. thank you.

I originally purchased winter boots from Beyond the Rack. I didn't like them, so returned the boots for credit. On May 8th I ordered a bed sheet set; they were more expensive than the credit I had, but it looked like a good deal. The sheets arrived, I washed them per the manufacturer instructions in cold water and put them on the bed. The next morning when I went to "make" the bed, I pulled on the fitted bottom sheet to smooth out the wrinkles and the entire corner seam of the fitted sheet ripped apart and the fabric shredded. Lest anyone think I used too much force, I am a 75 year old with many medical issues, so I don't have a whole lot of strength in my hands. The sheets are of the poorest quality! I will never, ever again purchase anything from Beyond the Rack. I've learned a rather expensive lesson!



Videos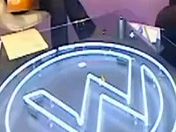 Latest Groups
Today's Mess-Up Photo