Recently Discussed Complaints
1.
(0 mins ago)
FGUA
Overbilling
Consumer Tips & Tricks
Latest News & Stories
Latest Questions
American Home Recovery, New York, New York Complaints & Reviews - Mortgage Modification

American Home Recovery Contacts & Informations

American Home Recovery

Mortgage Modification

Complaint Rating:

Contact information:
American Home Recovery


1120 6th Ave, 10036




New York

,

New York




United States


Phone:

888-425-7320


americanhomerecovery.net


To those in the seeking loan modification assistance please beware of American Home Recovery (AHR).

I have been working with AHR to modify my loan since November 2008, a process which they informed me should take no longer than two months. At the beginning (before receiving full payment) they were very friendly and attentive always available when I called and willing to answer my questions and walk me through the process. I did notice that during every call they "reminded" me to send in payment as soon as possible in order to get fully underway.

I sent full payment of 1, 300.00 within the first 3 weeks. I then noticed my calls were not being answered very often. I would almost always speak with Jessica Ruta (Account Manager, Receptionist, Accounts Payable representative, and much more). 85 to 90% of the time she would tell me that the manager working my case was "in a meeting" or "out of the office". I would ask for times he (Rodi Rubin) would be available and was never given a direct answer. Starting to question the validity of this company, I tried going to upper management.

I called for weeks, on some days I called up to 5-6 times per day and was never able to reach Mr. Rubin or any other manager. I finally was able to speak with Mr. Isaak Khartizov (President of the company) who assured me that Mr. Rubin would follow up. I did hear from Mr. Rubin once more applying his reassuring salesperson talk that held the calls at bay for a bit. He would always say "call back in 2 weeks". I contacted my mortgage company to see if they have received notice from AHR (my representatives). They informed me that they had no idea who AHR was and had not received any contact from AHR. I contacted AHR and spoke with Mr. Khartizov 2 weeks later who stated that they were indeed working on it and it would be resolved soon.

It has been 5 months since I began working with AHR and have received no assistance, resolution, and much less a modified loan which they so enthusiastically assured would be provided. I STRONGLY ENCOURAGE YOU TO AVOID ANY BUSINESS WITH AHR. In my experience they have been a disreputable, unscrupulous company that is trying to make a buck off of the Obama plan and preying on hard working Americans that find themselves in a vulnerable situation.

If this explains your experience please add your post to protect others and help them avoid these predators.

Comments
United States
Mortgage Companies

More American Home Recovery complaints






Comments

Sort by: Date | Rating

My husband and I have had the same exact experience with this company! We have been ripped out of $2000. We are currently seeking assistance from the Special Prosecutions Division of Manhattan DA and the Attorney General's office.

Anyone! Please report this company! They are CRIMINALS!

I am not surprised to hear that other people are having this experience, however it is very discourging!!

I have had the exact same experience. I started my modification in November as well. I heard from Rodi Rubin quite ofter until I made my final payment. He promised that the modification would be completed by December. I called him consistently and he was always with someone else, in a meeting or I got the voice mail. When I did speak to him around the end of Januray, he said that the underwriter had been out and that he was going to take it to the president of the company to ensure the matter was followed through. Well it was not.

The next person I spoke to was Jessica. The first couple of times I got her right away. Now I cannot get anyone on the phone.

I am so frustrated!! Here I thought I was being proactive and trying to save the one thing I worked so hard for and now what?? I am more vulnerable now than when I first started. I feel so violated.

Not only that I am out of the money I paid them it seems which I couldn't really afford in the first place.

There has to be a way to get some sort of resolution from this horrible situation.

Perhaps we should all come togther and take action.

E. Lee 908-285-5244

I would like everyone to know this important, the president of AHR (Isaak) and most of its employees were previously or may still be employed by First Franklin Financial which is located in New York, they have several complaints on line just google complaints against First Franklin Financial for the information

Funny I was told several times that we are not brokers, we work for an attorney this is a LIE!!!

REPORT them to your bank, FTC, BBB, and state Attorney General. Your financial institution can investigate it, I know my bank is getting alot of complaints about these types of businesses.

We should all go to their door step and do a good old fashion lynching. 3000 and the mortgage company is forclosing.

perhaps you should of bought the modification kits that really work with your lenders, it may of cost acouple of hundred dollars but it would of saved you time and frustration. i am really sorry that you have experienced that, My sister was referred to a mod company and got nothing done, then i bought her her own modification customized kit and it worked! the banked accepted the proposal. It is clear that obamas plan doesnt work, thats why he is off the subject so quick. I feel bad for my sister who ended up almost losing her house if it wasnt for the software we purchased through a friend. I felt violated. your not alone.

I just want to add my own complaint about American Home Recovery.
I was also suckered inin October.
They stole $1800 from me, and it seems impossible to get it back now.
What's even worse is that they had advised me not to make my mortgage payments while i was working with them, and now i'm three months behind on my payment.
They managed to get me into a worse situation then i already was, and the notices of intent to foreclosure don't stop coming in the mail.
It's really sad that these "businesses" are allowed to steal money and get away with it.
Someone mentioned lynching here.
If we all got together and protested at their doors, maybe we could get their attention, and our money back.

I also started working with them back in september I paid them a total of $5400.00 and the only thing they did was to mess up with my morgage company and loosing my personal information. Also they sent my personal papers with my personal information to somebody else. I got to know this because that person called me and told me that he had my papers that this company sent them in error.

This is Eric James of Hagerstown MD and i to have been takin by these scam artist in nov.2008 with the Issac and Laz Zercha character and they told me one to two months i would have my mortgage modified and they were nice and informative at first and then they stopped calling and didnt answer any of their calls after about 4 months into the process.I want them arrested and my money back they caused me to be late on my mortgage. My mortgage company called me and said they knew of no AHR authorized to do my loan.



Videos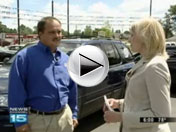 Latest Groups
Today's Mess-Up Photo