Recently Discussed Complaints
4.
(12 mins ago)
gld myscore
UNAUTHORIZED CHARGES/FALSE ADVERTISING
5.
(14 mins ago)
Orbitz
Flight confirmation errors
Consumer Tips & Tricks
Latest News & Stories
Latest Questions
ACS Complaints & Reviews - scam

ACS Contacts & Informations

ACS

scam

Complaint Rating:

Contact information:
ACS


United States


Phone:

646-224-9884, 646-810-8635




Called me 10 times in the last 2 days. They say they are from

ACS Consolidation Service, they are not. ACS is for student

loans. They probably told me this because they ran my SS# and

information and thought I would believe that they were

legitimate. When you ask them a question they just keep reading

a script. They do not speak english very well. I asked for a

phone number, their address, and their names. They gave me some

very generic english names like Danny Johnson and Phillip Brown

even though they speak with very heavy eastern accents. They

would not give me a specific address, they just said they were

from NY. A supervisor got on the phone and said when I lived at

my old address I had taken out a loan on the internet. He began

repeating my full SS# and references that I had put down. I

never had taken out a loan on the internet but I had applied for

one. Apparently my information is not secure and now some scam

artist has my personal info. Learn from my mistake- don't ever

put yourself in this position, never give out your personal

information on the internet even if you are in dire straights as

I was. These people won't stop and now I have to worry about

identity theft as well.

Comments
United States
Online Scams





Comments

Sort by: Date | Rating

I just had the same company call me. THEY ARE A SCAM. Do not send them money.

Absolutely a scam. I was given the following information: Kevin Foster, Esq., ACS phone: 213-799-2296, Affidavit Consulation Service (ACS)
1432 Hoffman Lane, Campbell, CA 95008, 206-203-4079 - fax, Law School information, Bar #325-321, Judson Law School, Campus at Tampa City, FL (?), Client: Cash Advance - www.quickcash.net.com.
The above-mentioned website offers no information and every hyperlink sends you in a circle with no access to contact persons or even the ability to apply for an loan. I hung up. don't expect that to be the end of this harassment but will continue to collect more data than they give with each call.

ACS goes by various names including NCS, CCS, Loan Point, Bernstein and Associates, Brown and Associates, etc. They are 100% scam artists. Do not give them any information or any money at all, no matter what they tell you. They may go by another name other than those listed. Basically if they mention: bad check, defrauding a financial institution, payday loan, threaten to come to your home/employer, advise you that you will be served a summons or tell you that you will be arrested - these are all of their tactics.
File a complaint with the FBI, FTC and Attorney General (for what state you live in). These scumbags will call from different numbers that are not traceable (877 numbers usually). Somehow they are able to tap into valid numbers in your local area and use those lines to place the call. They will use generic names such as Johnson, Thompson, Smith, Parker, etc. Ask them for their information (address, website, fax number etc.). They will refuse to send you any information proving your debt (other than a fake email). Please don't give them any info and file the reports mentioned above. They need to be stopped!



Videos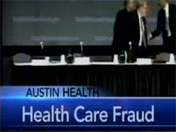 Latest Groups
Today's Mess-Up Photo