Share with Others
Recently Discussed Complaints
Consumer Tips & Tricks
Latest News & Stories
Latest Questions
Woodmen of the World Insurance Complaints & Reviews - pay more for policy then benefit

Woodmen of the World Insurance Contacts & Informations

Woodmen of the World Insurance

pay more for policy then benefit

Complaint Rating:

Contact information:
Woodmen of the World


United States




This is the short version. I have a flexible life insurance policy with Woodmen of the World. I have many and complex issues I am dealing with, but right now I will just list one. I was sold this policy never having been told how rates go up and could get astronomical to the point where I am paying out more then the death benefit. Has anyone had this experience? I have more complaints on their deceptive practices which I will eventually list.

Comments
United States
Health & Life Insurance





Comments

Sort by: Date | Rating

Actually, I have had woodmen policies since I was 9 years old and have been very pleased with the service and rates. I would suggest talking to the area manager if you have a problem. You can contact your area manager directly by putting in your zip-code at the website.

Justin In South Carolina

Depending on when the certificate was written, there are a lot of factors that could be effecting it. Rates do not go up. Interest rates, however do fluctuate. If a certificate was sold at minimum when the interest rates were double digits in the 80's or 90's - when the government told us that interest rates would NEVER go down - there's a good chance that a certificate may be in trouble. This happens. If someone takes money from a certificate, this can also be a factor. Justin is right, the best thing to do would be contact an Area Manager for help in sorting it out. The rate never goes up - but it may take more money to properly fund it - other solutions may be available too - See that Area Manager.

Tim in NY

Your "Rates" didn't go up. If you get a flexible life while interest rates are up and then over time national rates go down, your gain on interest may not be enough to cover the cost of insurance with the small ( minimum) premium you started out paying. You have to put more premium in to keep the balance. It is called FLEXIBLE Life. If you wanted level premiums you should have got a whole life. I'm not an expert but I have bought life insurance and I take it as my responsibility to know where my money is going and how it gets there.
No deceptive practices, sounds like you just misunderstood.

Steve in NC

Woodmen is very reputable. I've had my policy for years and have dealt with them since 1975. My ex and my son also sold for them for awhile.

Check with your State Manager. If you can't get anywhere, call the main office in Omaha. They are very accomodating. It is very possible you had an unscrupulous agent. It happens with all companies.

Good luck.

I was sold a ROTH IRA tied to a FIXED Annuity. I asked what the rate of return was. He said 2.75% is the guarantee but right now it is getting 3.9%. So I signed up. I got the certificate with the fine print. First month it gets 2.6% after that 1% guarantee. Woodmen of the World lied to me.

Woodmen are the biggest liars out there, I have Danny Cummins and others on tape proving it. If you have a Universal Life Policy, you are screwed due to their "fluctuating" interest rates. The company may be non-profit, but yet look at what they do to turn a profit and how much they pay their reps? Their top 40 Reps earned over $80, 000 each of you money last year! They are the biggest liars out there in the fraternal insurance world. Did you know that if you become a rep with them, if you don't last a year you have to pay back all commision? Did you know that there rep's are cutthroat and will almost kill another rep to prevent them from making a sale for a lodge member? I have proof of all of this in voice recordings and video from my useless year and a half with this company...yes they do pay 6% on enhancers, but God forbid you withdraw any of that money before 5 years is up or you will be screwed. My best advice is find another company, they are nothing but leeches, and their lodge are set up to do nothing but leech on the people you know to draw them into the same trap!

I think it would be fairer to say your agent, not Woodmen of the World was deceitful. This is common in every company. I believe that's what separates the genuine from the disingenuous agent. They sell what benefits them and not you.

Wow, John Smith9, how do I get a copy of that tape?

I have also contacted Woodmen concerning the "churning" of policies and placing new members in other lodges not close to their home. I have personally spoken with Danny Cummins personally and he down right lied to me at a Jurisdictional convention, My father had a $50, 000 life insurance policy and when he passed away the agent had forged his signature on a $5000 annuity. I was a former employee of Woodmen and the state manager gave us training on how to forge signatures so that they would not be recognized as forged and also classes on how to churn a policy and have the client keep the same policy for 2 years until it no longer showed on the books as churned. We have no records of the thousands of dollars that we have donated to the youth camp and there is now no youth camp. The problem is that the company requires mediation before a law suit can be filed and most attorneys don't want to invest this time and money.

My husband purchased a life policy from Woodmen about 25 years ago. It was sold as a life/annuity combo, and he was encouraged to deposit as much money as possible, which he did: about 4 times the premium amount every month. At his death in 2008 Woodmen denied payment or reimbursement beyond the face value of the policy, even though at least twice the face value had been paid to them, in the guise of an annuity vehicle. I had my attorney, and my finanacial advisor review the policy. Neither of them could decypher it. The state insurance commission ultimately dicided in Woodman's favor. I complained up the chain to Woodman's main offices. I found one commpassionate representative who verbally confirmed to me, over the phone, that Woodmen actively encourages policy holders to pay more than the premium amount, and it is a rip off. The representaive followed with "Sorry, I will not repeat that statement again." I do not understand how they get away with this, writing policies that neither my lawyer nor financial advisor understand, yet fly by the state insurance commision. It is the worst kind of theivery, done to people at the most vulnerable times in their lives. May God have mercy.

I am curious as to whether anyone who took out a Universal Flex Policy on thier children in the 80s, has had any problems. For 20 years I have been led to believe, and told, that the policies were mine, when in fact, they became the children's policies when they turned 21. Reps came to my house and told me I could cash them in. However, since the policies are not mine, I cannot cash the policy in or anything. This is misleading and I think WOW is trying to lose the policies so they will never be cashed in. Please comment if other reps have told you the policy is yours and you had no idea it became your child's when they turned 21.

hello my name is freida sharp i seen my hard working granfather give this company 10s of thousands of dollars a mounth to this company for 40 years when it came time to cash in policy they told me i would only get 152 dollars to this day ive never seen a dime of the 152 dollars where did my grandfather money go wow please i would like to know hmmmmmmm i think it was pocketed

hello my mother had a policy that came directly out of her account please don't do that cause it will keep going up but the face value keeps going down and doesn't pay anything when she is 96 so just put the money you want to pay directly in your own bank account

My best friends mother bought a policy from Woodmen & I have no idea what it's called so maybe someone on her can help me out & tell me if they think she has been scammed. She put up/invested $200k about a yr or yr & a half ago & made her daughter the beneficiary. The rep told her if she died right now her daughter would get $271k. That's a huge return for only 1.5 years. But the rep went on to explain that if she lived 10 more years her daughter would get $280k. That sounds unbelievable to me. How can a beneficiary get $71k more than was invested in as little as 1.5 years but that amount ONLY increases by $9k after an additional NINE more years? What kind of crazy policy is this & is it legit?



Videos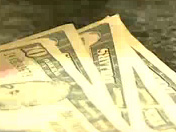 Latest Groups
Today's Mess-Up Photo