Sha Sha Shoes Complaints & Reviews - Don't buy from them

Sha Sha Shoes Contacts & Informations

Sha Sha Shoes

Don't buy from them

Complaint Rating:

Contact information:
Sha Sha Shoes


United States




Please, Please, Please do not buy from Sha Sha Shoes .They do not have a phone number and only use the internet. If your order does not arrive you will Never get your merchandise. I have sent several emails, they have no phone number to call, contacted better business bureau to no avail . I paid for them in March, and never received the shoes. I have tried everything.

This is just a warning to the average joe .So please do not waste your money .I have not received any kind of response to my complaints. This is terrible . Thank you

Comments
United States
Clothing, Shoes & Acc

More Sha Sha Shoes complaints






Comments

Sort by: Date | Rating

I have had the very same issues with this company! I think it's important to get the word out about Sha- Sha Fine shoes. I ordered a pair of shoes for my husband 11/19/2010, after two weeks the shoes were not delivered. I did not receive a shipment confirmation either. I left messages on their phone and sent several e-mails..to no avail. As the Kim49 pointed out, the phone number is not manned and apparently bogus. Because I paid through Paypal, I disputed the purchase. Within one day, I received an e-mail from Bill Ruff, my shoes were shipped and could I remove the dispute from Paypal. Apparently, it affects their long term ability to use the service and get paid!! I finally recieved the shoes on Dec6 2010. They are great shoes...don't get me wrong but hte customer service STINKS!

I agree with your complaint I was about to order two pairs of thier shoes, I have ordered from them about 5 years ago, i bought the flame boots, tribal low top, and the baron low top. The website promised november shipment of the shoes way back in May of 2010, i didnt send them any money because of the length of the ship date, so i have tried to contact them, customer service only tells you to leave a message, but they never call, or e-mail you. Im so glad i didnt pay for them when they wanted me too. WHEW!! Other sites only have very small sizes, i mean really how many guys where a size 5.5 or 6.5 The sizes they have are either too small or too big. Too bad the gov't will not stick its nose in issues that deal with ripping off the consumer, and if they do, it takes about 3 years, by that time they have left the country.

My husband ordered 3 pairs from them the day after christmas and just now, a month later recieved them. He was always getting the run around with them and they even screwed up his order. They charged us $30 for shipping and right on the box it says that it only costs $20. Im very upset and if we do buy the sha sha brand again, it will be from another company.

Yeah I live in Australia and bought 2 pairs of shoes a few years ago, and never received them. Emails sent regarding it got nowhere. I have purchased Sha Sha Shoes previous to this but through a different company, and can't remember who that was, which is really annoying coz they are cool shoes but I'm $180 AUS out of pocket and not happy I never got my shoes.

The same thing happened to me. I have bought shoes from them in the past and everything was great. They must be going out of business and instead of just closing up they are making too good to be true offers like "3 pairs of shoes for $100 & they charge you tax & shipping and you are out of about $130. They string you along for a bit until the paypal complaint dept. can't do anything, I think it's after 90 days or something like that. They were great shoes/ sneakers but now Billy Ruff and Sha Sha are nothing but CRIMINALS.
They are THIEVES!

I agree with all of you I just wanna buy a pair of the pink flame sk8 shoes. Any ideas on where I could go??

Billy Ruff and Jill Ruff are crooks!!! They stole the company from the original owners who were the brains behind Sha Sha.
They deserve what has happened to them. KARMA!!!



Videos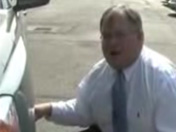 Latest Groups
Today's Mess-Up Photo