Scenic Concepts, Inc., La Crosse, Wisconsin Complaints & Reviews - SCAM!

Scenic Concepts, Inc. Contacts & Informations

Scenic Concepts, Inc.

SCAM!

Complaint Rating:

Contact information:
Scenic Concepts, Inc.


po box 1283




La Crosse

,

Wisconsin




United States


Phone:

608-784-1708




The salesman Don Raaum told us we had 3 months to pay for the picture. Which would have made the payment due mid Sept. Stopped by on 6-26-09 demanding money said he would not leave untill he got paid. Yelled profanities out the window of his vehicle. Said that our place was "Loserville". We told him we were going to call the cops if he didn't leave he said go ahead and he would wait. We went and got the phone and then he took off. DO NOT DEAL WITH THIS COMPANY OR SALESMAN ABOVE!!!

Nathan Salverson
44381 422nd Ave SE
Lengby, MN 56651

Comments
United States
Photo Services

More Scenic Concepts, Inc. complaints






Comments

Sort by: Date | Rating

One of their reps stopped by our place the other day. This person drove up the driveway going at least 20mph, almost running over my dogs! I warned him to not drive like that, but he seemed to not be concerned about it at all. He started off rather high priced on the picture, but kept after me about buying it...lowering his price several times AFTER I told him I was not interested in it. Even after I told him I was after a topographical photo of the entire property he kept trying to get me to buy his photo. After roughly 10 minutes of standing out in the cold, he finally retreated to his vehicle, but did offer me the photo at one final low price. He then jerked his vehicle around in my yard, then pulled out and away, spinning his tires as he left. During our talk, he informed me he had been to my house "5-6 times, but nobody is ever home". This worried me a little bit, knowing that he had been there that many times, making me wonder if he was being a tad over zealous. Thankfully he has not been back since, and maybe the fact that I have someone watching the place daily for me, and that the dogs are rather protective will persuade him to stay away.



Videos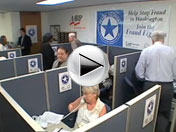 Latest Groups
Today's Mess-Up Photo