RainSoft, Jacksonville, Florida Complaints & Reviews - misrepresentation

RainSoft Contacts & Informations

RainSoft

misrepresentation

Complaint Rating:

Contact information:
Rainsoft A & B Marketing


Bowden Rd




Jacksonville

,

Florida




United States


Phone:

904-268-0033


rainsoftnefl.com


Approached while shopping in Home Depot by a representative of Rainsoft/ possibly one of the employees of the local dealership. I was told I could have them come to my home and do a water test to check for any problems with my water system. I agreed to the in home test, because I had recently moved to Jacksonville, and also since I had just bought a new home. When the representatives came to my home in May, 2011 they proceeded to show me how my water had impurities and the air quality of my system could be improved by their products (the water and air purification systems). I was told I needed to act on it immediately but of course was told I had a 72 hour cancellation opportunity. Because I believed what they told me would happen once I began to use the system, I saw no reason to cancel the product. I gave the benefit of the doubt, allowing time for the system to do what I was told it would do. Well after 60 days, I have not had a decrease in my water or electric bill, my air filter is fully loaded with filth ( I was told it would be 6 months between air filter changes). Again, I gave the system time to work. Now when I contact the company to have it removed, I am a victim of pass the buck around. I am being told I have "buyer's remorse", I have a legally binding contract, do what I have to do, and oh yes, "we can come and do a service call free to get the system working". I find it hard to believe that I should be having problems only 60 days after install. I am working through proper channels to get this system removed, I have contacted the corporate office of Home Depot also, to let them know the scam that is being done in their stores.

Comments
United States
Other





Comments

Sort by: Date | Rating

Sales person had scam drawing that didn't identify their company, at Home Depot. High pressure sales person gave lengthy demo and was abusive then provided me with a fake home depot gift card offer. Beware of these people! They don't give you name of company or products until right in your home, they tell you have to commit right now or forfeit their "special discount offer". They do not give you a business card or any brochures on products. They just take advantage of people with this slick slam-dunk sales tactics. What horrible scammers! Who cares that their product is overpriced and ineffective (check the net) Just a bad business, run by bad people and con-artists.

I recently got this offer as well--though it went a little differently than described by the original post.

The telemarketer who called initially called to confirm info from a card I filled out for a Home Depot drawing so that "I could be entered into it". After confirming she then said I was eligible for a daily drawing and would receive a $20 Home Depot gift card if I accepted a free in-home water test. After agreeing, I was informed her manager may call to verify the appointment.

She gave the impression that she was a Home Depot employee at all times. She never mentioned Rain Soft, or that the water test was part of a sales pitch (which I assumed it would be).

The next day, the manager left me a voicemail, and he did clearly state he was from Rain Soft. The salesman showed up and gave a demo that lasted just shy of an hour. He was generally courteous, but curt to the point of seeming unfriendly. He wasn't knowledgable enough to answer our questions (my wife and I are both scientists, so describing precipitates as "impurities" or "contaminants" just doesn't fly).

After the demo, I informed the salesman that the purchase wouldn't fit in our current budget, and he promptly gave us his business card and packed up to leave without protest other than mumbling that they have ways to make it fit into any budget.

He left a sloppily printed and hand cut form that we could mail in to his office to redeem our Home Depot gift card . Anyone's guess whether I'll receive it or not--but if I don't I'll unleash my wrath on Home Depot for allowing my personal info into the hands of a firm that uses such shady marketing tactics.

Look through your contracts and find the one that on the top says: Certificate of completion and if the sales guy had you sign that piece of paper when he was there it is fraudulent and you can get them for that. That is how we got the RainSoft system removed from our house. I was very dis-satisfied with the system and they said also that we were legally bound by the contract and still had to pay for the system. We found that piece of paper and told the store that installed the product about it and 2 days later they system was removed. They also said they would take care of the contract and we would no longer have any legal binding to A1 Water or RainSoft or the Finance company.

"Certificate of Completion". It clearly states that Home repair contractor is prohibited by law from requesting or accepting a certificate of completion signed by the owner prior to the actual completion of the work to preformed under the home repair contract.

I received a postcard in the mail advertising Starbucks, all I had to do was fill out the postcard, which asked questions about my coffee consumption, and return it for my gift card. A few weeks later a company calling themselves Environmental Water Marketing called. I thought it was a non-profit at first and needed volunteers. This company referred to the postcard I filled out and requested to conduct a water safety test at my house, not knowing what i was getting myself into, I agreed. A Rain Soft salesman arrived at my home- I was shocked! I never would have agreed if they represented themselves accurately. I felt violated and offended by the company. I allowed the sales man to conduct his test and then informed him that I was offended and not at all interested but then asked for the Starbucks card. He stated the company would mail it. I contacted the company, which you can only reach through a Madison, TN office while I am in Clarksville, and informed them that I did not receive my Starbucks gift card. The man on the phone stated that I left in the middle of the test to go to the store and that I never returned!!! Total LIE- this company had demonstrated a lack of integrity on multiple levels. I will NEVER consider a rain soft product EVER! They really have made me feel like a fool and I am offended by their actions.



Videos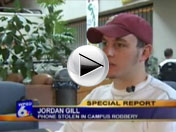 Latest Groups
Today's Mess-Up Photo