Share with Others
Recently Discussed Complaints
Consumer Tips & Tricks
Latest News & Stories
Latest Questions
Grant Seeker Pro Complaints & Reviews - Scam

Grant Seeker Pro Contacts & Informations

Grant Seeker Pro

Scam

Complaint Rating:

Grant Seeker Pro is a scam. I too did some research on various grant websites. This was one of the top rated programs recommended. The software and book I received were useless. A total waste of money. That was about 6 months ago.

Yesterday I got my credit card statement and Grant Seeker Pro had made an unauthorized billing of $29.95 on my account. I have not spoken to this company in 6 months! When I called the company today, I was cursed, and hung up on! The man used the "F" word three times in one sentence. This is the biggest scam I have ever seen. I have reported them to my credit card company and am also going to report them to the Attorney General's Office and Better Business Bureau.

Comments
United States
Unauthorized Charges

More Grant Seeker Pro complaints






Comments

Sort by: Date | Rating

Hello

My name is Jay and I am a manager at Grant Seeker Pro Inc. We try to provide excellent customer service. Please provide your original purchase details to jay@grantseekerpro.us

I will try to provide you with additional assistance. Also do you know the name indivudual you spoke with.

Jay
Grant Seeker Pro Inc.

Of course he/she probably does not recall the reps name because it was over 6 months ago and most actual reps will give you their name and i.d. info at the beginning of the conversation with you. Acknowledge it or not, it's not always easy to remember this sort of information when you're suddenly being mistreated by someone who is supposed to be a professional and provide you a service to assist you when an issue arises. You just do not expect it, you expect professionalism. Behaving the way the rep did would only further one's belief that it's a complete scam!

I had the absolute worst experience with this company. The woman who took my credit card information over the phone for the original purchase of the grant package in January put on a nice front. Litterally 5 min after hanging up the phone i noticed the numerous complains online about this company and imediately called her back, she did not answer. I then blocked my number and SURPRISE she answered. I asked her if she charged my card yet and she had advised me that she had NOT charged my card yet. I asked her to please cancel my order and to not charge my card. At that time, she completely cursed me out and said "im going to charge your card anyway"...and she did..against my will.

At that point, i closed my account and reopend an entirely new account in fear that she might continue to charge my account. i also thought to myself, ill wait for the package to arrive and then return it for a full refund. THE PACKAGE WAS NEVER DELIVERED. It is now May... FOUR MONTHS LATER... i have no package and no refund. ive called 6 times, i remember the names of every representative, i even have email coresepondence, i cancelled my account on their website etc. STILL NO REFUND..

At this point i am getting my attorney involved. This is not acceptable. Its ROBERY.

DO NOT USE THIS COMPANY UNDER ANY CIRCUMSTANCES. I am so writing to the better business buerau where my close friend is a top executive. and will surley be filing a suit in small claims court as i am an attorney. Im upset that i think ill even fight for all their records to help all other customers like myself.

Christa

I also had a very bad experience also we ordered the book and cd. at the time of my order he asked for my middle name i gave it to him and he said whenever we need help to call and they were going to ask for my middle name. the book came went thru it didnt get much info from it so we put it aside thinking we were going to use it later. 6 months later i was going through my bank statements and every month there was a charge of 39.99 from them. i immediately called them and asked why the monthly chrges and they asked me are you aware of "lorenzo" which is my middle name and i said yes, then they come up with this b.s. that by knowing "lorenzo" i had agreed to sign up for this monthly service thing which i never used, and that they had sent me an email of the receipt of the order that same day i ordered the book which i didnt receive either. i asked them to send me a copy and they emailed it right away with all these terms and conditions that they hadnt even told me about or anything. so i called my bank to report this scam they refunded me most of the money until they finished investigating. well today the bank sent me the final decision and they denied it because of grant seeker pro hadsent them. which was bullshit. they said i had agreed to all the terms before purchasing the book, and they sent my bank a paper that said i logged on to the website at least once a month after my purchase which is not true, i didnt even go on there website after the purchase, they messed up also because they put in some days that i wasnt even able to access the internet and they said i logged on. they also mentioned the "Lorenzo" password thing and supposibly they had sent me an email of the receipt every month which never happened. im getting a lawyer sometime this month and also im going to take further legal actions.

I had money taken out of my account for a service I did not sign up for. I want my money back $118.17 you can reach me at 817-454-7780 or my lawer at 940-393-9970 Her name is Romda Marshell.

I paid 79.95 for a cd and a book .on my bank stament for december they have charged me another 39.95 no where did it say i would be charged extra I want my money back

I purchased the material around Sept/Oct 2010. I worked the program and sent out letters as per instructions. Out of 6 packets, I rec'd one letter in Oct. I spoke to a representative in Nov/Dec and told me to wait about mid-Jan to see if I get any responses back. I waited and of course no responses. Feb I started working on obtaining a ra# which took almost a week. All said and done, I was able to get the materials returned back to them. Then I called in and the rep told me he had to get a manager approval because it was rec'd 7 days past 6 months. I had not heard from them. I finally was to get in touch with them today 4/21/11 and was being accused of a liar and he being Mike Davis did not even try to hear me out. After the conversation, I had tears in my eyes. I have never been accused of lying nor do I need to lie. My feelings are hurt. I did as they told me and yes unfortunate I was 7 days past due but I left messages for the RA dept in which never returned my calls and till this days has not. I provided the information they needed with the return. I am mother and was trying to open a business for myself so that I could spend time with my daughter. I thought this would work for me, but it didn't. I paid 100.00 and all I ask is for my money back. I was willing to except a restocking fee deducted. But this man Mike Davis was very harsh over the phone and made me feel as if I was not worth anything. To all, PLEASE DO NOT PURCHASE FROM THIS COMPANY

Beverly Diaz
Houston, TX

This is Dave Allen, from Lewiston, Maine. and i called this company in April 2011. They in turn answered the phone and this woman came on by the name of Donna, I asked her how this company works and she asked how much money i had in the bank to pay for the book n CD. Thinking that it was a safe an honest company, I told her $70.00 and she told me to send that to Grant Seekers Pro and I told her that I had to go and get a debit card n then I would call her back. I did all of this n called her back and gave her the information and she said that she would send the book and CD out as soon as she got the money. She also said that by the time they get the application back that I would have my grant money (50, 000.00) in hand with-in 3 weeks garunteed. So I did this on April 8th and recieved the book and CD on April 11th and filled out everything (32 pages) and on the 14th, I went to call them back and spoke to a differant woman saying that Donna was not in, so she told me to talk to Chuck, and he would tell me what I should know. So I called Chuck a 1/2 hour later n he told me that they weren't the ones issuing the grant and I had to go to a bank for the grant money. So here I am with a book and CD thats means absolutely nothing to me and im out $70.00 and still NO GRANT MONEY. I've contacted the ATTORNEY GENERALS OFFICE in Maine and reported them and they told me to call the Better Buisness Bureau and tell them. I would get a lawyer, but I dont have the money for a lawyer . Please DONT FALL FOR THIS SCAM AS ALOT OF PEOPLE HAVE. Grant Seekers Pro is a bunch of people looking into stealing your money and getting away with it. If I only knew back then, what i know now, this would NEVER HAPPEND. DAVID ALLEN, LEWISTON, MAINE

Hey Jay,

I haven't heard from you since your first post. Do you have any rebuttal for any of the good that were Scammed by your Company. I personally got scammed by a Rep. named Les Turner. Not only did you get my money by this guy said there was a submission fee for each proposal I submit. What raised a red flag for was he was his persistence. He called 2 or 3 times a week asking if I was ready to submit any proposals, in all I say you guys got about $500 from not to mention my Business Plan. Please don't believe anyone from this company they just trying to keep making money from people striving for there goals and taking advantage of their lack of knowledge in receiving capital for a start up.

Ray
Woodbridge, VA

They did the same thing to me. I returned the product and they kept money and my product.

There's only one correct aspect to the name Grant Seeker Pro and that is the word Pro. They are exactly that -- Pro's. Pro rip-off artist! I actually just signed up with them yesterday. Like I always do when dealing with on-line companies, I asked the name of their company. I then run a review on them in a new tab. I was told by Grant Seeker Pro that the name of their company was MRL Software. It wasn't until I received the conformation e-mail that I became aware of their real name. I then checked on the service I use for reviews and was sent to this site. I'm trying for a grant for the down payment on a mobile home park that I currently manage. The owner is a scam artist himself! Once people move in they pay for everything he can come up with to charge them for. So not only does this affect me, it also affects the people who live there. I am the only person in the last 10 years that is willing to buy this place and the tenants believe that I am their only hope. And I feel that now I have to let them down. That actually hurts more than the financial aspect.

So has anyone tried to use the business plan that Grant Pro says you have to use for the government? Cathy said it was the only one the government will approve. Is there any use to this program? she said there is step by step directions by her on the phone? any experiences to share? Trying to set up a business, single Mom-out of work--

Well, I looked at the site, filled in the general information, and then clicked next. I was sent to a page to add my CC information. I did not enter in any more information and simply left the site. I received an email today from someone from Grant Seeker Pro using a Hotmail addy. I also received eight phone calls in a row, from the rep today. I came out here and noticed all of the information that you had provided. And in case anybody is wondering what happened to Jay...let me pass this along. I CC'd Jay in on my response to the rep. I had received the following delivery error message: "The e-mail message could not be delivered because the user's mailfolder is full." If that doesn't deter you, nothing will. Thanks for the posts.

WoW...I really wish I would have viewed these reviews before dealing with this company! I'm in the process of cancelling and submitting my request for a refund of $109.93, it's weird how everyone is charged different prices for the same product. I've only had the product for one week and see that it is not at all what was represented to me. I have spoken with Molly Cole and she directed me to her supervisor Sharon, whom never returned my call. The other customer service reps were not offering any assistance at all. I will keep this audience posted about my experience if I do not get results. And if all goes astray, we will have to come together as a unit and take this company...DOWN!

My names Jeff/ High Sierra Plumbing in Susanville, Ca. Like all of us we were looking for Gov. Grants etc. Well here goes another one friends. A fool and his money are soon parted. No pun intended I to have fallen into the same situation as the rest of you nice people. Just as you all I pressed google after I made a purchase from Grant Seeker Pro. Before I could read a few comments on this Company and get back on the phone, they of course didn't answer the phone. Cathy Brown called me from this #213-569-8523 first. Friday this all happened, by Monday I was at my Bank Pronto, called the Bank Fraud line reported the situation and a full refund was put into my account. Hopefully this all works out for me. I was called by Cathy Brown on Monday after I informed them that I was canceling our dealings, funny how that works when your working another salesman at their own game. For all its worth and all that was said or not said to me, I'm glad that this has happened to me. Hopefully in the future when I read something on the internet I will not think the free rolling thoughts that I had as a younger man. All is good, a hand shake is a firm deal, The Lone Ranger will come to my rescue, and Sky King will fly me to my next job. Happy Trails ya all/Never Say Whoa in a Horse Race.



Videos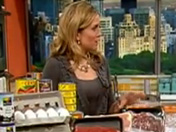 Latest Groups
Today's Mess-Up Photo