Recently Discussed Complaints
2.
(41 mins ago)
STC
stc lottery
3.
(1 hr 21 mins ago)
MaxForCheap.com
Local law enforcement should look into their scam.
4.
(1 hr 31 mins ago)
John Pedro Loans
Rep asks for more money, but doesn't provide loan
5.
(1 hr 36 mins ago)
Yupp TV
bad service
Consumer Tips & Tricks
Latest News & Stories
Latest Questions
Continental Finance Company LLC Complaints & Reviews - Billing after account was closed out!

Continental Finance Company LLC Contacts & Informations

Continental Finance Company LLC

Billing after account was closed out!

Complaint Rating:

Contact information:


United States


www.cfccard.com


To all those that have been wronged by CFC:

Following is a copy of the complaint I sent to the Better Business Bureau and will be sending to the following:

Continental Finance Company, LLC
Ms. Beverly Knotts, Principal
P.O.Box 8099
Newark, DE 19714-8099
FAX: 302-454-7952

BBB of Delaware
60 Reads Way
New Castle, DE 19720
302-230-0108
info@delaware.bbb.org
FAX: 302-230-0116

Ms.Deborah Platt Majorus, Chairperson
Federal Trade Commission
600 Pennsylvania Avenue, N.W.,
Washington, D.C. 20580

On October 1, 2007 after numerous attempts to call their CS number that is printed on the billing statement, which makes it VERY difficult to reach a "Live" CS person, I inquired about the "Late payment charges" for the October billing cycle. I was told that the Late Payment charges were due to late receipt of my payment. My payments to them are always made 2 weeks in advance to assure that payments are received on time, but in the last two months it seems that the checks are delayed or processed late in order to charge a late fee of $30.00. When the Customer Service Rep. told me that they were not responsible for the USPS mail being delivered late, I decided that this was a good indication of their business practices and it would be best for me to close this account out.

I asked the C.S. Rep. to close the account out and asked for a payoff (that included the $30.00 Late Fees) she indicated it was $185.38 and that amount was minus a credit for disputed charges by Digicom. I advised her that I would be sending out the check to pay off the account and she acknowledged that she would be indicating this in her notes.

Today, November 8, 2007 I received a statement for Total Due: $59.00 ($49.00 Annual Fee and Account Maintenance Fee). When I tried to reach their C.S., I spend more than an hour trying the different options and three different numbers in order to talk to a C.S. Rep. The 800-518-6141 tells you to call 1-866-489-3649 and this number does not give you an option to talk to a live C.S. no matter what option you select. After going online and doing a general search for CFC, I found a local 302-456-1930 number. The first C.S. Rep. that I spoke to said this account was never closed out and that I had to pay the fees, I then asked to speak to his "supervisor" and they basically told me the same thing. I then asked to speak to his supervisor or manager and was transferred to a manager named "Mark" after approx. 10 min. of pleading my case and trying to remain calm, which I have to admit there was a few times I failed due to the collective frustration of trying to contact someone and resolving this issue, I was told that the account was never closed as there were no comments or notes and that the best he would do is "halve" the charges and the account would be settled.

Comments
United States
Business & Finances

More Continental Finance Company LLC complaints






Comments

Sort by: Date | Rating

These people will not even let me close my account!

I too am having trouble, I got this card in October. the are charging me 50.00 a month and I can't even activate my card. When I tried to activate it it said it was already activated, but I can't use it anywhere. When I tried to call customer service on the bill they sent me to another number that just told me my acoun t info and never once did I talk o a real person. I am really mad about paying a bill every month forsomething I can't use.

This company is horrible as they sent me a card without my concent. I spent many hours on the phone until I got the local number off of here and spoke to a rep named Inita. She did close the card out and stated that I am not responsible for the charges, but I of course am going to keep all of my notes and names in case something else happens. There are plenty of legit credit card companies out there and if they are legit, they shouldn't be sending you a card if your credit is messed up.

I've been trying to get a hold of these people for over 24 hours. The numbers on there sheet don't let you speek with a live person. I enter my information the get told I'm getting put on hold for next repersentative. When asked for my information again they cant find a match and call can't be compleated and they HANG UP ON ME. I think if they cant talk to us and get our information like a new phone number or payment over the phone. Our bill should be paid in full. Its not like I have all day to spent redialing these people over and over again I have a job I work also...

Well, I must say. With some of these posting I do agree with. Such as, the poor customer service this company provides. However, I've developed a relationship with some of the customer service reps. and when I call in I ask for them first before I continue with my business. Thus far, I've seems to have little problems this way. Althought their A.P.R. is vey high, but that's what happens when you have little, no, or bad credit. Currently, I'm considered a Gold member, with a low minimum monthly payment, and with a credit line of $1000.00. If you maintain a on time payment history with this company they will increase your credit line by $75 every 6 months. The part that stinks is they will charge you $25.00 to make the increase. You do have the option to opt out for the automatic credit line increase. You just have to let them know. The number located on the back of the card is ONLY for the AUTOMATED SYSTEM. You will not be able to speak with a live person. I don't know why they list that number but they do. Should you need to speak with a live operator call, 1-800-518-6142. The system will sound like the automated system but it's not. Just follow the promts. It will instruct you to enter your 16 card number. After it will ask you for you billing zip code. Once all that in entered, STAY ON THE LINE!!! Listen to the whole recording. After listening to the recording, you will then have the option to press on to hear the recording again, or option 2 to hear you transactions or make a payment by phone. Not really sure what it completly say. But there will be a pause followed by, "To speak with a customer service rep, press 3". At that time you will press 3 and your call will be transfered to a rep. If all else fail, I somehow managed to obtain the corporate number, 716-871-9050. I would suggest that you be very friendly because it seems like these people sometimes hate their job. Once you've found someone whose friendly, get their name. Each time you call in ask for that person. Makes things a little easier. Also, if you continue to have problems with them, send them a fax at 1-302-454-7952 or mail a letter to the company using the payment address. They've contacted me back utilizing that option too. Good Luck. Hope this has been helpful.



Videos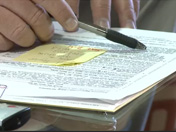 Latest Groups
Today's Mess-Up Photo