Share with Others
Recently Discussed Complaints
Consumer Tips & Tricks
Latest News & Stories
Latest Questions



Comments

Sort by: Date | Rating

I was a design consultant on Branson's Nantucket. I am an architect out of St. Louis Missouri. I created all of the renderings that you see on their website and in their showroom.

I was contracted by John Silver (no longer works there) and James Lansfield (still employed at Branson's Nantucket) to do $8, 000 worth of renderings of their new clubhouse, individual units, and interior renderings of their individual units. I worked for close to a month solid on these renderings, producing them in a timely manner and making changes per John and James' requests. Once I was finished, I produced the files for them to print the show room boards and for their website. I invoiced them end of May 2009, they had 30 days to pay, which would have made payment due end of June 2009. It is mid October now, and I am still yet to receive payment. I have started calling them on a daily basis, 9 days straight currently, and multiple times a day, I can tell the receptionist is starting to get annoyed.

When I call, I ask to talk to either James Landsfield or Jeff Patter (I believe he is one of the owners). Every time they ask who is calling, I immediately get the response "he has just stepped away from his desk", or "he is in a meeting". I ask for either one of their cell phone numbers, and I am told that they don't keep anyone's cell phone number on file. I could believe that they are busy and in meetings, but c'mon we live in a society (especially construction) where employers keep their employees cell phone numbers on file. I can deal with the run around but don't lie to me.

Not only have I not been paid, but also the interior designers and project architects have not been paid. This isn't a bill that they can just brush to the side. This will have consequences on the future owners of the property. Legally, the design team can put a lien on the property for failure to pay for intellectual property. Once the lien is in place and we have still not been paid, once all of the units are sold off and the developer is gone, it will be the new condo owner's responsibilities to pay that lien. The new condo owners will not be able to do a resale of their property until all liens are clear of the property. It is much like a mechanics lien.

The other issue here at hand is the copyright infringement. Like I said previous, they are currently using images, to which they have not paid for, on their website and in their showroom. There are serious penalties for copyright infringement.

You can see their website at this address: http://www.lifetimedestinations.com/

All of the renderings you see on the website are the items I am referring to in this post.

All we want is just to be paid, that is it. The development is a great idea, and I hear they are selling like hotcakes, but if you are interested in buying one of these condos, it might be a good idea to do your homework on the developers and make sure you are not getting yourself into a scam that might be hard to get out of. I would be asking lots of questions if it were me. If you Google "Branson Nantucket" you will find lots of posts for these people trying to scam individuals.

I'll post back once we get paid, but until then, you can assume we have not been.

Branson's Nantucket, feel free to contact me to discuss.

John Odom

john@johnsodom.com

1.417.343.2602

wow how can companies think they would get away with this stuff

Totally agree with tasR44. We were scammed by Branson's Nantucket in August, 2009. Been paying on it for 2 years, never could get anyone to call us back to help correct problems. Every time we called no one we dealt with was employed there. Even made a trip up there last year, at least 3 meetings with no help with promise that someone would contact us. Didn't happen. Recent complaint to Attorney Gen. of Mo. Stopped payment on loan. Will follow through with this, including hiring attorney if necessary. Retired senior citizens that cannot afford to pay for something we did not get. Want this company to pay us back what we lost and be accountable for what they have done.

We need to join in a class action suit against Branson's Nantucket. Contact John at jnealhome@yahoo.com. We are willing to work with anyone to put an end to this abuse of seniors!

We need to join in a class action suit against Branson's Nantucket in Branson, Missouri. Contact John at jnealhome@yahoo.com. We are willing to work with anyone to put an end to this abuse of seniors!

We 100% AGREE!!! N
We have Been SCAMED, And have paid out SEVERAL THOUSAND DOLLARS To Purchase Property at Branson Nantucket!! When We were given the tour almost 2 Years Ago, We were taken through a Condo that was Made to where My Husband could get around in His Power Chair. When We decided that We wanted to stay at the property so that We could have an Owners Update on the property, We found out that there wasn't any unit We could stay at that would be accessible for My Husband's Power Chair!!!
1. We were told that there was (NO) Unit that He could easily ride his chair into. When I ask 'Well, What about the one We saw two Years ago, I was told that that Unit was for show only, and that there would not be a handicap accessible one for another 2 Years.
2. When We got to Branson Nantucket to have Our Owners Update, I was told that We didn't Qualify for the Unit that would accommodate My Husband's Power Chair, as We didn't have enough points.

The Owner Update turned out to be an OWNERS UPGRADE. WE were told that only certain Owners Qualified, and that We would have to keep it Hush Hush.
They also told Us that They couldn't tell Us 'EVERYTHING' two years ago on their plans!!
We were told countless lies, and conflicting stories yesterday, and when I brought it to their attention, They said that Not everybody was on the same page. We were also told They had to keep some things 'secret' from the Owners!!



Videos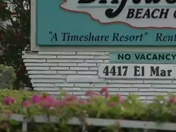 Latest Groups
Today's Mess-Up Photo