Share with Others
Recently Discussed Complaints
Consumer Tips & Tricks
Latest News & Stories
Latest Questions
American Sweepstakes Publishers, Shawnee Mission, Kansas Complaints & Reviews - got letter in mail

American Sweepstakes Publishers Contacts & Informations

American Sweepstakes Publishers

got letter in mail

Complaint Rating:

I received a letter in the mail telling me, one million two hundred fifty-four thousand two hundred four dollars was pending and they describe their selves as a research monitoring agency, they send a statement of tracked Documentation said it is now confirmed and guranteed to me.said i have access to over 20 different sweepstakes totaling the amount i mentioned above.They say keep this statement in a secure locationThey say this statement is verified and recorded in the Documentation provided i respond and return the document release form at once. It was signed by Michael Washington, Tracking manager. there is a one-time processing fee by cash check or money Order payable to A.S.P. $12.00 and they want you to signed it. $1, 254, 204.00 unclaimed as of July 14, 2010.

Comments
United States
Sweepstakes

More American Sweepstakes Publishers complaints






Comments

Sort by: Date | Rating

Thank you for your statement, I too was sent the same letter but for only $1, 000, 000.00 but it also break down 10 different sponsors guaranteed. All I would have to do is send a one-time $12 processing fee. Letter also signed by Michael Washington the tracking manager. This is sad that these people get away with these kind of scam as hard as times we are in today.


Thank You Again Melissa Brimm

I have also been GUARANTEED the $1, 254, 204.00, all I have to do is send 12 measly dollars?! Oh wait it was guaranteed in JULY and STILL being GUARANTEED in DECEMBER?? Merry Christmas "Mike" (he was the DIRECTOR Of American Sweepstakes Publisher on my GUARANTEED form) Thanks to all who have warned.

I too was guaranteed 2.5M, 1.8M, 1.3M by different sponsors in December 2010 but I have to pay a processing fee of 20.00 or $11.89 for Kanss . Now it's January and I have not received anything as yet.

hi my name is norma diaz i was also scam i sent them money .and never got nothing and i still recive every day letters telling me i won and need to respond fast but i just throw them away .but they still keep coming iam from tx

I have the very same letter in front of me right now, only it says I have been approved for 1, 000, 000.00, if I hurry and send in the 12.00 processing fee. This letter has been approved by Michael Washington. I recieve two to three of these in the mail every day.They are all approved by Michael Washington, They all also say top priority.

I feel we are all struggling, getting ripped off is not going to make things any better for us or the ones ripping us off because, they will get caught in the long run.

yes, i have received two letters the same, one was $12 processing fee and the other for $9. How can they get away with this? Posing as Publishers Sweepstakes. This is by J R Stewart and A. T. Lee. Watch out people. These go in the trash!

i just got a letter just came in i sent them twelve dollars already now they telling me to sent them another twelve dollars i was so excited!i throught i won some money to pay off my dedt but somebody needs to do something about this.they taking our money playing with our minds.but we need to do something about this.

Publicize more of these scams because they are very convincing!

My Mothere in law has been receiving these Michael Washington Sweepstakes in the mail for at least two years now, all the same promises of millions of dollars for the twelve dollar processing fee and has received absolutely nothing except more letters from this so called sweepstakes...also we have received many more offers from many othere companies many of which are signed off by Micheal Washington. We keep all letters and sweepstakes from this Person for furthere use...MY MAIN CONCERN is that they/he are targeting those who have been diagnosed with any form of memory loss such as Dementia and/or People who are receiving Social Security, with this said he/they are knowingly seeking those who are incompetent and I feel this is an awful thing to do taking advantage of anyone and if theree are enough people out there who keep all of their letters and sweepstakes winning letters along with receipts if you have sent in the so called "processing" or "purchasing fee" this could be a huge move, seemingly they were sent out to elders on social security or as said earlier diagnosed with any form of memory loss such as Dementia. Hopefully those that were expecting that money should at least get their processing/purchasing fee back from this fraudulent scam. One more thing I have called and had her name taken off of their calling list as well as her name and address, needless to say there keep on coming. Want to play hard ball I'm in for the win!

Can't someone trace this guy and prosecute?



Videos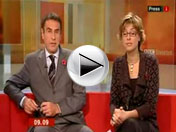 Latest Groups
Today's Mess-Up Photo