Share with Others
Recently Discussed Complaints
Consumer Tips & Tricks
Latest News & Stories
Latest Questions
Worthy Tails Animal Rescue, Mechanicsburg, Pennsylvania Complaints & Reviews - Fraud - deceptive business practices

Worthy Tails Animal Rescue Contacts & Informations

Worthy Tails Animal Rescue

Fraud - deceptive business practices

Complaint Rating:

This animal "rescue" engages in fraud, including false and misleading advertising and deceptive business practices. The owner of this rescue contacted me and asked me to apply for one of her puppies. After completing the application, and releasing private information from two of my vets, along with allowing her to contact my business colleague and family member, I drove close to 70 miles to meet with her. I signed the contract and contributed an additional $50 to her rescue. Just as I went to pick up the puppy, this woman literally stepped in front of me, grabbed the pup, and told me that she had "changed her mind" and could not go through with this adoption because I own "too many houses" and "work long hours." Note that neither of these ridiculous conditions are mentioned in any of her application materials, policies or procedures. As a lifetime contributor to multiple organizations dedicated to actually helping animals, I am deeply sorry for the animals in this rescue and for anyone who wastes their time and money trying to adopt one of them.

| | |
| --- | --- |
| | |

Comments
United States
Pets & Animals

More Worthy Tails Animal Rescue complaints






Comments

Sort by: Date | Rating

We have developed www.rescuecheck.com to stop animal rescue scammers and those organizations that are SELLING animals for their own profit under the disguise of "animal rescue". Please, if this is your interest support www.rescuecheck.com by submitting your own profile and passing the information on to your friends/fellow rescuers. "If you are not part of the solution, you are part of the problem". It is time we do something towards legitimizing the good rescues.

Worthy Tails, or any other animal rescue, has not only the right but a responsibility to place animals in homes they feel are in the best interest of the pet. It sounds like this applicant did not qualify to adopt a pet at that time and for good reasons. What an easy way to get revenge. I have had a relationship with Worthy Tails Rescue for several years and have never had any complaints to make. Worthy Tails Rescue is certainly a reputable rescue which is respected by many other rescues and shelters across the state, and beyond, who regularly work with them to save lives.

After my parents went thru a mess with a rescue - Paw Prints - I do believe that a rescue could have had a great reputation at one time but all it takes is greed or bad volunteers to ruin what was once a great.

I don't know all the details this woman went thru. I don't understand why she was pre-approved for an animal, got there, paid extra money and then was told no. Could it have been that someone else said they would pay more money? Possibly. Sadly, we'll never know all of the details.

People that try to do the right thing and go to rescues to get their new pets are doing what they think is best. When you get screwed over, it makes it harder to use any kind of rescue in the future...making the animals in need suffer. It's sad.

I totally agree with your complaint! We filled out an application over two months ago for a puppy, and they never called us back. Even if the puppies we liked were given to other homes they still could have called us back. That would have been the decent thing to do. I have never dealt with a more rude rescue center in my life. The foster parents of the puppies had the nerve to email me and say that I would most likely not get any dog from them because I live with my boyfriend, and according to her we weren't responsible and we weren't going to stay together and we would be a bad home. I would have to disagree.For one we already have a two year old dog, and we were just looking for a companion. And second we do plan on getting married we just dont have the finances for that right now. She had no right to judge us that way.

My fiancé And I were invited to the rescue after our application was approved. We absolutely fell in love with the puppy. We set up a day and time to pick him up, discussed payment, and the woman said he was ours. Afterwards, we bought toys, leash, collar, everything we would need for the puppy. The next day I saw she had updated the pictures o our puppy, which I found odd since we were going to take him. We called her to ask why and she said she had a gut feeling it wouldn't work out and hung up the phone. I tried calling her back and she wouldn't answer my calls or emails. I cried for an hour, completely heartbroken and now we have to take the stuff we bought back. She is a terrible person who took our puppy away after telling us he was ours. It was not fair and he had no reason to do so. Beware of this woman who only has a bunch of dogs in her mansion...saying it is a rescue is a joke.



Videos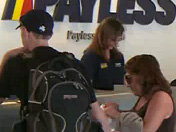 Latest Groups
Today's Mess-Up Photo