Sunwing Airlines, Oakville, Ontario Complaints & Reviews - Severe flight delay & cruel treatment

Sunwing Airlines Contacts & Informations

Sunwing Airlines

Severe flight delay & cruel treatment

Complaint Rating:

Contact information:
Dr Oussama Abla


Oakville

,

Ontario




Canada




We flew with Sunwing to Cancun on Feb 3, 2010, with my wife and three very young children. We loved the resort we stayed at and everything went almost perfect, except on the day of return. On feb 10, 2010 the driver took us from the Hotel, he drove like a crazy man and we had to listen to a very loud Mexican music for more than 40 minutes and he had the air conditioning so high (very cold) that we almost needed blankets. But this was nothing compared to what happened later. We arrived at Cancun Airport at 7.30 AM, the flight was supposed to leave at 10.20 but it got delayed until 1.30 pm due to maintenance problems and no body from sunwing bothered to explain to us what was happening. We finally took off to Cozumel to pick up more passengers (we were never told about this stop before we left Toronto) and when we landed we were told that the same technical problem has recurred and that we had to wait on the plane until they fixed it. After waiting for one hour and 30 minutes on the plane (which was extremely hot) they finally said you can leave and wait in the airport hall. There were other 150 passengers waiting, I told them that my wife is pregnant and that she cannot stay sitiing or standing, she needed to lye down and we asked the sunwing person to put us in a Hotel until the problem was solved. they said they would look into this, in the mean time they did give us food vouchers (only one place was open in that airport and it did not have enough food). then they said it was going to take 8 more hours for another plane to arrive from Montreal. I asked them again to put us in a Hotel but they refused. Finally, the people in COzumel left us all in a big hall and they closed the door and the air conditioning. This was the worst day of our lives considering also that we have 3 young children. We finally left cozumel at 1.30 am after a 17 hour stay in airports and arrived in Toronto at 7 am. My wife had to stay in bed 3 days due to fatigue and severe pains, I had to take time from work to look after our children. I will never fly again with sunwing and I am telling all my friends also not to. I will be asking for compensation from the company otherwise I feel obligated to take legal action against Sunwing. I would appreciate any help in bringing this complaint to the president and CEO of this company.

Comments
Canada
Airlines





Comments

Sort by: Date | Rating

I had a similar experience with Sunwing myself. I left Montreal on Feb. 12, 2010 on a 4:35PM flight that was to arrive at 8:15 in Cancun. Pre-boarding we were informed that our flight was being diverted to La Romana, Dominican Republic (for anyone who knows geography, DR is in the opposite direction of Mexico!!). They only boarded us at 4:35, at which time we sat on the plane for well over an hour to wait for Sunwing to receive parts for a plane that was stranded in DR, and for the mechanics to arrive. The flight to the Dominican was well over 4 hours - when we landed in the Dominican we were told to get the parts off the plane and to de-board the mechanics was going to be quick - well, we waited in the DR for over 45 minutes. Finally we were on our way to Cancun - another 2 HR + flight to Cancun. Needless to say we arrived in Cancun at 1:30AM Cancun Time (what was still 2:30AM EST for all of us who clearly were still on our own time zone schedule). We arrived at the hotel at 2:30 (3;30EST). Over 9 hours on a flight with my 3 year old son and my 77 year old grand mother who had arthrities in her legs - yup our first day in cancun was ruined due to fatigue and pain. I must say that the staff on the plan were great (especially Steve and Malane), BUT 9 hours of an angry flight, people walking up and down the plan (especially to the back to go to the bathroom, close to our seats), was not only annoying, and uncomfortable (due to having someones butt in our face half the time), but after 4+ hours, the stench of the bathroom was quite nasty. Yup, we too got the really lame "we're sorry, " which was not at all sincere - in fact they tried to play it as "we're on a rescue mission, yay us!" YEAH RIGHT! I paid for a direct flight and got a 9 hour flight that passed through a country I had 0 intentions to go through. Had I wanted to ruin my sons scheduled, I would have taken the 9:30Pm flight that left Montreal (which just so happened to arrive in Cancun before us), and saved myself quite a bit of money. Thank you Sunwing!

On a side note - isn't it a bit scary to read how often their planes are breaking down?

We just had the same experience with Sunwing and will be procedding to small claims court. It is time they are made to pay for their attitude.

Just had the same experience myself. I will never fly Sunwing again and urge anyone I know to do the same. They seem severly understaffed and the ones that are there are either confused or rude.



Videos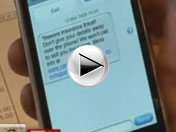 Latest Groups
Today's Mess-Up Photo