Share with Others
Recently Discussed Complaints
Consumer Tips & Tricks
Latest News & Stories
Latest Questions
Primerica, Des Moines, Iowa Complaints & Reviews - rip off artists posing as employers

Primerica Contacts & Informations

Primerica

rip off artists posing as employers

Complaint Rating:

My boyfriend got a call from a lady setting up interviews. After meeting with a man who promised him $150, 000/ year income we got a knock on our door at 7:00 at night. Three representatives of primerica sat in our home making huge promises and wanting $99 to get you a license. While they were giving my boyfriend their pitch, I looked up the company on this website. Thankfully he didn't hand over any money
I guess the old saying is right...if it sounds too good to be true-it probably is.

Comments
United States
Health & Life Insurance





Comments

Sort by: Date | Rating

I do not work for Primerica, never have and never will. I work for a completely different Insurance Company, but that saying is not right, If it sounds too good to be true, it probably is. That's a very close minded way to think of things because yeah, it's not for everyone but It is for some people.

There are some people in Primerica making well over 150, 000 a year, But there are also people making less than 30, 000. Same with Mcdonalds, There are people making millions a year or several hundred thousand, while there are some [really most] only making Minimum wage, or just above it. The biggest difference between Primerica and Mcdonalds is that the person who is doing the work based off their tenacity, integrity and work ethic, can make whatever number they choose to put on their paycheck. Even if you took that very same person who can make 200, 000 a year at a different company that will pay him what he is worth, you put him in Mcdonalds, Walmart, Kmart, Dennys etc... he's going to make just as much as everyone else around him.

These people will take and take. I know I was one. When you leave them it is like a jilted lover. They will try and terrorise you, they will hound you and finally they will threaten you. This lady did the right thing and I hope all who read will not fall prey

Yes. I am still unsure how Primerica got my information but it is a very confusing business. Yes, I was told that they wanted to hire me but I had to pay for a background check, and licensing out of my pocked. I'm looking for work, not paying people to hire me. It was $25 credit check fee, $99 to get your license, and $25 a month to be able to run your business online. Its kinda like selling MaryKay. You pay to start your own business and you make money getting people to become reps under you and make money selling the products. So you have people under you that you signed on you make a % of what they sell. I was so close to doing Primerica but thankfully I didnt have the money up front to give them. I need steady income and benefits. This is something you could do on the side and make money once in a while. If you are a good sales rep ... you'll do well in getting people to sign up.

I am currently working for Primerica and feel a bit disappointed as you guys because I was told it was $99 + $25 for primerica online. However I ended up paying for the test. I was reimbursed for the test fee but I feel a bit aggravated for the fact that the recruiter try to play me for a fool. The products they offer are actually pretty good and beneficial however I do not feel comfortable with their sales approach. I wish I would have seen this website before I went through the process. This job is stressful and they pressure you too much when it comes to recruiting; I personally going to continue this as a part- time job and promise not to recruit anyone!!!

I absolutely rescent this company, I started a blog to help spread the word about them please post your complaints go here> primericacomplaints.blogspot.com

Back in December of 2010, my wife was contacted by a Primerica rep. at the mall where she works. They told her about an orientation to attend and to bring me along. We attended the orientation and they tell you about how much money you can earn and that they are ranked #1 in America to draw you in. Since I was desperate for a job and that this was something new, I thought I would give this a try. I decided to do a job interview. I gave a resume and they asked if I was competitive, cared about people, etc. At the end of the interview, they accepted me as a new recruit. Well as soon as I said yes to the job, they wanted money first thing! $99 plus $25 for subscription online. I thought that was kind of sudden and since I had no cash, I gave my credit card since they said I had to pay it today. The $99 was already processed and the other $25 she said would go through sometime within the month. They also handed me the contracts after I said yes - aren't they suppose to show it to you BEFORE you accept the job?
Well, you contact family members, friends, and people they know to set up appointments with them. There were some friends who I didn't know how to get a hold of and they were telling me to use Facebook to get more people. Anyways, I was only able to set up a few appointments and people either were not interested or they were just too busy. I felt bad about calling family members because I felt like I was bothering them.
I was working full time with this job. I was there every single day of the week about 10 hours a day and I was beyond exhausted after a few days. Something I learned about too is the payment. You only get paid a small portion for the sales you make and the people above you get more money. That is why you have to recruit people so that when they make sales, you can earn money from them as well. When I read one of their magazines, I found out that only those ranked at the very top of the company are the ones making millions of dollars.
You have meetings to go to and they try to get you all excited and they share stories about their successes and give away gifts to those who made a certain number of sales. They talk about you getting bonuses based on how many sales you make and how many people you recruit within a very short amount of time. They tried to get me to recruit my wife, but she was working full time at the mall and she didn't feel right with this. Well, I also had the impression that they are a cult. They were reading passages out of the Bible and said that you need to read it as well.
Anyways, one day I finally got to go out "prospecting" and I couldn't believe what happened. We went to some stores like Walmart and Once Upon a Child and I was under the impression that we were going to talk to some shoppers. Instead, she talked to the employees and tried to recruit them! Isn't this illegal? Can't you get kicked out of stores for this? I just couldn't believe it!
Within a week, I just decided that not only was this not right for me, but I was already down $99 plus $25 I had to pay, and this experience just wasn't right. I let them know that I was resigning from the job and they really tried to talk me into staying. I was getting contacted by other members in Primerica who called my cell phone and they were saying that I don't want to quit and that I am a people person, but I resisted.
I looked on my credit card transactions and as soon as I had quit, they put on that $25 fee which was awfully fishy to me.
Anyways, I went back to the contracts and I had to request in writing my refund to their headquarters in Georgia. After a week, they sent a letter saying I should have my refund with a month. Well, they refunded my $25, but they still have not refunded my $69 (you have to put in a $30 deposit to get the $99 refund) so I am still fighting with them.
This was one of the worst things I ever got involved with and never will again. I would say if you hear the word "Primerica", run!



Videos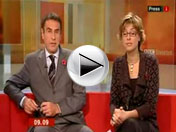 Latest Groups
Today's Mess-Up Photo