My maid station Complaints & Reviews - maid run away leaving my baby sleeping at home

My maid station Contacts & Informations

My maid station

maid run away leaving my baby sleeping at home

Complaint Rating:

I would like to share my bad experience with "My maid station" in regards to their irresponsible maid and their service attitude.

We got a maid from them with the payment of the agent fees $388 and loan amount of $1700 on dated 13.09.11. During the interview time we have specific asked for a maid who can take care of our 3 children and Chris the staff, was the one who recommended one of their maid to us by the name of Htet Htet Win.

With the trust from the agency I and my wife happily took her. After working with us for a few days, we noticed that she keep using her handphone whenever to her likes and demand.I have no choice and after discussed with my wife, we both end up decided to bring her back to agency and ask them to help to talk to her. We even asked her politely if she is willing to continue to work with us as we do not want waste her time and to hold back a person who is not keen to work at all. She still persisted that she wanted to work with us, as such we agreed and bring her back again.

On 09.10.11 when my wife was out to pick my younger son back from school, she was shocked that our maid had left the house leaving my 18 months old baby sleeping in the room. She immediately contacted the agency and seek help and later in the evening she went to police station to lodge a police report. She was totally lost and mentally stress with such incident happened, who is going to hold the responsibilty if something happen to my baby.

The next day 10.10.11 we receive no call from the agency at all and we end up need to call them and check the status, Chris the one who we get to know she was a manager in charge keep saying that they are trying to reach and get in touch to my run away maid. We have no choice and need to trust their capability we waited for whole day end up no answer from them.

On 11.10.11, I have no choice but to take urgent leave and went down to the agency to check personally. I was there but couldn't get an reply from them and at choice i demand a full refund. Chris the manager with no interest to settle the issue but only giving a statement that, " There is no such thing, you mean you can chose a maid and after that you don't want her and ask for refund ".

I have no choice again and i have to call MOM and seek for help, the MOM officers who was very helpful and given me the AEAS contact no. to call in regards of any monetary issue to assist us. When i returned to the agency office after spoken to AEAS officers, to my surprised Chris claimed that the missing maid was found and they are at MOM with her Boss. At this stage, to be honest i have totally lost my trust on them. Immediately Chris took out a form and advised my wife to sign on it, when we asked further, she claimed that the form was for cancellation of work permit without any further explanation. When we asked about full refund, she just ignored us again and said she have to refer to her senior.

We then proceed to AEAS to file a report in regards to the monetary issue. Again to our surprised the Officers Sara was asking us whether did we sign the cancellation work permit, if yes whenever our pavement fees will be forfeited with no case at all. We at this stage was very disappointed on how "MY MAID STATION " work as with not professional at all. We decided to allow AEAS to discuss and re-solve our issue.

With the helps from AEAS, the Agency only agreed to refund back the amount of $1251 as follow by charging us the maid food and laundry from the day she was found $90 ( 9th to 19th of OCT ).

How about from 9th to 19th we have to bear with no helper and i need to take urgent leave and also with my wife with mental stress that can't sleep well over the past few nights ?

There wasn't any call from agency even after the maid has been found, not a single apology at all from the management. I am still puzzled in regards to the $388 fees paid for, we trust them as a agency but end up we have to lose our hard earn money that not refundable. I will agreed if we are the one who are fussy or return their maid with no valid reason, but she ran away without our aknowledge and left my 18 months old baby by himself and anything can happen even within the few minutes.

Regards
Very disappointed customer

Comments
Singapore
Employment, Staffing, Recruiting Agencies

More My maid station complaints






Comments

Sort by: Date | Rating

I have the same experience. "My Maid Station" maid agency refuse to refund by giving excuses.
Instead of lighten my burden by employing a maid but "My Maid Station" is giving more problem.

it happened to us as well. After 4.5 months of intensive training, the maid dispatched from "MY MAID STATION" was still totally incapable of managing daily routine job, and I have been constantly reminding her every day what needs to be done, and she was still forgetting and making multiple mistakes every day. Some of the mistakes were very serious, risking safety of our children. I was almost losing confidence to train her anymore and thinking to find a new maid, and then one weekend ( January 26, 2013), this maid run away from our house when my husband and my 1.5 year baby were taking nap in the afternoon. I did not know there is a possibility to ask for refund from this agency, and I immediately signed on the form to cancel her employment and asked for replacement, but as of Feb 20, 2012, there has been no single call from this agency to follow up the replacement. in addition, I have to say, this problematic maid is the 3nd maid I took from this agency. After my previous trust-able maid (from other agency) needed to go back to her home country, we took one maid from MY MAID STATION. She worked for us about 1.5 months and after I finish all the training, this maid started to say she could not work for us anymore as taking care of 2 kids and house work was tougher than she originally thought and she wanted to take more days off to find a boyfriend despite the multiple explanation we did to her before we signed on the contract. we explained to her again and again that taking care of 2 small kids and housing chores are not an easy job and at that time her contract was no day off no cell phone and she was fine with that but she changed her mind after 1.5 month and we totally wasted our time and effort. After this maid, agency found a replacement but we were expecting the replacement to come within 2 weeks and on the day before the replacement was supposed to come, I called this agency and check the status and they said the replacement would not come anymore as this replacement maid said she could take care of 2 kids but changed her mind again just before she came. Then they found another replacement, and it was highly recommended by the agency, but after 2 weeks, again we were told this another replacement could not come anymore as she did not pass health check 3 times in a row. All in all, we had a bad experience with this agency through 3 maids, and during all of those events, MY MAID STATION's response was very very bad and slow. They seldomly returned the call to us, and we needed to come down to this agency's branch personally every time when we want to catch the person in charge. We were very disappointed with this agency's attitude and looked for a new maid from other agency as I can not trust this agency anymore.



Videos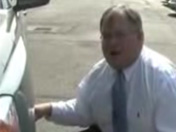 Latest Groups
Today's Mess-Up Photo