Hollyhock Persian Cattery Complaints & Reviews - Debra Darling of Hollyhock Cattery severely abused my cat

Hollyhock Persian Cattery Contacts & Informations

Hollyhock Persian Cattery

Debra Darling of Hollyhock Cattery severely abused my cat

Complaint Rating:

* Debra Darling has been breeding pedigree kittys for over 15 years in 2912 Chestnut Street, Riverside, Ca 92501, 909-781-4979

* I gave Debra Darling a shaded silver boy [on a trade] at 6 months old his name was Oliver in about 1998 .
* Very sweet kitty, no personality problems what so ever.

Two year later 2000 I get him back because I requested him

* This kitty was kept inside a cage for 2 years

* When I got him back I was scared to death of him.
* I wanted him cleaned and groomed.

* I was not able to even touch him.

* I had to have him declawed that is how dangerous & frantic he had become.

* I also had to have my vet bath him and cut his coat down and cut his back claws while he was still [under].
* I have proof of this abuse that was done by Debra Darling [proof ask me for it].
* Her name was on the cfa registration papers.
* Proof from the vet enclosed.

* I am reporting that Debra Darling has neglected, abused and caused actual death to at least 5 cats that I know of since I was associated with her from between 1998- 2002 [approximately 3 years]

* This is what Debra Darling told me she does to her kittys.

Debra Darling told me, "when my cats do not listen to me, I bop them on top of the head with my hand and sometimes I use a broom. Debra also told me,"she does become physical with them to tell them who is boss."

* Photo's enclosed of her cats how neglected them are due to lack of grooming

* Debra Darling told me, "3 males of mine died because of crystallized urine in "2002".

* I was suppose to purchase a kitty from a chinchilla golden in 2002.

* The mom was named Whimsy she was only 8 years old

* Debra Darling told me 1 year before that she has to really be careful with Whimsy because she almost died and she does not think she should breed her again, and should get her spayed!"

* Then I get a call from Debra and she tell me, "guess what"? Whimsy got pregnant and its due at this date."

* I then made arrangement that I wanted to purchase a kitty from that litter.

* It was time for Whimsy to give birth and I get a frantic call from Debra Darling telling me,"Whimsy just calapsed on the kitchen floor and died with her babies inside of her."

* I felt so broken hearted and sick I made a memorial on Debra Darling site to remember Whimsy.

* Debra Darling did not want that memorial on her site and took it off.

* Debra Darling told me, "anything I ever tell you do not tell to anyone and especaily do not ever tell anyone how many cats I have, I dont want anyone to know!

* The amount cats she has is over 30+.
*
* She has them located in her back wooden porch area all in cages.

* When the mothers give birth she has them smashed into her kitchen area in various plastic bins.

* Debra Darling's interior home is filled to the brime with valuable antiques brought from the money sales of those poor kittys.

* I purchased a kitten a blue eyed white for Debra Darling as a gift.

* The next day she called me up and told me, "to come and get this kitty, it had ring worm."

* I drove all the way to Riverside, Ca and went to her door and all I heard was a small white kitty screaming on the top of its lungs

* She did not ever open the door fully. She cracked the door wide enough to hand me the screaming 8 week old kitty and shut the door.

* I have never seen or heard a kitty act with so much distress in my entire life, and just shuck my head in total disbelief as to why a kitty would be screaming on the top of its lungs like this.!

* Debra Darling gave me back a male silver chinchilla that had such a bad scratch in his eye it took almost 1 year to heal, his name was Ting Tang Too.

* She also gave me back Butterscotch, but before she did she asked me,"are you sure you really want her back because Butterscotch had a real bad fight with one of my kittys and the fight was so bad Butterscotch was screaming on the top of her lungs"

* I asked her what happened? She said, "when Butterscotch had her babies she was in the kitchen area with all the rest of the mothers who had kittys, with no cages or organization."

* "And Butterscotch did not like a particular kitty going near her kitties,". And when she told me this I got chills up and down my spine, realizing this kitty may have been abused also.

* I did not know what to say, other then, "yes I want her back!"

* Debra Darling best cattery friend Michelle Casserd told me, "Debra Darling dont care about her kittys, she is just doing it for the money".

* Debra Darling told me one day on the phone "she had so many unplanned litters due she counted up to 10 litters due that were all unplanned.

* I received an email post from "Brannaway" persians and asked them, "Did you see the condition she is keeping her GRC Brannaway Attum in?". They made one remark, "yes sadly I did"!

* Debra Darling has persian kittys for sale constantly in the paper, week in and week out, month after month, year after year non stop, since I have associated with her since 1998-2002

* Everything in this statement is 100% truth so help me God. Everything in this statement of facts was told directly to me by Debra Darling herself, while I assocated with her for the 3 years. RoseMarie Zizzo 9/23/03

Comments
United States
Pets & Animals





Comments

Sort by: Date | Rating

Once again, RoseMarie Zizzo lies and twists the truth to suit herself. The actual truth is that Zizzo has no power to settle complaints from any cat registry/association. In fact, her privileges to show and register cats with The Cat Fanciers' Association were suspended for life in June, 2004. See the proof here:
http://www.cfainc.org/org/disciplinary-suspensions.pdf
Scroll down. Zizzo's name, and that of her cattery, Shar-Dew, appear at the bottom of the left hand column.

BAD Pedigree Cat Breeder's Info was founded exclusively to be an advocate for the rights of all buyer's of expensive pedigree cats. Our service is ultimately unique in that we are the only site of its kind anywhere in the world.

BAD Pedigree Cat Breeder's Info is a non-profit, "watchdog", charitable, specialized complaint agency. Our main objective is: exposure to stop corrupt cat breeders from taking advantage of the trusting public & from medically neglecting cats. Our website: http://www.b-pcb.info Debra K Darling is an extremly materialistic person, all because she was poor as a child. Debra K Darling abuses and neglects her housefull of cats and she should be placed in jail for all the abuse she has done, not only to the colors of your persians but because of the horrendous abuse she has done to her own cats behind closed doors, Listen to this she cant even drive herself to the Ontario Airport by herself. WHy she is not able she leans on her husband for that. Not much for survival abilities. What would she do without her husband? I guess she would not have a house woruth 160,000.00 and land and cars and antiques filled to the b rime in her home. He is a non stop talker like you have never heard, and all she talks about is HERSELF and her her life, SHe is a very bad person Dont ever buy from her.

Wow. Is RoseMarie Zizzo a lying sack of crap, or what? What difference does it make if this woman can drive to the airport? At laest she's not living off our taxes, collecting disability, and talking trash about people all day.
For more information on the crimes against cat breeders committed by RoseMarie Zizzo, go to www.p-cbs.org Formerly owned by Zizzo, now owned by her victims!



Videos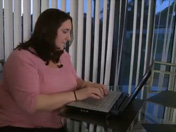 Latest Groups
Today's Mess-Up Photo