Share with Others
Recently Discussed Complaints
Consumer Tips & Tricks
Latest News & Stories
Latest Questions
Don Sullivan's Secrets to Training the Perfect Dog (www.theperfectdog.com) Complaints & Reviews - Fraud

Don Sullivan's Secrets to Training the Perfect Dog (www.theperfectdog.com) Contacts & Informations

Don Sullivan's Secrets to Training the Perfect Dog (www.theperfectdog.com)

Fraud

Complaint Rating:

In Nov. '08 we placed an order with Don Sullivan's Secrets to Training the Perfect Dog ($59.00) and charged it to our debit card. In Dec. we received a call from them stating they would send us a $40 gas card if we would answer their questions about our purchase and whether we were satisfied. My husband answered the questions, but nothing else was discussed other than our order. In Jan. '09 our bank statement arrived with three (3) separate charges in amount of $19.95 each, which were Wc *homeplay; Wc*budget Savers Mnth; and, Ap9*todaysescapes +. We have never used our card for any other purchases ever; therefore, we knew it was from Don Sullivan's Pet order. We telephoned the customer service rep who stated to us that at the end of our original order, the order-taker "reportedly" asked us for these other orders. WE DID NOT GET ASKED THESE QUESTIONS, NOR WOULD WE HAVE AGREED TO THEM. We have not received the $40 gas card, nor did we agree to these other orders. The representative we talked to (named Tabatha) did provide us with the telephone number of Wc homeplay (1800-475-1942) and Todaysescapes (1800-550-4728), which #'s did not match the numbers on our debit card statement; however, I can assure you I will be making numerous telephone calls and sending out numerous correspondence about this FRAUDULENT SCHEME

Comments
United States
Telemarketing





Comments

Sort by: Date | Rating

we are canadian wholesale distributors with 4000 retail accounts we would like to buy your product and re-sell in canada please call DOUG WESTCOTT 604-913-3975 THANKS

My father ordered these tapes on Dec 31, 2008... In Feb. we finally called to ask where they were... they said... they were delivered... WHAT? They said... we will send you out a Postal Claim Form... I received it on March 13th and mailed it back to them on March 14th... THEY claim that they did not recieve until April 4th...

Therefore, we are past the "DATE" to recoop out cost... SAD to say.. my father really wanted the tapes and has since re-ordered them... I have no idea of the content... BUT THE business end of this company is a sad thing for AMERICA... AND Business like this should be shut down...

THIS COMPANY IS A RIP OFF!

I hope that they have gotten everything straightened out now, and that I get mine like I am suppose to. I have just ordered mine, (10/02/09) and I am to get it in ten business days. I will let you know if I have any problem with them.

it would be in the best intrest of the company and their representatives to take better care of their custers.in todays market it is not smart if you want to suvive as a buisiness to not live up to what you advertise or set things right with the customer
i for one and 2 other dog owners who adopt from shelters have changed my mind about our purchases
good luck staying in buisiness and i encourage all customers regardless of the product to register their complaints so we can get back to good service that we all respected in the past.
go for it sybille

I ordered the Secrets to Training the Perfect Dog system on May 4 and paid the extra $16 for expedited shipping. It took two weeks to get the package! I popped the first DVD into our player and got the message "Playback feature not available on this disc". Same message when I used the other 2 DVD players in the house. Called them up and they said they would replace the discs. Took ANOTHER 2 weeks to get the replacements. Got them today and you guessed it...same error message on these discs. I'm going to request a refund before it's too late. What a scam!

Their TV add clearly states " three payments of $29.00 but we will pay the third payment if you order now) nothing about any shipping charges. only memo is "Calif residents sub to sales tax." They charged 34.95 not 29.95 even when I made both payments at once.
When questioned, the rep said that I had missed that special. The current and all their advertisements I have see to date, still say $29.95 X 2. Also automated solicitor tries to sign you up for all sorts of products. saying you get free credits at Walmart etc. saying you can cancel at any time. plus a number of mags, free nights at hotel...sounds pretty scary to me. All I wanted was the dog training disc and collar. the training ropes you can buy at Lowes or Home Depo for about $7.00 per 25 ft..

Hi I bought this system.my dog will not behave. He ate the collar pieces and broke the pins of the collar on his neck. I have a beagle mix w Sharpei, and he is loving but won't keep a muzzle on, tears up the house all the time I leave him alone..any suggestions.. Very distraught..

The reviews at this site dont look too positive either
websiteverdict.com/theperfectdog-com-the-perfect-dog-reviews/

I'm sorry that it sounds like alot of people have had issues with this program. I would like to say that I my experience with them has been a positive one. I ordered the program when a stray dog had puppies on my porch (I found this program when the puppies were 4 months old and destroying everything on my porch, in my house and in my yard. I was stressed out!) I have never owned a dog before and knew absolutely nothing about owning or training them. I wanted to find them all homes but no one would take a dog that wasn't trained. When I recieved the program I started with puppies and the house training part. I was able to house train them in one day (with maybe an accident here and there but completely trained by the 3rd day). Because I only had one training color and set of leashes and 3 dogs, I decided to focus on the puppies and rotate between the two. This did slowe down the results but there were results, non-the-less. When I started to look for homes for the puppies again, I was able to say that yes, they were trained in basic commands. With in weeks, a family adopted one of the puppies without hesitation. As far as the 2nd puppy, He has become a very special member of our family. It was because of him that I learned that my special needs daughter was having seizures. We will be training him to become a service dog. If it weren't for Don Sullivan's training program, I never would have let him around my 2 year old daughter and there for would not have learned of her seizures until many years later. As far as the mom dog, since she was severally abused before she was abandoned, she proved to be more of a challenge then what I was able to provide for her and required someone who had knowledge of how to handle an abused rescue dog. Lucky for me I knew the perfect person. She took the dog in along with Don's program and started working with her. She has reported that progress is slow but there is progress. I hope this helps

My husband ordered this for me for Christmas and was quite excited. I just acquired a Shepherd rescue that is quite loving but totally lacking in social skills. The DVD's don't work in any of our players. Disc 1 works on the computer but not Disc 2. The Quick Start guide is something of a joke - READ THIS BEFORE STARTING. It tells you nothing and apparently assumes you've seen or will see something on the DVD that isn't there to be seen. People - don't train your dogs with treats. That's about the sum total of instruction you will get from this thing. How to train is absent - just don't use treats. Save the $77 it took to get this thing - I just received it and will be contacting my credit card company. I hate to upset my husband but this is a gift for suited to the office Elephant gift grab bag. Don't bother. Mr. Sullivan should be ashamed - apparently that hasn't happened yet.

If you want to teach your dog to sit, stay, speak, heel - this is not the program for you. I'm not exactly sure what this is the program for. If your dog is a barker - running outside and tugging on it's collar or muzzling seems to be the answer - which most folks could think of on their own. This is NOT actually a demonstration or anything helpful in teaching someone to train a dog. It is a Power Point Presentation basically - with it's little bullet points and Sullivan popping in and out periodically to talk to you. He's not training anything in the presentation but frequently seems to have a trained dog in his lap or at his feet. I never heard of this man but I'm seeing he has some sort of show and has apparently made a big business off of ripping people off. The DVD's cost about $3 and bullet points to take up space were a one time effort so I'm guessing he laughs all the way to the bank. I got this thing for Christmas and while I love my spouse - I couldn't keep quiet and add it to the ugly sweater drawer without comment. $77 for to have this guy talk about things he wasn't even ready to demonstrate made me feel as stupid as he knows us to be. It also does not work in many players as far as I can tell. It won't work at all in any of our DVD players and the first disc is all I could get to work in my computer. The second disc required a different media player and a one segment at a time selection from the disc menu (not the presentation menu). Whole thing is a scam.

I was going to purchase these DVD's, but I ALWAYS conduct a review before I purchase. Although it's terrible that many people do not appear satisfied with this product, I am THANKFUL these reviews are posted! I will NOT be buying the DVD's!! Thank you, fellow reviewers!!

I also was going to purchase the DVD set with instructions for my little 1 year old dog, but after reading the reviews, I'm hesitant to go ahead. Is there anyone legitimately satisfied with this program? Thanks.

I have a 2 month male Schnauzer, saw the infomercial about Don Sullivan's secret on how to train a dog, and I was thinking wow it's perfect to train my puppy, but like always before buying anything I do some research and guess what so many negative comments about this product that I wont be buying it, thanks for the reviews...to all buyers, GOOG LUCK!

I had some issues with this dvd, like error message when playing this. The dvd only work on dvd player not the dvd & vhs combo receivers. Once I started the sessions, my dogs reacted imediately. You have to consistantly do these every day, that is the key. I am very pleased with this videos& collar. My dogs were terrible, & I was able to get them under control in a week.



Videos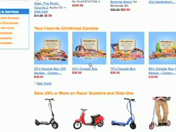 Latest Groups
Today's Mess-Up Photo