Share with Others
Recently Discussed Complaints
Consumer Tips & Tricks
Latest News & Stories
Latest Questions
Davison Invention Land, Pittsburgh, Pennsylvania Complaints & Reviews - fraud

Davison Invention Land Contacts & Informations

Davison Invention Land

fraud

Complaint Rating:

I am writing about Davison and Invention Land based in Pittsburgh (585 Alpha Dr. Pittsburgh, PA 15238). Davison has taken over $10, 000.00 from me and claim they have done nothing wrong but I have been robbed. I have also been lied to, falsely misled, and pressured into signing an agreement with lies.
When Davison submitted my product concept to me in drawing form, I was very concerned that it did not reflect my concept at all. Davison does say that the final product may not look like what the person originally thought it would. I understand that, but the whole concept was different. I was given a drawing of a manual product and my concept was for it to be automatic. When I expressed my concerns to 2 of the coaches, I was told that this is to just get us in the door with a major company then they would present the automatic idea. I made 8 phone calls before I signed to make sure this was true. I did not feel comfortable with signing it, but was assured that my "automatic concept" would be really what is being presented.
I signed it under their pressure to trust them and that they needed this manual version to get a foot in the door with the company to market it. It was rejected. When I talked to Mr Vescio he claimed it was my concept. After a long conversation he admitted it was not my concept at all and he would give me a new start and they would go back to the drawing board, so to speak, and give me a new drawing of my automatic concept. It has now been 6 months and I have heard nothing.
I sent a letter giving them a chance to admit that this is not a possible product to make my concept a reality. In the letter I told them I would be happy to cancel the whole thing and requested 65% refund. I thought this was fair since it allowed them to keep 35% ($3, 500.00) for their work even though it was not my concept and was filled with lies and deception. I gave a June 14 deadline and told Davison that if I don't hear from them by that date I would contact you and some other complaint organizations.
Lastly I am a priest and I am appalled that they would lie to me with no moral objection and steal money from a minister by using lies and deceptions.
Do not use Davison for any ideas you may have.
Rev. Anthony Gargotta
245 Azalea Dr.
Monroeville, PA 15146

Comments
United States
Other





Comments

Sort by: Date | Rating

I am writing about Davison and Invention Land based in Pittsburgh (585 Alpha Dr. Pittsburgh, PA 15238). Davison has taken over $10, 000.00 from me and claim they have done nothing wrong but I have been robbed. I have also been lied to, falsely misled, and pressured into signing an agreement with lies.
When Davison submitted my product concept to me in drawing form, I was very concerned that it did not reflect my concept at all. Davison does say that the final product may not look like what the person originally thought it would. I understand that, but the whole concept was different. I was given a drawing of a manual product and my concept was for it to be automatic. When I expressed my concerns to 2 of the coaches, I was told that this is to just get us in the door with a major company then they would present the automatic idea. I made 8 phone calls before I signed to make sure this was true. I did not feel comfortable with signing it, but was assured that my "automatic concept" would be really what is being presented.
I signed it under their pressure to trust them and that they needed this manual version to get a foot in the door with the company to market it. It was rejected. When I talked to Mr Vescio he claimed it was my concept. After a long conversation he admitted it was not my concept at all and he would give me a new start and they would go back to the drawing board, so to speak, and give me a new drawing of my automatic concept. It has now been 6 months and I have heard nothing.
I sent a letter giving them a chance to admit that this is not a possible product to make my concept a reality. In the letter I told them I would be happy to cancel the whole thing and requested 65% refund. I thought this was fair since it allowed them to keep 35% ($3, 500.00) for their work even though it was not my concept and was filled with lies and deception. I gave a June 14 deadline and told Davison that if I don't hear from them by that date I would contact you and some other complaint organizations.
Lastly I am a priest and I am appalled that they would lie to me with no moral objection and steal money from a minister by using lies and deceptions.
Do not use Davison for any ideas you may have.
Rev. Anthony Gargotta
245 Azalea Dr.
Monroeville, PA 15146

I believe you. I will be prudent since I just submitted them my invention. Thanks for the detailed review. Hope you will find another way to manufacture/market your idea.

Michael

I used to work for davison and I'm writing this to hopefully scare and save people money but there will always be stupid people believing them.I worked there for several years, so I've seen and know how they work. Before I tell you how it really is let me just say they are the number one invention company in the world but also the most scheming people I've ever met. They will tell you whoever posted this complaint was an unhappy employee that couldn't make it. but the truth is I couldn't take the feeling of not knowing what we were doing with people's money who invest thousands of dollars. They will use a book to rebuttal anything you have to say, this book is like a bible to so called directors that has answers in it for any questions you have. I never talked to a designer or engineer nor could I give any input on my client's ideas. I read a script everyday and tried to get people's money everyday. I could not do this anymore did not feel right. I would ask a question or say something didn't make sense only to have them threaten my job. Let me tell you they treat there employees worse than the client's. We all have to pay money to work there I used to pay 150 a month just to work in a certain building that not counting the other 400 dollars they charged me and every other employee. But let's get back to how they rip people. We would have meeting where we would talk about ideas and people would have the same ones but we would try and sell them both or someone sold a guy on thee same idea a week ago. There's rebuttals for those as well if you tell them you saw a similar product. All the directors only make money is they bring it in we are all on straight commission pretty much. If you ever got transferred to a new director is was because the last one wasn't bringing in enough money for the company they would let that person go and give you the director who could get your money. The president of the company is one of most evil people I've ever met it's all smiles and sunshine until you can't pay or we can't get you to pay.We make no money off royalties we made all he money off of people hiring us to work.If you think that your idea is going to get licensed through Davison I would suggest you be tested and thrown in a home. Do not hire them they hire anybody and will take anyone's money. As I said before they all read scripts and are pressured to get your money as fast as possible.

i just gave them an idea and signed the contract what shall i do

Go somewhere else this company ripped me off with $11, 000 and the prototype I got for that money cost less than $200 to build is not usable in anyway this company needs to be shut down and until Government agency's get involved people are going to lose their life savings I have lost everything by putting my trust in this company I will never trust another American company and will do everything in my power to save people from throwing good money after bad CEO George Davison I a crook and he gets rich from taking your life savings and you get a box of paper and a concept that you are un-able to use nothing like what your idea is about want my advice research any company you are going to use if you find 2 complaints of fraud then walk away or you will lose your shirt while they buy new one's with your money
Glen Miller
47 Hungate Court
Hunmanby
Filey North Yorkshire
England
yo140pq
01723890869
+447957130484

Chris3292 cancel and tell them your sending them no money find another company they will rip you off for the sake of your sanity do not use Davison

I used Davidson back in 1990 I lost a lower amount of money because it seemed to be about money, money, money so I stop contact with them Two years later I see a lady with my idea my heart sunk in my chest, the name that was used at that time was Davidson and associate they just changed there name a little but it's the same people same city. They were sued for twenty six million, I was in that class action suet I only got thirty dollars out of the deal. You can look up this name with class action suet my advice RUN!!!

So I am in contact with them now, I'm scared after reading all this, so can they steal my idea?, how do I prevent this from happening?

I am in the same situation, i have not agreed to anything yet but can they steal my idea?

I'm in the same Boat, can they steal my idea, because i'm dealing with someone name Patrick Bell and he seems really nice and willing to help me out but truly it does seem all about the money. Please respond because i'm suppose to give him 10, 000 in the next to weeks to finish my project.


Lee

Hey Lee,
I haven't signed my contract yet, but I thought all they asked for was the $800 predevelopment fee? What's with the thousands of dollars?

S in Ks

I have been dealing with Davison for almost 3 years now... Every time I turn around they are asking for more and more money. This company talks a good line and has even been covered on the history channel. I lost almost everything (over $16k) believing in my invention. Now when I contact them they will tell me they will provide a sample of my product, but not all the tooling I paid for to have it created. DO NOT use this company. If you don't believe anything on here go to the BBB and see their D- rating for yourself.

Any company that says "New product development is an uncertain endeavor and the use of Davison's services typically does not result in a license agreement, sales on any market or profit to the inventor."
(This means we will rip you off and there is nothing you can do about it, but give us more money to lie to you, because we will take your money and not give you any proof, but you will have plenty of empty promises to make you feel better about being taken advantage of)

They where interested in my idea as well but b4 I did anything I looked them up first so glad I did they said I had to pay 700 but there was no rush and I could do it in my own time bull crap no thank you I really hope this place gets shut down so nobody else falls for there bull sh**!



Videos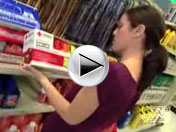 Latest Groups
Today's Mess-Up Photo