Share with Others
Recently Discussed Complaints
Consumer Tips & Tricks
Latest News & Stories
Latest Questions
Bad Company Labradoodles, Pennsylvania Complaints & Reviews - Addison's, Cushings & hip dysplasia

Bad Company Labradoodles Contacts & Informations

Bad Company Labradoodles

Addison's, Cushings & hip dysplasia

Complaint Rating:

Contact information:
Bad Company Labradoodles


Delta, PA 17314




Pennsylvania




United States


bc-labradoodles.com


My Sophie was stricken with Addison's at the age of five. The disease is genetic and it must be in the blood line of the lab and the poodle. My Sadie was stricken with Cushing's at the age of six. They were from two different liters from this breeder. Sadie also has hip dysplasia. I always say God gave them to me because he knew I would give them the best care. With that being said I believe the breeder is totally irresponsible.

Comments
United States
Dog Breeders





Comments

Sort by: Date | Rating

Shu Shu...I am so sorry you have had medical problems with your dogs. There is no genetic marker or scientific proof linking Addisons as a genetic disease. Addisons is bad in poodles & labs, as well as many other breeds. There is also no test that breeders can do on their breeding dogs to see if they are carriers. Many dogs are carriers, there is no way to know till symptoms start showing. We can only go by client feedback & take that into consideration for future breedings. I test all my breeding dogs for HD before they are used for breeding. Even though we test, that is no gaurentee the puppies will not have HD. It just prevents us from using dogs that have HD. Again, this is were client feedback is needed. I have not dealt with cushings disease but, know there is alot of cases in dogs as well as humans. I very rarely have complaints with my puppies. All breeders are at the mercy of Mother Nature and we can not control her. I try to do my best to produce only healthy puppies. Anybody that knows me, knows how much I care about my breeding program. I put alot of hardwork & care into it. I am not in the business to make money. I do not just carelessly throw any male & female together with out thought. My goal is to produce happy, healthy puppies for families to enjoy. All my dogs/puppies are very well cared for. I have many professionals that will back me up on my breeding program. Again, I am sorry your dogs are not perfectly healthy dogs. It was not done out of being irresponsible. We do take precautions to help assist us in trying to produce healthy puppies. Not all puppies kept or purchased for our breeding program go on to be used for breeding. This is why they are not bred till 2 yrs old. So, we can evaluate them. Females are retired at age 5 and placed in loving pet homes. If you have time, I would love for you to contact me with the names of your dogs parents. This way I can make note of it.

I also have questions about this breeder. First of all, Addisons disease is more prevalent in Standard Poodles. Just check out the info about this disease and poodles. Yes, you can test for it, but it only shows a dog is clear at the time of testing. That is why it is so important to know the pedigree of the poodle so that this disease can be traced back and the dog not bred. Labs do not have this disease nearly as much as poodles. With that being said, I have my doubts about the care of the breeder dogs. When asked to see the mother, Tina went to the kennel and brought out a scared, dirty, matted dog. If she really cares about her dogs and pups, she could have clipped the bitch, knowing that she did not have time to properly care for her. I purchased my 2nd doodle from a lady who had the mother in full, excellent coat. I would not buy from this breeder again! Personally I feel she 'over breeds' the poodle by breeding a F1b doodle back to a poodle. Where is the LAB...there is too much poodle in her ??doodles??

Hi Ree, I am sorry you feel that I do not care for or care about my dogs. This could not be farther from the truth. I work closely with my vet. If any health issues arise I consult my vets about the best way to fix it & how to prevent in the future. My vets feel that my percentage of health issues is 5%. One vet works out of a clinic & my other vet is a mobile vet. My mobile vet comes here to give health checks & rabies vaccinations so, he sees all my dogs on a regular basis. All my dogs are given health checks twice a year. All puppies are given a health check before they leave. My kennel is also inspected twice a year & my inspectors always find everything in satisfactory condition. I am not sure when you were at my place but, I did go thru a short time when I had to much on my plate & maybe all the dogs were not groomed perfectly. At no time was their health or well being affected. Changes were made & my life back on schedule. As any one who truly knows me knows, my dogs care/schedule comes first. As you research the many labradoodle breeders you find, each breeder uses different combinations to achieve their goal. Each breeder does what works for them & their clients. I do not agree with the breeders that add cocker spaniel & cockapoo into their pedigrees & then charge big bucks ($2000 plus) for them & not disclose it in the pedigree. But to me that is their business & that is why we have chocolate & vanilla. I know only lab & poodle are in my pedigrees. I am very honest & upfront. If you did not like my breeding program, I question why you bought a puppy from me. I have many people call & say they talked with this breeder & that breeder But, had a gut feeling that something was not right. I always tell people if your gut feeling says do not buy from that breeder or you do not like their breeding program, do not buy a puppy from them. I am a very down to earth person doing a job I love on a daily basis. The most joy I get is when I see one of my puppies placed as a service dog or a working therapy dog.I have been working hard creating a good service dog line. Again, I am sorry that you are not happy with me as a breeder. There was no mention about the puppy you purchased. I do hope your puppy is bringing you joy & staying healthy.

Ree..I went back thru my records & found that you purchased your puppy in May 2007. My parents retired in Jan of 2007 & that is when I started doing the dogs. My husband & I moved in Jan 2007 & my parents were here till April 2007. Raindancer (your puppy's dam) was not a scared dog nor, was she matted. Yes, my adults live in a kennel & therefore may not have been as clean smelling or clean as a house kept dog. They are by no means filthy dirty. My doodles go to a groomer to be groomed. I have a wonderful salon just 3 miles from my home. I even had a groomer from a vet's office coming to my place to groom on weekends until he was diagnosed with cancer & could no longer come. Our breeding program has changed a lot in the last 6 1/2 years. All of our breedings are multigeneration. In 2007 we were still working on the coats so we would be able to do multigeneration breedings with consistant good quality coats.



Videos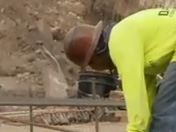 Latest Groups
Today's Mess-Up Photo