Ventrux Informatics complaints
2
Newest Ventrux Informatics reviews & complaints
The complaint has been investigated and resolved to the customer's satisfaction.
scam web designing and company.. they say they develop it... actually they dont do ant thing...
Hey.. Ventrux informatics pvt ltd this is a fraud company... I went to them for website.. They quoted me 15, 000 for a project.. Which bit expensive for me... But I thought of getting it done with them.. They took 40% advance from me.. Then after a week they came up with a [censor] desighn.. Which we rejected... When I asked him to make the changes then the owner rakesh pathak [censor] asked me for more money.. I was surprised... I asked him why? He replied.. You paid for this desighn.. And you have to take this design.. Other wise forget it... I will not refund your money too... What crap id this... Do not deal with this company.. They are [censor]... Scam web designing company...
Resolved
The complaint has been investigated and resolved to the customer's satisfaction.
The complaint has been investigated and resolved to the customer's satisfaction.
App and web development and web development
Hi.. This is Amit from kolkata.. I contaced Ventrux Informatics Pvt.Ltd for my App.. I thought this is a good company . But that was my mistake. Rakesh Pathak came to my office and convinced me to give them the app order.. nd i was convinced by that Idiot. and paid him an amount of 20, 000 as a set up fee after that he never picked up my call not responding to my mails.. So please dont give them any order.. This company will take your money and never provide you the services... Dont do any business with this company...
Resolved
The complaint has been investigated and resolved to the customer's satisfaction.
Is Ventrux Informatics legit?
Ventrux Informatics earns 98% level of Trustworthiness
SAFETY NOTICE: ComplaintsBoard has analyzed Ventrux Informatics and determined that it has perfect credibility and is completely trustworthy, with a legitimacy rating of 98%.
We found clear and detailed contact information for Ventrux Informatics. The company provides a physical address, 2 phone numbers, and email, as well as 3 social media accounts. This demonstrates a commitment to customer service and transparency, which is a positive sign for building trust with customers.
Ventrux Informatics resolved 100% of 2 negative reviews, its exceptional achievement and a clear indication of the company's unwavering commitment to customer satisfaction. It would suggest that the company has invested heavily in customer service resources, training, and infrastructure, as well as developed an effective complaint resolution process that prioritizes customer concerns.
Ventruxinformatics.com has a valid SSL certificate, which indicates that the website is secure and trustworthy. Look for the padlock icon in the browser and the "https" prefix in the URL to confirm that the website is using SSL.
Our scan shows Ventrux Informatics website is free from malware and phishing activities, which are types of online threats that can include viruses, worms, Trojan horses, ransomware, and other malicious code, as social engineering tactics used to trick users into sharing their personal information.
Ventruxinformatics.com has been deemed safe to visit, as it is protected by a cloud-based cybersecurity solution that uses the Domain Name System (DNS) to help protect networks from online threats.
Ventruxinformatics.com you are considering visiting, which is associated with Ventrux Informatics, is very old. Longevity often suggests that a website has consistently provided valuable content, products, or services over the years and has maintained a stable user base and a sustained online presence. This could be an indication of a very positive reputation.
Several positive reviews for Ventrux Informatics have been found on various review sites. While this may be a good sign, it is important to approach these reviews with caution and consider the possibility of fake or biased reviews.
Ventruxinformatics.com appears to have online shopping features, it's important to know that the platform supports an extensive range of payment methods, making it convenient and easy to complete your transaction. The payment procedure on the website is also relatively simple and straightforward, ensuring a smooth and hassle-free experience for buyers.
However ComplaintsBoard has detected that:
Ventruxinformatics.com has relatively low traffic compared to other websites, it could be due to a niche focus, but could also indicate a potential lack of traffic and popularity. The ventruxinformatics.com may offer a niche product or service that is only of interest to a smaller audience.
Ventrux Informatics protects their ownership data, a common and legal practice. However, from our perspective, this lack of transparency can impede trust and accountability, which are essential for establishing a credible and respected business entity.
Ventrux Informatics has been identified as a website that sells popular products that scammers often use to take advantage of unsuspecting customers. We recommend exercising caution and thoroughly researching the legitimacy of the website before making a purchase.
We noticed that ventruxinformatics.com is hosted by a provider with a reputation for shady practices. This could be a cause for concern as it may indicate a lack of security and reliability.
Our Conclusive Verdict: After a thorough evaluation of this company, we highly recommend doing business with them. Our assessment shows that they are trustworthy, reliable, and committed to providing a safe and secure experience for their customers.
Collect Your Trust Badge
Be recognized for outstanding customer service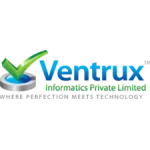 Ventrux Informatics

contacts
We are here to help
19 years' experience in successful complaint resolution
Each complaint is handled individually by highly qualified experts
Honest and unbiased reviews
Last but not least, all our services are absolutely free