Thrifty Car Mart complaints
2
Newest Thrifty Car Mart reviews & complaints
The complaint has been investigated and resolved to the customer's satisfaction.
Bogus complaint
Hello, My business is Thrifty Car Mart and we have a disgruntled ex-employee who put a bad review on complaintsboard.com. The username is May2345. You will see that they even went as far as to comment on their own post twice as if they were different people when in fact the username on the comments as well as the initial complaint are the same.

I would ask if you can please look at this and remove it if at all possible. This person did the same thing to us on Google.

Thank you.
Resolved
This has been resolved as it was entered in this complaint section by accident. It was meant to a support ticket submission due to a bogus complaint from an ex-employee.
Customer service
Horrible service treats customers, buyers, employees even! Unpleasant. Owner isn't truthful nor does he have concern about his local citizens.
Went to K&R dealership. Very happy.

This man portrays to be a chrisitan man. Isn't nothing of the sort. He offended me personally and lied about pricing and didn't care one bit.

Others have told me know that I've had this horrible experience that they has similar.
Why is this man in business?
Oct 19, 2016
11:12 pm EDT
Same here. He shod be in buisness
Oct 19, 2016
11:12 pm EDT
Is Thrifty Car Mart legit?
Thrifty Car Mart earns 97% level of Trustworthiness
SAFETY NOTICE: ComplaintsBoard has analyzed Thrifty Car Mart and determined that it has perfect credibility and is completely trustworthy, with a legitimacy rating of 97%.
We found clear and detailed contact information for Thrifty Car Mart. The company provides a physical address, phone number, and email, as well as 2 social media accounts. This demonstrates a commitment to customer service and transparency, which is a positive sign for building trust with customers.
Thriftycarmart.com has a valid SSL certificate, which indicates that the website is secure and trustworthy. Look for the padlock icon in the browser and the "https" prefix in the URL to confirm that the website is using SSL.
Our scan shows Thrifty Car Mart website is free from malware and phishing activities, which are types of online threats that can include viruses, worms, Trojan horses, ransomware, and other malicious code, as social engineering tactics used to trick users into sharing their personal information.
Thriftycarmart.com you are considering visiting, which is associated with Thrifty Car Mart, is very old. Longevity often suggests that a website has consistently provided valuable content, products, or services over the years and has maintained a stable user base and a sustained online presence. This could be an indication of a very positive reputation.
However ComplaintsBoard has detected that:
There was some difficulty in evaluating or examining the information or data present on the thriftycarmart.com. This could be due to technical issues, limited access, or website may be temporarily down for maintenance or experiencing technical difficulties.
Thriftycarmart.com has relatively low traffic compared to other websites, it could be due to a niche focus, but could also indicate a potential lack of traffic and popularity. The thriftycarmart.com may offer a niche product or service that is only of interest to a smaller audience.
Thrifty Car Mart protects their ownership data, a common and legal practice. However, from our perspective, this lack of transparency can impede trust and accountability, which are essential for establishing a credible and respected business entity.
Our Conclusive Verdict: After a thorough evaluation of this company, we highly recommend doing business with them. Our assessment shows that they are trustworthy, reliable, and committed to providing a safe and secure experience for their customers.
Collect Your Trust Badge
Be recognized for outstanding customer service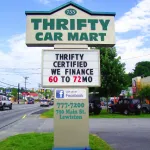 Thrifty Car Mart

contacts
We are here to help
19 years' experience in successful complaint resolution
Each complaint is handled individually by highly qualified experts
Honest and unbiased reviews
Last but not least, all our services are absolutely free