Overview of Optical Signal Trader customer experience
Optical Signal Trader is a trading platform that has been the subject of a lot of complaints from frustrated users. The major complaint centers around the fact that many users have lost a significant amount of money using this platform. Users also complain that the customer support is poor and unresponsive. In addition, the platform is deemed unreliable and prone to technical glitches. The withdrawal process is slow, with users often having to wait for weeks or months to receive their funds. Overall, Optical Signal Trader is a highly risky platform that is not recommended for anyone looking to invest their money.
Optical Signal Trader complaints
1
Newest Optical Signal Trader complaints
Stellar-trace.com Saved Me from Optical Signal Trader Scam: A Review
When it comes to online trading platforms, one of the most important factors to consider is their reliability and trustworthiness. Unfortunately, my experience with Optical Signal Trader left me feeling anything but confident about their services. Not only were they unresponsive to my attempts to contact them, but they also held onto my funds without any explanation or justification.

After struggling to get any kind of response from the Optical Signal Trader team, I was left feeling helpless and frustrated. That's when I turned to Stellar-trace.com, a trusted recovery company that specializes in helping people like me reclaim funds that were fraudulently taken from them online. I was initially hesitant about trusting another company after my negative experience with Optical Signal Trader, but the reviews and success stories I found about Stellar-trace.com gave me hope.

To my relief, Stellar-trace.com was able to work quickly and efficiently to recover my funds from Optical Signal Trader. Thanks to their expertise and diligence, I was able to get back all of the money that had been taken from me. I can't recommend them highly enough to anyone who's fallen victim to an online trading scam like I did.

In conclusion, while I can't say I had a positive experience with Optical Signal Trader, I'm grateful to have found a company like Stellar-trace.com that was able to help me recover my losses. If you're ever in a similar situation, don't hesitate to reach out to them for assistance.
Is Optical Signal Trader legit?
Optical Signal Trader earns 1% level of Trustworthiness
WARNING ALERT: After reviewing Optical Signal Trader, Complaints Board has detected an extremely critical level of trust and a legitimacy rating of only 1%.
With only 0% of 11 complaints being resolved, Optical Signal Trader slow complaint resolution rate suggests poor service, lack of responsiveness, or a lack of helpfulness, causing frustration to users. It is obvious that the company has the lowest level of trust.
Exercise caution when using opticalsignaltrader.com as it may have lower quality content or a poor user experience, leading to fewer visitors and lower traffic.
Optical Signal Trader protects their ownership data, a common and legal practice. However, from our perspective, this lack of transparency can impede trust and accountability, which are essential for establishing a credible and respected business entity.
Optical Signal Trader offering cryptocurrency services, it is important to be aware of the potential risks involved. Cryptocurrency transactions can be anonymous and irreversible, making them a prime target for scammers and fraudsters.
However ComplaintsBoard has detected that:
Optical Signal Trader has received 10 positive reviews on our site. This is a good sign and indicates a safe and reliable experience for customers who choose to work with the company.
Opticalsignaltrader.com has a valid SSL certificate, while Scammers can obtain a valid SSL certificate by using fake information or by using a stolen or hijacked domain. In some cases, they may even use a certificate issued to another legitimate website.
Our scan shows Optical Signal Trader website is free from malware and phishing activities, which are types of online threats that can include viruses, worms, Trojan horses, ransomware, and other malicious code, as social engineering tactics used to trick users into sharing their personal information.
Opticalsignaltrader.com has been deemed safe to visit, as it is protected by a cloud-based cybersecurity solution that uses the Domain Name System (DNS) to help protect networks from online threats.
Opticalsignaltrader.com you are considering visiting, which is associated with Optical Signal Trader, is very old. Longevity often suggests that a website has consistently provided valuable content, products, or services over the years and has maintained a stable user base and a sustained online presence. This could be an indication of a very positive reputation.
Optical Signal Trader as a website that uses an external review system. While this can provide valuable feedback and insights, it's important to carefully evaluate the source of the reviews and take them with a grain of salt.
Several positive reviews for Optical Signal Trader have been found on various review sites. While this may be a good sign, it is important to approach these reviews with caution and consider the possibility of fake or biased reviews.
Our Final Call: Strongly advising against doing business with this website or company. Do not provide any personal or financial information. Report any suspicious activity to the relevant authorities.
Collect Your Trust Badge
Be recognized for outstanding customer service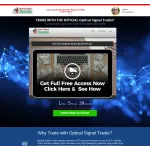 Optical Signal Trader

contacts
We are here to help
19 years' experience in successful complaint resolution
Each complaint is handled individually by highly qualified experts
Honest and unbiased reviews
Last but not least, all our services are absolutely free