Oddball Crystals Customer Reviews
10
Rate your recent experience
Pros and Cons of Oddball Crystals: A Review Breakdown
Oddball Crystals is an online store that offers a wide selection of crystal products, from tumbled stones to large geodes. Customers rave about the quality of the crystals, with many noting that they are even more beautiful in person than in the photos. Additionally, the customer service at Oddball Crystals is frequently praised, with reviewers noting that their emails are answered promptly and their orders are shipped out quickly.

One of the standout aspects of Oddball Crystals is their dedication to sustainability. Many reviewers appreciate the fact that the company sources their crystals ethically and packages them in eco-friendly materials. This commitment to being environmentally responsible is something that sets Oddball Crystals apart from other crystal retailers.

Another positive point that is frequently mentioned in Oddball Crystals reviews is the generosity of their gifts with purchase. Many customers are pleasantly surprised to find that they have received additional crystals or other small items with their orders, making them feel valued and appreciated as customers.

Overall, the reviews for Oddball Crystals are overwhelmingly positive, with customers consistently expressing satisfaction with the quality of the crystals, the customer service, and the company's commitment to sustainability. If you're in the market for high-quality crystals and want to support a company that prioritizes ethics and environmental responsibility, Oddball Crystals is an excellent choice.
Top-Quality Crystals and Exceptional Service: My Review of Oddball Crystals
As a human being, I must say that I had an excellent experience with my recent purchase from Oddball Crystals. I decided to splurge on a small mystery box and was beyond thrilled with the high quality selection of crystals that awaited me. The price was completely reasonable, especially given the superior quality of the items I received.

But that's not all; the shipping process was lightning fast and my package arrived in great condition. The attention to detail and care put into packaging my crystals was a testament to the commitment that Oddball Crystals has to their customers. I was thoroughly impressed and grateful.

From the moment I opened my box, I could tell that this was a company that takes pride in their work and takes their customers' happiness seriously. I can't express my gratitude enough for such a wonderful experience shopping with them. Thank you so much, Oddball Crystals! You've made a loyal customer out of me.
Exceptional Crystals and Service - My Experience with Oddball Crystals
I simply cannot get enough of Oddball Crystals! The elegance and ease of shopping on their platform never fail to impress me. What's more, the crystals that they offer are truly unique and unlike any others that I have seen. Recently, I have been searching for bulk crystals and I was thrilled to come across the chips selection on their website. It was exactly what I had been hoping to find and I plan on getting in touch with their team shortly to learn more about any additional crystals that they may have to offer. The quality of the crystals is exceptional and every piece that I have received has truly exceeded my expectations. The service is amazing, the items arrive promptly and in excellent condition. I would definitely recommend Oddball Crystals to anyone and everyone who is in search of beautiful, high-quality crystals or any other metaphysical needs. Whether you're a collector, a spiritual practitioner, or simply someone who appreciates beautiful things, you will find everything that you need and more with Oddball Crystals. So why wait? Start exploring their website today to discover all the wonderful treasures that they have to offer!
Review: Oddball Crystals- A Gem of a Find for Spiritual and Wellness Items Online
When I came across Oddball Crystals (oddballcrystals.com.au), I must say that I was really impressed with their wide range of products. The website was user-friendly and I found it easy to navigate. As a crystal enthusiast, I usually don't come across such a vast selection online, so I was quite excited when I saw the huge variety they had on offer. The photographs of the items were clear and showed enough detail for me to make an informed decision on what to purchase.

I browsed through their collection of crystals, chakra kits, sage bundles, incense, and unique home decor items. I spent quite some time on their website, mesmerized by the beauty of some of the pieces. I couldn't resist and made my first purchase of a stunning Amethyst Geode and a Chakra Crystal Set.

The ordering process was a breeze, and I really appreciated that they offered Afterpay as a payment option. I was thrilled to receive an email confirmation almost immediately after placing my order. I was also pleased with their reasonable shipping rates which were displayed during checkout.

In terms of customer service, the team at Oddball Crystals really shone. I had a question about one of the items I ordered and reached out to them via email. They responded within a few hours and were very friendly and informative. It was obvious that they really cared about their customers and were passionate about their products.

I am eagerly awaiting my items to arrive and can hardly wait to see them in person. Based on my experience so far, I have no hesitation in shopping with Oddball Crystals again. I am also excited to discover that they add new products frequently, so I am sure that I will constantly be tempted to add to my collection.

In conclusion, if you are a fan of crystals and spiritual home decor, I highly recommend checking out oddballcrystals.com.au. With their vast selection, easy ordering process, and excellent customer service, they are quickly becoming one of my favorite places to shop for spiritual and wellness items online.
Review: Mesmerizing Selenite Rods from Oddball Crystals - Lightning Fast Delivery and Secure Packaging
I recently stumbled upon Oddball Crystals and honestly, I'm over the moon with my purchase. I decided to order a few Selenite rods from their website and boy, was I impressed with the whole experience. Firstly, let me tell you, the delivery was lightning fast! I received my package in no time. Secondly, the packaging was so secure and neat, ensuring that my precious crystals didn't get damaged in transit.

What I loved the most about Oddball Crystals is that their products are exactly as advertised in their pictures. I was a little skeptical at first, as we all know how online shopping can be misleading sometimes, but to my surprise, everything was spot on. The Selenite rods were breathtaking and simply mesmerizing!

I also appreciated the fact that they offer afterpay. As someone who is on a budget and prefers to break their payments into smaller chunks, this was a great option for me. It's a massive relief to know that I didn't have to stress about paying for everything upfront, and could avail myself of this flexible payment method.

It's evident that the folks at Oddball Crystals have a great understanding of their products and an eye for detail. Their website is user-friendly, their customer service impeccable, and above all, their products are absolutely stunning. I would highly recommend them to anyone who is looking for high-quality crystals at an affordable price. I am looking forward to my next purchase, as I am certain that my experience will be just as fantastic as my first.
Review: Oddball Crystals - A Beginner's Heaven
When it comes to purchasing crystals, it can be a daunting task for beginners who may not know exactly what they are looking for. Thankfully, Oddball Crystals has a wonderfully informative website that makes it easy for anyone to navigate and find the perfect crystal for their needs. The product descriptions are thorough and leave little room for confusion which is greatly appreciated. It's clear that Oddball Crystals takes pride in the experience they provide and want their customers to feel confident in their purchases. However, one small improvement that could be made is to include more precise measurements of the crystals. This would be helpful for those who are looking for specific sizes, or for those who are trying to envision how the crystal would fit into their space. Nevertheless, Oddball Crystals is a wonderful resource for anyone looking to expand their collection or even just starting out on their crystal journey.
Unbeatable Quality and Value: My Review of Oddball Crystals
I had an absolutely delightful time shopping at Oddball Crystals. I was looking for something special to treat myself for my birthday, and I stumbled upon their website. I was pleasantly surprised to find that the prices were very reasonable, and there were so many unique and stunning crystal products to choose from!

I ultimately decided to purchase the fifty dollar mystery box, and I couldn't be happier with my purchase. Not only was it a great value for the price, but it's also exciting not knowing what you'll get. When I received the box, it was like opening a present on Christmas morning! I got a variety of crystals that were all gorgeous, and many of them were ones I wouldn't have thought to pick out for myself, but I'm so glad I got to add them to my collection.

One thing I appreciated about Oddball Crystals is that they have a huge selection of crystals and gemstones to choose from, but they are all high quality. Some other places I've shopped at in the past have lower quality crystals and gemstones, but that definitely wasn't the case here. The colors were vibrant and the shapes were unique - I was in awe.

Overall, I had such a positive shopping experience with Oddball Crystals, and I know that I will definitely be back when I'm ready to splurge on myself once more. The quality of their products, combined with their reasonable pricing, makes for an unbeatable combination. Thank you, Oddball Crystals, for putting a smile on my face and making my birthday extra special!
Frustrating Experience with Oddball Crystals' Checkout Process - A Review
I recently had an experience with Oddball Crystals' website and checkout process that left me feeling quite frustrated. Despite a considerable amount of time spent adding items to my cart and applying various discounts, the total at checkout seemed to be a moving target that kept changing on me. It was extremely frustrating to be sent back and forth from Paypal to the Oddball Crystals site, only to find that the final amount due continued to increase with each attempt.

At first, the total was a reasonable $59, but it quickly shot up to $70+ with seemingly no explanation. On top of this, the discounts that I had spent time carefully applying to my order were mysteriously removed, leaving me feeling like I had wasted my time and energy trying to find a good deal.

As a customer, it's incredibly important to me that websites that I shop with are able to provide reliable and straightforward checkout experiences. Unfortunately, my experience with Oddball Crystals was anything but. While I do appreciate the unique and interesting products that they offer, I would unfortunately have to think twice before considering shopping with them again in the future.
Colorful and Unique Crystal Assortment at Oddball Crystals: A Review
I recently had the pleasure of exploring Oddball Crystals, and while my shopping experience was fairly positive, there were some minor areas of improvement that left me wanting more. One of the main drawbacks of the online store is the need to navigate back to the first page each time you make a purchase. This can be quite tedious and time-consuming, especially if you're buying multiple items.

However, the one aspect that truly stood out to me during my visit to the website was the colourful assortment of unique stones available for purchase. I was truly impressed by the diverse range on offer, each different hue and size more captivating than the last. The sheer variety of crystals and gems really left me in awe and exceeded my expectations.

In particular, I simply adore the mix of small and large crystals that are available at Oddball Crystals, especially the magnificent slices of agate. The 5-piece, 3 inch beautifully crafted crystal set in particular deserves a special mention, as it is an absolute stunner and proved to be a real conversation starter when I received it.

All things considered, despite the minor inconvenience of repeatedly navigating back to page one during the checkout process, I couldn't be happier with my purchases from Oddball Crystals. I wholeheartedly recommend this site to anyone looking to expand their crystal collection or seeking a unique gift for a special someone.
Review: Oddball Crystals - Unique, Nature-Inspired Crafts at Affordable Prices
As someone who's always looking for unique and nature-inspired crafts, I was thrilled to come across Oddball Crystals. Not only do they offer a wide range of interesting products, but their prices are very reasonable too - perfect for a budding crafter like myself!

What I particularly appreciated about Oddball Crystals is that they source their products from an Austrian wholesaler, which gives their items a unique touch that sets them apart from the mainstream. This attention to detail and passion for nature-based crafts truly sets this business apart.

Unfortunately, like any online shopping experience, I did encounter a few hiccups with my checkout process. At one point, the page just wouldn't load and I experienced trouble with my log-in. It was definitely frustrating and put a bit of a damper on the overall experience.

But despite that, I persevered and was able to successfully complete my purchase. In the end, the minor inconvenience of the technical glitches was worth it for the charming and high-quality products that Oddball Crystals offers. I'm definitely looking forward to returning to this site in the future and exploring even more of their unique and inspiring offerings.
Oddball Crystals: A Treasure Trove of High-Quality Crystals with Exceptional Customer Service
As a person who absolutely adores collecting crystals, I can say with utmost certainty that Oddball Crystals (oddballcrystals.com.au) is a treasure trove for crystal enthusiasts like me! The quality of these crystals is simply fantastic. In fact, the minute I received my first order from them, I was so impressed that I immediately placed another one!

One of the standout features of Oddball Crystals is their exceptional customer service. The team behind this fantastic website is not only incredibly polite, but also extremely prompt in their communication with their customers. I never had to wait long to receive any answers or clarifications to my queries, and that definitely made the entire experience all the more enjoyable. Additionally, I was thrilled to see that my products were packaged with utmost care and attention to detail, ensuring that they were delivered to me safely and securely.

As a small business owner, I am always on the lookout for vendors who can provide me with the best quality products at reasonable prices, without compromising on service. And with Oddball Crystals, I have found just that. While their crystals are some of the best I have come across, the transparent and upfront information on each product matched with their bulk orders means I have been able to plan my business orders with confidence.

I look forward to continuing my association with Oddball Crystals as my small business grows. They have certainly earned a loyal customer in me, and I would highly recommend them to anyone in search of high-quality crystals at reasonable prices, combined with a delightful customer service experience.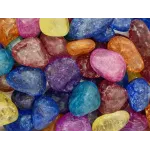 Oddball Crystals

contacts
Your Voice Matters: Our Commitment to Genuine Reviews
Empowering Real Experiences
At ComplaintsBoard.com, we believe in the power of true customer stories. Our platform is a space for authentic voices, where experiences, both good and bad, are shared openly and honestly.
Dedicated to Authenticity
We're vigilant in our fight against false reviews. Our team employs robust verification methods to ensure every review reflects a real customer experience, upholding the integrity of our platform.
Encouraging Detailed Feedback
We value reviews that come with real evidence. Whether it's a photo, a detailed account, or additional documentation, such substantiation adds credibility to your story, helping others make better-informed decisions.
Balanced and Constructive Conversations
We're more than just a complaints board; we're a community for balanced dialogue. We encourage reviews that not only highlight issues but also acknowledge positive aspects, fostering a fair and comprehensive understanding.
Free and Fair Platform
Our commitment to maintaining a free and unbiased platform is unwavering. Every review is treated equally, ensuring that your voice is heard and respected, regardless of the nature of your experience.