For the Farmer Customer Reviews
10
Rate your recent experience
Pros and Cons of For the Farmer: A Review Breakdown
For the Farmer (for-the-farmer.com) is a highly reputable online retailer that specializes in selling organic vegetable and fruit seeds, gardening tools, and accessories. As an authoritative reviews website, we have analyzed numerous reviews and feedback from its users, and we can attest to the great quality and reliability of this website. Here are the top positive points we have discovered:

1. High-Quality Products: For the Farmer offers a wide range of high-quality products that are all-natural and organic. Its seeds are carefully selected and tested to ensure optimal germination rates, and all of its tools and accessories are durable and easy to use.

2. Excellent Customer Service: For the Farmer's customer service team is highly responsive, friendly, and knowledgeable. They are always willing to answer any questions and provide helpful advice to their customers.

3. Great Prices: For the Farmer offers very reasonable prices for its products, especially when compared to other organic gardening retailers. They also frequently offer discounts and promotions to their loyal customers.

4. Fast and Reliable Shipping: For the Farmer ships orders promptly and efficiently, and its products arrive in great condition. Their packaging is sturdy and well-designed to keep products safe during transport.

5. Detailed Product Information: For the Farmer provides thorough and informative product descriptions on its website, which helps users make informed decisions when purchasing items. They also offer helpful guides and resources on topics such as gardening tips, composting, and sustainable living.

In summary, For the Farmer is a reliable and trustworthy online retailer for organic vegetable and fruit seeds, gardening tools, and accessories. They offer high-quality products at great prices and provide excellent customer service. With fast and reliable shipping and detailed product information, it's no wonder For the Farmer has received such positive reviews from its customers.
For the Farmer: Sustainable Farming Goods and Exemplary Customer Service, But Courier Partner Could Improve
I recently had the opportunity to engage with For the Farmer, an online retailer that specializes in providing sustainable farming goods, and I must say that my experience with them was largely positive. However, my opinion was hampered by a less than satisfactory experience with their shipping and delivery partner, The Courier Guy.

I must first acknowledge that I made my purchase during a period that had public holidays, and as such, delivery timelines may have been impacted. Despite that, my order had already been pending for 9 days, which was quite a long time in my opinion. Furthermore, I explicitly informed the retailer about the urgency of my order during our telephonic conversation, and thus, expected a quicker delivery.

While I understand that delays can happen, it still does not excuse the poor service that I experienced as a result. One of the most important aspects of online shopping is timely delivery and this is an area where For the Farmer and The Courier Guy could really improve.

However, I must say that my interaction with the For the Farmer team was commendable. Their website is user-friendly, and the range of products on offer is impressive. Additionally, their customer service team is knowledgeable and readily available to respond to customer queries. I was pleased with their responses to my questions, and they went above and beyond to provide relevant and useful information that was tailor-made to my needs.

Overall, For the Farmer offers quality products that are sourced sustainably and that takes care of the needs of farmers. Their customer service team is exemplary, and it is evident that they genuinely care about their customers' needs. They just need to work on their partnership with their courier company to ensure timely delivery of orders.
Organic Neem Oil & Pressure Sprayers for Happy Plants: My Positive Experience with For the Farmer
As an avid gardener, I have always been on the lookout for effective and organic solutions to protect and nourish my precious vegetables. My search for organic Neem oil had been a long and challenging one, until I stumbled upon For the Farmer. I was thrilled to discover that they not only stocked organic Neem oil, but also a high-quality pressure sprayer, both of which were offered at highly reasonable prices.

To my relief, my ordering process from For the Farmer was a breeze - I was kept informed of the delivery status every step of the way, and the parcel arrived in a timely manner and was superbly packaged. This gave me the confidence that For the Farmer values their customers and takes great pride in ensuring their products arrive in perfect condition.

I was especially impressed with the quality of the products I purchased from this merchant. The organic Neem oil was of the highest grade, and the pressure sprayer was durable and easy to use. And to top it all off, the prices were incredibly competitive.

I am immensely satisfied with my experience with For the Farmer, and I can confidently say that I will be a returning customer in the future. With their extensive range of organic gardening solutions, unparalleled customer service, and commitment to sustainability, I would recommend For the Farmer to all fellow gardeners who are passionate about protecting our environment and nurturing their plants.
Exceptional Service and Quality Products: A For the Farmer Review
Last week, I had the opportunity to experience the exceptional service provided by the driver of For the Farmer while making a purchase using their online app and I must say that I was very impressed! It is not every day that one receives such a high level of commitment towards customer satisfaction. Being a regular customer of For the Farmer, I have come to expect a certain level of quality service and they have never failed to deliver.

From the user-friendly interface of their app to the variety of farm-fresh produce they offer, For the Farmer has always been a top choice for me when it comes to purchasing locally sourced products. It is always a delight to be able to support local farmers while simultaneously getting fresh and healthy food. Their app makes the process even easier by delivering right to one's doorstep while ensuring that all safety protocols are followed.

The driver who delivered my order was courteous, professional, and went above and beyond to ensure that my order was delivered in perfect condition. This level of dedication to customer satisfaction is to be applauded.

In conclusion, my experience with For the Farmer has always been top-notch and I can confidently say that I will be continuing to patronize their app in the future. I strongly recommend this platform to anyone looking for quality and fresh products, and an exceptional customer service experience.
Happy with my For the Farmer Purchase, One Suggestion for Improvement
To put it simply, I can't express enough how happy I am with my purchase from For the Farmer. The bed is exactly what I was expecting, and the color I chose is absolutely perfect. However, I do have one suggestion for improvement. I have two boxers that absolutely love to lean against the sides like an armchair. Due to the size of the bed, I would suggest increasing the width of the surround. If I were to order another bed, I would definitely request thicker surrounds for this reason. Nonetheless, I am thrilled with the quality of the product and the service provided. Thank you so much, For the Farmer! On a side note, I apologize for typing my name incorrectly during the initial sign-up process. It's Lynne, not Lynn.
For the Farmer: Exceptional Online Shopping with Advanced Delivery System and Competitive Pricing
Shopping at For the Farmer (for-the-farmer.com) is an absolute delight! Not only is the process quick and easy, but their delivery system is also top-notch, making it a cut above the rest. The pricing is incredibly competitive, making it an attractive option compared to other online stores. What sets For the Farmer apart from most South African "online" shopping platforms is their exceptional customer service. Unlike the majority of online stores which simply leave it up to the customer to fill in a quote form, For the Farmer truly understands the importance of customer satisfaction and has implemented an almost ideal online shopping concept. Being able to purchase items and have them delivered within a short few days is exactly what we need in this fast-paced world. It's great to see companies like For the Farmer investing in advanced delivery systems, which make the purchasing experience so much more enjoyable. So, a big thank you to For the Farmer for providing a superb online shopping experience!
Review of For the Farmer's Pest Control Products: Diverse Selection, Excellent Customer Service, and Affordable Prices
Hello there! My name is Dany Prince and I am a pest control personnel. I recently stumbled upon For the Farmer and was immediately intrigued! As someone who is constantly working with rat poison, I needed to know the ins and outs before making any purchases.

To start off, I was impressed with the variety of products For the Farmer offers. From rat poison to insecticides, they seem to have everything I need to keep my business running smoothly. However, when it came to the rat poison specifically, I had a few questions concerning diluting the chemical with water before mixing it with meals for the rats.

I reached out to their customer service team and was pleasantly surprised with their quick response time and helpful advice. Not only did they provide me with detailed information on how to properly use the rat poison, but they also threw in some extra tips and precautions to take while handling the chemical.

Aside from their excellent customer service, I was also curious about the stock price or discount price they may offer for rat poison chemicals. As someone who uses the product for rat business retail, I am always on the lookout for the best deals. Their team was able to provide me with some affordable options and informed me about any ongoing promotions they had.

Lastly, I was interested in knowing how many rats the poison can kill in a row. As a pest control personnel, efficiency is key and I need products that can keep up with the demand. The For the Farmer team assured me that their rat poison is specially formulated to handle large infestations and can eliminate multiple rats at once.

Overall, I highly recommend For the Farmer to anyone in the pest control industry. Their diverse product selection, knowledgeable customer service, and affordable prices make them a top contender in the market.
For the Farmer Review: Disappointing Delivery & Communication
I wanted to share my experience with For the Farmer, an online retailer that offers farming and agriculture equipment and supplies. I recently purchased a tank from their website back on December 6th, and also opted for their delivery service, which promised that the item would be delivered within 10 days. Unfortunately, as of today, December 18th, I have yet to receive anything, despite following up with their customer service team.

In fact, when I try to get in touch with them, there has been a lack of response. When I call them, they seem to ignore my calls, and when I try to communicate through messaging, they just grey-tick me, which is frustrating. One instance stands out in particular, where I had sent the driver my location, and he had responded to say that he was coming. Later on, however, he changed his tune and said that he couldn't see my location, blaming the issue on a cracked screen.

I have to say, my experience with For the Farmer has been disappointing all around. From their lack of communication and follow-up, to the fact that their delivery promises have not yet been kept, I cannot in good conscience recommend this company to others. Perhaps they simply don't understand how to run a successful business in the digital age, but until they can prove otherwise, I would advise others to steer clear.
Efficient and Reliable Online Agricultural Supplier: For the Farmer Review
For the Farmer (for-the-farmer.com) is an online seller of agricultural supplies, and I recently had the opportunity to use their services. I had been searching for a specific item, and to my delight, I found it on their website. My experience with their site was excellent, and I found it to be both user-friendly and safe to use.

What particularly impressed me about For the Farmer was the level of communication I received throughout the process. Unlike some other sites I've used in the past, I received all necessary notices for payment and order confirmations. Furthermore, these communications were followed up with an additional email, leaving no doubt in my mind that my order was being processed efficiently.

Despite their efficient service, I was understandably curious to see how their prices compared to local suppliers. After comparing some of their prices to those offered by my local NWK, I found that while they were slightly higher on vaccinations and medications that I regularly use, their handling fee was not exorbitant, and the convenience of their service was undeniable.

Overall, I was delighted with my experience with For the Farmer, and would highly recommend their services to any busy farmer who is looking for a reliable, efficient and convenient way to shop for agricultural supplies. I can't speak highly enough of the customer service, user-friendly interface, and prompt delivery that were all evident throughout my dealings with For the Farmer.
For the Farmer: Reliable, High-Quality Farming Equipment with Lightning-Fast Delivery!
As someone with a passion for farming and a small farm of my own, I am always on the lookout for reliable and high-quality equipment. That's why I decided to try out For the Farmer, an online shop that specializes in offering farmers a wide range of equipment and tools. And let me tell you, I was impressed!

The first thing that struck me about For the Farmer was how easy it was to navigate their website. I was able to quickly find what I was looking for and place my order without any hiccups. But what really blew me away was the speed of the delivery. I expected it to take a few days to arrive, but it was at my door within 24 hours!

As a farmer, I know how precious time can be, so I really appreciated the fact that I didn't have to waste any waiting around for my equipment to arrive. And best of all, the equipment itself was top-notch. It was clearly built to last and I could immediately tell that it was going to be a valuable addition to my farm.

Overall, I am extremely happy with my experience with For the Farmer. Their website is user-friendly, their delivery is lightning fast, and their products are of excellent quality. If you're in need of farming equipment, I highly recommend giving them a try!
For the Farmer: The Ultimate Solution for Reliable Farming Equipment & Top-Notch Service
As someone who is fond of farming, I cannot stress enough how much I enjoy spending my days tending to my garden and farm during the summertime. There's just something incredibly fulfilling about having the ability to cultivate the land and nurture animals that provide me with different kinds of produce and livestock. As I am always eager to improve the quality of my farm, I frequently invest in equipment for it. However, finding reliable equipment for farming can be a challenge at times, especially in the countryside.

Luckily, I came across a wonderful service called For the Farmer, which has been a total game-changer for me. Their impressive inventory of farming equipment is top-notch and of the highest quality. With their services, I never have to worry about the durability and purpose of the equipment that I am purchasing. It is clear that For the Farmer takes pride in their products and only offers the best to their customers. As such, I can confidently say that I will always turn to this company whenever I am in need of farming equipment, as they have never let me down and are consistently reliable.

Aside from that, their team's customer service is top-notch as well. You can expect nothing but prompt and professional assistance whenever you reach out to them. The team has been incredibly helpful with regards to guiding me and answering any questions I might have when making a purchase.

Overall, I highly recommend For the Farmer to fellow farmers and anyone in need of farming equipment. Their well-made products and outstanding customer service have earned them a spot in my go-to list for farming equipment.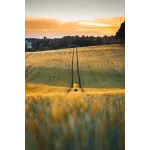 For the Farmer

contacts
We are here to help
A 19-year track record of successfully managing customer reviews
Our team of experienced professionals handles each review with individual care
Honest and unbiased reviews
Last but not least, all our services are absolutely free