Overview of For the Farmer customer experience
For the Farmer, an online store for farm-to-table meat and produce, has garnered numerous complaints from consumers unhappy with their service. Many customers have reported receiving spoiled or damaged products, while others have complained of poor customer service and difficulty getting refunds. Shipping times have also been criticized, with some customers waiting weeks for their orders to arrive. Overall, For the Farmer appears to have significant issues with product quality, customer service, and logistics, making them a poor choice for anyone looking for high-quality farm-to-table products.
For the Farmer complaints
10
Newest For the Farmer complaints
Disappointing Experience with For the Farmer's Delivery System
Unfortunately, my experience with For the Farmer was quite disappointing. After placing an order on their website, I waited for more than seven days and still did not receive my delivery. It was quite frustrating and inconvenient, especially considering the expectation of receiving fresh farm-to-table products.

To add insult to injury, it appeared that the issue was not with For the Farmer themselves, but with the courier they use for delivering their products. The courier was completely dysfunctional and unreliable, which resulted in my experience being extremely negative. It is worth noting that the products from For the Farmer itself looked quite enticing and delicious, but unfortunately, if the delivery system is not up to par, it significantly affects the overall customer experience.

In my personal opinion, businesses should be mindful of not only offering quality products but also ensuring smooth and reliable delivery systems. It not only impacts the customer's experience but also damages the reputation of the business, as it did in this instance.

I would love to give this company another chance, but for now, based on my experience, I cannot recommend For the Farmer until there is a significant improvement in their courier service.
Disappointing Experience with For the Farmer Online Store: Failed Delivery and Lack of Communication
I am disappointed to share my experience with For the Farmer online store. Although their website seems promising, as I placed an order for several items that appeared to be of high quality and suitable for my needs, unfortunately, my order never arrived. It has been quite some time since the expected delivery date, and the last tracking update I received dates back to the 5th of January 2022.

I have contacted their customer service team, yet I have not received a clear, concise response regarding the status of my order or when I can expect it to arrive. The lack of communication is frustrating, as I was genuinely looking forward to using the products I had ordered, and the lack of transparency on their end leaves a lot to be desired.

It's evident that the company has failed to fulfill their obligation to me, and it's understandable that they might face challenges due to external factors, such as shipping delays amid the current global pandemic. However, the lack of communication or urgency in resolving the issue leaves me feeling quite unsatisfied with my experience.

Overall, my experience with For the Farmer has left me hesitant to recommend their products or services to others, as the lack of accountability and transparency in handling logistical issues can be overwhelming and frustrating for customers. I hope that they can improve their customer service and communication in the future, as it would undoubtedly make for a more positive experience for all parties involved.
For the Farmer Review: Great Products, but Communication Needs Improvement
As a human being, I recently had an experience with For the Farmer, and I felt it was important to share my thoughts and feelings about their service. Initially, I was quite excited to check out their website and see what unique offerings they had available. However, my enthusiasm quickly turned to frustration when I realized that after I had placed my order, it took over a week before I received any shipping information from them. This was particularly worrisome for me as I had some special events scheduled and I needed the products in a timely manner.

I tried calling them on several occasions, but it seemed that their phone line was always busy. I also sent an email inquiry, but I received no response. Needless to say, this was quite disappointing and I wondered if I had made a mistake by choosing to shop with For the Farmer.

Thankfully, after some persistence, I was finally able to get through to their customer service team and they were able to provide me with an update on my order. Although it was a bit frustrating, I understood that sometimes glitches happen and I appreciated the fact that they were taking the time to make things right.

Ultimately, my experience with For the Farmer was positive once I received my shipment and saw the quality of their products. Their focus on sustainable, organic farming practices was truly inspiring, and I felt good knowing that my purchase contributed to a greater cause. However, I would suggest that they work on improving their communication and responsiveness to customers, as this can make all the difference in building trust and loyalty in the long run.
Is For the Farmer legit?
For the Farmer earns 91% level of Trustworthiness
SAFETY NOTICE: ComplaintsBoard has analyzed For the Farmer and determined that it has perfect credibility and is completely trustworthy, with a legitimacy rating of 91%.
For the Farmer has received 9 positive reviews on our site. This is a good sign and indicates a safe and reliable experience for customers who choose to work with the company.
The age of For the Farmer's domain suggests that they have had sufficient time to establish a reputation as a reliable source of information and services. This can provide reassurance to potential customers seeking quality products or services.
For-the-farmer.com has a valid SSL certificate, which indicates that the website is secure and trustworthy. Look for the padlock icon in the browser and the "https" prefix in the URL to confirm that the website is using SSL.
Our scan shows For the Farmer website is free from malware and phishing activities, which are types of online threats that can include viruses, worms, Trojan horses, ransomware, and other malicious code, as social engineering tactics used to trick users into sharing their personal information.
Several positive reviews for For the Farmer have been found on various review sites. While this may be a good sign, it is important to approach these reviews with caution and consider the possibility of fake or biased reviews.
For-the-farmer.com appears to have online shopping features, it's important to know that the platform supports an extensive range of payment methods, making it convenient and easy to complete your transaction. The payment procedure on the website is also relatively simple and straightforward, ensuring a smooth and hassle-free experience for buyers.
However ComplaintsBoard has detected that:
While For the Farmer has a high level of trust, our investigation has revealed that the company's complaint resolution process is inadequate and ineffective. As a result, only 0% of 10 complaints are resolved. The support team may have poor customer service skills, lack of training, or not be well-equipped to handle customer complaints.
For-the-farmer.com has relatively low traffic compared to other websites, it could be due to a niche focus, but could also indicate a potential lack of traffic and popularity. The for-the-farmer.com may offer a niche product or service that is only of interest to a smaller audience.
Our Verdict: For the Farmer is highly recommended company, but beware of poor customer service. Their 0% Resolve Complaints rating is a cause for concern. We advise using their services securely and reviewing complaints beforehand.
Fresh, Sustainable and Local - A Review of For the Farmer's Commitment to Quality Produce
and efficient. I was impressed by the attention to detail, evident in the packaging and presentation of my produce. It was clear that a lot of thought and care had gone into sourcing the best quality products for customers.

One thing that particularly stood out for me about For the Farmer was their commitment to supporting local farmers and producers. Not only is this great for the environment and our local economy, but it also means that the produce I received was fresh, seasonal and full of flavor.

I appreciate that For the Farmer also offers a wide range of organic and sustainably sourced products, which align with my values as a conscious consumer. Their website is user-friendly and easy to navigate, making it simple to find the products I'm looking for and place my order.

Overall, my experience with For the Farmer was excellent and I will definitely be ordering from them again in the future. I highly recommend them to anyone looking for fresh, high-quality produce with a focus on supporting local farmers and sustainable practices.
Review: For the Farmer's High-Quality Neem Oil & Helpful Customer Service
Dear fellow farmers,

I just wanted to take a moment to share my experience with For the Farmer. As a farmer myself, I am always on the lookout for the best products to ensure the health and well-being of my crops. That's why I turned to For the Farmer for their high-quality neem oil.

Unfortunately, like many of you, I recently found that their 5L and 25L bottles of neem oil were sold out. I reached out to their team to inquire about when these products would be back in stock, and I received speedy and helpful support in return.

While it's certainly frustrating to have to wait for a product that we rely on, I appreciated the support that For the Farmer provided me during this time. They were able to give me an estimated date for when the neem oil would be back in stock, which gives me peace of mind as I plan for the coming weeks.

Overall, I've been really impressed with the range of products that For the Farmer offers, and the quality of their customer service. I highly recommend giving them a try for all of your farming needs. Thank you!
Review: For the Farmer - Good Goods, Frustrating Experience
As a person who frequently orders products online, I recently tried out For the Farmer (for-the-farmer.com) for the first time. While I was excited to support a website that sources local, sustainable goods, I did have a bit of a frustrating experience.

When my order was initially placed, everything seemed to be going smoothly. However, as the days went by and I hadn't received any updates on my purchase, I began to wonder if something was amiss. Eventually, I gave in and reached out to the company myself to check in on the status of my order.

Unfortunately, even after this inquiry, I still wasn't given any real updates. It wasn't until the day my delivery arrived – literally at my gate – that I was finally notified of its impending arrival. Needless to say, I was a bit taken aback by this approach to communication.

That being said, I do want to note that the quality of the goods themselves was generally high. The items I ordered appeared to be fresh, and I appreciated the clear commitment to responsible sourcing that For the Farmer seems to prioritize. However, I do wish that the customer service experience could have been a bit smoother.

All in all, while I'm not sure if I'll use For the Farmer again in the near future, I do believe that there is potential here. As long as the company can improve their communication practices (and perhaps send out some more proactive updates to customers), I think they could be a strong player in the world of online sustainable shopping.
For the Farmer Review: Great Quality Products, but Disappointing Delivery Issues and Missing Items
! I recently ordered some products from For the Farmer, an online store that specializes in providing natural and sustainable farming products to consumers. While my overall experience with the website was positive, there were a few hiccups along the way.

First off, I must say that the products I received were of great quality and exactly what I was looking for. There's a certain peace of mind that comes from knowing that the items you're using to cultivate your garden or take care of your animals are free from harmful chemicals and additives.

However, there were some issues with my delivery that left me feeling a bit frustrated. The package arrived a few days later than expected, which wasn't a huge deal but it did disrupt my plans a bit. Additionally, there was one item that was missing from my order, and I still haven't received it despite reaching out to customer service.

That being said, I do appreciate the ethos behind For the Farmer's business model. It's not always easy to find eco-friendly and sustainable alternatives to mainstream products, especially when it comes to agriculture. By supporting this company, I feel like I'm doing my part to support ethical business practices and promote a healthier environment.

Overall, I would recommend For the Farmer to anyone who is looking for high-quality, environmentally-conscious products for their farm or garden. Just be prepared for the possibility of some delivery delays or missing items!
Disappointing Online Order Experience with For the Farmer: Lack of Communication and Delays
I had high hopes for For the Farmer and their supposed commitment to providing fresh, organic produce, but unfortunately my experience with their online ordering service has left me extremely disappointed.

Ten days have passed since I placed my order and paid for it, yet I still have not received my goods or any communication about the delay. This is unacceptable and has left me feeling frustrated and let down by the company.

I understand that there can be unforeseen circumstances that may cause delays, but it is the lack of communication that is particularly concerning. As a customer, I feel like I have been left in the dark, with no knowledge of when I can expect to receive my order.

Furthermore, the website itself could use some improvement. While it is visually appealing, the navigation can be confusing and it is not always clear what items are currently in stock.

Overall, my experience with For the Farmer has been disappointing. While I appreciate their commitment to providing organic and locally sourced produce, the lack of communication and inefficiencies in their online ordering process have left me hesitant to use their services again in the future.
Disappointed with For the Farmer's Online Store: Product did not match website description
As a customer of For the Farmer's online store, I had an unfortunate experience where the product I received was not as advertised on their website. I had made a purchase based on the picture and information provided on their website, but unfortunately, when the product arrived at my doorstep, it was different from what I had expected. Needless to say, this unexpected turn of events left me feeling very dissatisfied.

To add context, For the Farmer is an online store that primarily sells products related to farming, agriculture, and rural lifestyle. They boast a large selection of products ranging from clothing and accessories to equipment and tools. As someone who has a deep interest in agriculture and farming, I was drawn to their online store and was excited to make a purchase. However, it was disappointing to receive an item that was not as described on their website.

It's unfortunate that this happened, and I believe that such discrepancies can directly impact customer satisfaction. As a customer, I rely on the accuracy of the product descriptions and pictures to make informed decisions and avoid making purchases that I will later regret. In my case, that was not the case.

Overall, I am disappointed with the product I received from For the Farmer. I hope that they take the necessary steps to ensure that their products are accurately represented on their website and that future customers do not encounter the same issue.
On the Fence About For the Farmer's Artist Brushes: A Review of Product Clarity
As someone who enjoys painting and creating art in their free time, finding high-quality brushes is essential to achieving great results. That's why I decided to give For the Farmer's artist brushes a try. However, when I received my order, I was a little disappointed. The website only displayed a picture of three brushes, and I assumed that this meant they were sold as a pack. As a result, I ordered two packs thinking I would receive six brushes. Unfortunately, I soon discovered that each brush was actually sold individually, and thus I only received two. While the brushes themselves seemed like they were of good quality when I tested them out, it would have been helpful if the website had been more clear about the quantity of brushes included with each order. Overall, while I would potentially purchase more brushes from For the Farmer in the future, I will definitely make sure to read through the product descriptions and details more carefully to avoid any potential confusion.
Collect Your Trust Badge
Be recognized for outstanding customer service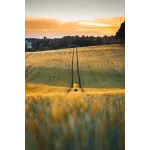 For the Farmer

contacts
We are here to help
19 years' experience in successful complaint resolution
Each complaint is handled individually by highly qualified experts
Honest and unbiased reviews
Last but not least, all our services are absolutely free