Carman Chrysler-Jeep-Dodge reviews & complaints
Carman Chrysler-Jeep-Dodge complaints
3
My radio would not turn off after driving to work this morning. I called and spoke to Jim in Service and he said to drop it off. I left work to drop it off and used your shuttle service to take me to...
Read full review
Carman Chrysler-Jeep-Dodge
-
2015 jeep renegade
My renegade that has less then 25000 miles is in shop again for the third time and they don't know when part is coming in! And they don't have rental cars really they can't fix it but I have to pay for s rental car I. AM NEVER buying a jeep again some one better get me a p.o to pay for the rental car. I emailed the dealer about the issue and said I need a p.o for rental and they said pretty much it's not their problem and to call Chrysler so I did so I have a case number and Chrysler said it is the dealers responsibility and they were going to call Carman I said this is boarder line lemon law so far my part isn't coming until the end of October did hear back I Emailed a Lemon law Lawyer
Carman Chrysler-Jeep-Dodge
-
Parts thrown in to fix car as wrong guesses add up to same dead car!
Brought my 1999 Chrysler 300M, with no other major problems in years, to Carman Dodge Service Center because the gauges would drop to zero while the car was running and driving at regular speed (still drove fine). Also, started having starting problems. Already know that it will need to be on a machine to get the diagnostic codes to indicate the problem. Service Managers and Technicians indicate, "don't want to throw parts at the car guessing what the problem is." Well, after a "110% " verbal guarantee from the mechanic, that it is a SYM part issue, and a $281.00 bill, the car still has the same issue. The car doesn't start right at the dealer after paying the bill! So back to the drawing board and we hand them the keys again. Mechanic now states, again "100% sure" it is the PCM. Indicates it will cost $1, 100.00 for the part alone. My husband gets a good working part from a 1999 Chrysler 300M for much less, brings it to the mechanic. Mechanic doesn't even put the part in the vehicle, stating that that is not the problem based on the testing machine. May be the BCM now, and that part is $440.00. My husband has taken the car out of the dealer when they get it to start long enough to drive home without working gauges(battery was dead due to leaving lights on and we had to get a jump right at the dealer!). We can guess for much less money at home at this point. Carman Dodge doesn't feel that the "wrong" part put in (that they guranteed was the problem), installed that did not change the car one bit is not their responsibility and we need to eat that $281.00 cost. Will offer a credit for the separate $91.00 charge for the machine, which we are willing to pay, since that would be the indicator machine with the codes of what is wrong with the car. We have about 6 Chrysler vehicles and if this is not rectified and made right, we will never buy another Chrysler product EVER AGAIN!!! Thank you.
We are here to help
16 years' experience in successful complaint resolution
Each complaint is handled individually by highly qualified experts
Honest and unbiased reviews
Last but not least, all our services are absolutely free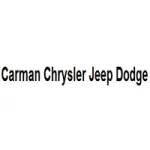 Carman Chrysler-Jeep-Dodge Company contacts