Bullcanes
-
puppy mill
I went with bullcanes on the reccomendation of a friend who bought her bulldog from them. My dog arrived to me in a small dog carrier with a MIAMI FL address. Carolina Osorio told me he was THREE MONTHS. Took him out of the crate and he was nothing but skin and bones weighing in at a bit more than 5 lbs. He looked awkward and tall more like a boxer. Almost immediately I noticed a huge scar down the rt side of his torso. Took him to the vet a day later to make sure he was ok and was told HE WAS BARELY FIVE WEEKS OLD and the scar could have been from a botched cesarean or worse. On top of this HE IS COMPLETELY DEAF. I was heartbroken for him and felt extremely guilty for supporting these low lives, but I thank God he came to me necause I am most certain if he hadn't the savages that bred him would've destroyed him. I was never able to get an answer about any of these issues because that coward Carolina Osorio never responded to ANY OF MY CORRESPONDENCE AFTER THE TRANSACTION. Less than a week later he was hospitalized with pneumonia and almost died due to his immune system being compromised by 1. Being weaned off his mothers milk too soon, and 2. The illusive travel conditions and temp changes. Fast forward 8 years later my boy is now in chronic kidney failure most likely due to genetics and bloodline but we will never know because we have NO CONTACT WITH THIS PUPPY MILL BREEDER AND NO BLOODLINE INFO. I hope when you read this Carolina, that God has mercy on you and your family for all the heartbreak your greed has caused. Stop defending your actions. You know what your doing is exploitive and unethical.
Bullcanes
-
Sick dog
I bought my dog from this breeder Bullcanes over a year ago. When I bought the dog I had no idea he was sick. This seller Bullcanes assured me that their dogs were 100% healthy and had no issues, but only later I realized that was a lie.
My pet was sick and had many health issues and I already spent a lot of money on meds. I do not recommend this breeder.
Bullcanes
-
Save your self from heart break and from getting robbed
I bought a french bulldog from this site without doing research or anything. My puppy was EXTREMELY sick with parasites a lung infection and mange! my vet gave my puppy less then 2 weeks to live. She was also younger then carolina stated. My puppy was younger then 8 weeks old. The only way to save her life was to dish over $2000 dollars out in which i did i couldnt see something so precious die. I tryed to contact this Carolina and she would response until i told her baout my problems and i even faxed her my vet papers and bills and nothing she appartenly fell of the face of the earth. I then went through anthor email to try to get her to talk to me in which i started off as a new customer then i nailed her and then there she goes running from her problems again. i HIGHLY recommend NOONE to buy from this low life piece of trash that thinks of herself and money and nothing of these poor innocent baby animals. and for these 'Happy Customers' thats a damn joke thats her family with the pictures of the dogs and most of the pictures have no people in them so they can just be random photos. so PLEASE save your self from heart break and from getting robbed.
Bullcanes
-
Please stay far far away from these scam artists
Please stay far far away from these scam artists. They are nothing but liars! spend the extra money! Remember you always get what you pat for!
Bullcanes
-
Please do your research before purchasing a puppy.
Unfortunately, my review isn't a good one. Recently, my horrible experience with bullcanes occurred. I purchased a puppy from this site trusting that my puppy was coming from a loving place. Not only was the place she came from lied about but my puppies health certificate was falsified as well. My puppy was supposedly coming from Miami, Florida but she really came from Columbia. When I picked up my puppy, she was very malnourished and dirty. My puppy was laying on newspaper shredding. She was trying to nurse on my other dog and that's when I knew something was truely wrong. I had a feeling before I got her that something was a little fishy. The date kept changing on when I could get my puppy and it seemed very unreliable. I took my puppy to the vet and she is sick. She has to drink milk because she isn't weened yet. She also has very low blood sugar so she shakes a lot. I know bulldogs come with a lot of problems but this kind of problem is different. Bullcanes is a puppy mill and the puppies are getting sick and dying within a year. I've talked to many who have delt with bullcanes and have all been suffering from this heartbreak since. Purchasing a puppy is supposed to be an exciting, happy experience for people. Bullcanes has made it a nightmare. I have to get up with my puppy in the middle of the night while she cries. She has peed on herself as well as deficate on herself too because she is so young and sickly. I am constantly feeding her. I feed her every two hours and give her calcium for her shaking. I am glad I saved one baby but there are many more! I hope this company finds it in their hearts to relieve these poor dogs which they are breeding on a monthly basis and stop this abuse. Please do your research before purchasing a puppy. Thank you.
Bullcanes
-
Dishonest Sales Practices
We purchased an English Bulldog from this online breeder who promised many things that she did never delivered on. The puppy's birth documents were falsified so she could have the puppy shipped from Columbia. The shot records were not accurate. If they were the puppy would not have arrived with Giardia and kennel cough. Caroline Osorio was evasive when asked certain questions about where the puppy was born and questions about vaccinations. Originally, Caroline promised shipment of the puppy to Jacksonville, Florida. Two days before pickup she ad vised us that we would need to drive and pick the puppy up Miami. After complaining and numerous emails, we agreed to pick the puppy up in Orlando. After arriving in Orlando 30 minutes prior to arrival, we found out she was not on the flight. She had shipped her on a later flight. Driving 3 hours to get there and then waiting another 3 1/2 hours without her notifying us of the flight change, we were not happy. We have requested a partial shipping refund several times with no response. To date with being shipped a sick dog and time taking off work to drive and pickup a dog that was not on the flight she was supposed to be, we are out an additional $400. Do not buy from Bullcanes.net, buy locally, it is worth it.
Bullcanes
-
You deserve nothing less than jail or hell
I dealt with these absolute ripoff artists(Carolina Osario)and i havent regretted anything more!i paid for a dog with them and then procedded to get emails stating different faf fetched reasons why he could not be shipped on the contracted date(lied about shots)then after the new date was set no emails or info until the day of then again more lies about the dog being sick!I then told Carolina i wanted a full refund and thats when the phones were off, no responses to emails, nothing!After much badgering i recieve an email from Carolina staing oh yes, i ask visa for your money, LIES AGAIN!vVisa never knew about the situation she lied again!Now she is disputing this!Carolina you are a piece of garbage and i hope you and your family recieve some of what youve dished out to other people and families!You deserve nothing less than jail or hell!Never deal with BULLCANES...RIPOFF ARTISTS!BEWARE BEWARE BEWARE!
The complaint has been investigated and resolved to the customer's satisfaction.
Bullcanes
-
THEY SELL SICK PUPPIES AND CHEAT BUYERS
I purchased an English Bulldog Puppy from Bullcanes Kennel. I had already made my down payment when I discovered that there were literally hundreds of complaints about them on the Complaint and Review sites. I was stuck and scared that the puppy I had purchased from them would be sick as well...

The owner of Bullcanes, Carolina, was extremely nice and pleasant while she was in the process of getting my money. As soon as she got it she would not respond to e-mails or calls. They make several promises of items you will receive with the purchase of your English Bulldog puppy along with CKC registration papers. I received none of them from Bullcanes - Most importantly she never sent me Rosie's CKC registration... even though I specifically contacted and re-contacted her asking for them.

The worst of it is my baby-puppy... 'Briar Rose' - who was a birthday present - saw her first birthday suffering and died shortly after from a congenitally enlarged heart and a deformed trachea... this is the type of complaints I had read about but had already put my down payment on Rosie.
This woman the owner of Bullcanes is a cheat, crook and a thief. And a Murderer of puppies! She knowingly breeds puppies with congenital defects and sells them. She commits fraud in her advertising. She is cold and heartless once she gets your Money!

Rosie suffered horribly before she finally died... and so have I... Rosie had an exceptionally sweet and loving personality... and she... nor I... deserved the fate that Carolina destined us for through her NEGLIGENT Breeding Practices... if there ever was a "Puppy Mill" it is Bullcanes... BEWARE - BULLCANES TORTURES THEIR BUYERS AND THEIR PUPPIES. And Carolina... laughs all the way to the bank!

She states she has businesses in San Diego and Florida... but come to find out... through the complaint boards she and her kennel are really in Columbia South America - where she feels safe - from the American legal system - so we North Americans are her prime victims! I have X-Rays and have taken a polygraph to prove the truth of what I am saying. My background is law and I am also an Ordained Reverend.

If you were lucky enough to get a healthy one from Bullcanes... that is exactly what it was... nothing more than LUCK!
Resolved
The complaint has been investigated and resolved to the customer's satisfaction.
Bullcanes
-
Horrible!
It took me awhile to finally purchase a puppy from this company. When I did, I also had recommended a friend as well. We ended up both purchasing "Mini bulldogs". My friend and I both tried contact with (Carolina) when we would get them, and what time will they arrive, so that way we can tell our jobs. We would never get a email back, or if we did it had nothing to do with what we've been asking. We found out 3 days before! Most jobs require alot more time then that to know that you will be taking off. Anyways' we get the booking info and it shows that the dog will be on a plane for 11 hours! with a LAYOVER and she was shipping them to a airport that was over a hour and a half away. I emailed her saying that I thought this was inhumane and I want a direct flight and with a decent arrival time. 10:30 at night is not acceptable, especially when you are bringing your children to surprise them. I even called the airline myself finding a direct flight. But she refused to book that flight. All said and done the dogs ended up being on a flight for 13 hours, in the SAME kennel, with just one tiny bottle of water to share. They were covered from head to toe in poop, and they were shaking so bad I thought they were going into shock. When we brought both puppies to the vet the next day because they were vomiting every where, the shot paper work was completely wrong, saying a puppy that was born 1/27/11 had a shot on 1/10/11.. Hmmm. Both of the puppies came up positive for a worm that they have to take medicine for 14 days to cure. And my puppy has a problem with his leg. Then to top it off, I really started to look at this puppy and I realized he had a spot on his head, which the puppy I chose had a all white head. I decided to compare photos, only to discover he was the WRONG puppy. So not only did they make 1 mistake, they made 3. When I asked Carolina to remburse me for the shipping fee, due to her shipping both my dog and my friends together and to make up for sending me the wrong dog who in which was infested with worms. She stated she would give me a $100 credit toward another dog if I want one! I don't want to buy another dog! When I stated the facts with her. She then stated that I was just trying to make money off of their mistakes. I RECEIVED THE WRONG PUPPY. My puppy was suppose to come in his own kennel and his shot records were suppose to be the right ones, and not ones that made absolutely no sense. I DO NOT, by any means recommend them. I tried to look past all the negative things that were being said about them, but now that all these things happened to me and my friend. I just can't believe they are in business. They need to be shut down.
The complaint has been investigated and resolved to the customer's satisfaction.
Bullcanes
-
UNHEALTHY PUPPY
Besides the fact that our puppy had no vaccinations from Bullcanes when she arrived at LAX from Columbia we noticed that she was covered with blisters. When we took our puppy to the vet for her first visit we were told why her skin was in such extremely poor condition. We were told that she had ringworm. Even with medication this has been difficult to control. The vet said that she has a problem with mange that had manifested as well. Bullcanes must have been aware and did not care when they shipped. They should not have shipped a puppy in this conditon.
Resolved
The complaint has been investigated and resolved to the customer's satisfaction.
Bullcanes
-
Scammers Please Read!
I got a puppy from Bullcanes.net and I met with Jose Giraldo personally But it's obvious that the house that I met him in Hollywood Florida was a house they use just so people think they are legitimate. If you pay attention there was almost nothing in that house other than a Flatscreen Television a couch and a coffee table. And also, if you pay close attention you'll realize that the puppy you are buying is in that home for the very first time... Sniffing around ect. ect. And who keeps all their doors closed in their home? People who don't want you too see that there is nothing in them, that's who. I took that puppy home and gave that man $2000 knowing that I was being scammed that day, for the simple fact that I could not let him leave with that man ("Jose Giraldo") I took this puppy to the Vet the very next morning... Finding out that the puppy wasn't 10 weeks, he was around 6, at the very most... And to find out a really bad kennel cough... A couple months later my puppy got demodex mange. And a SEVERE case of it. So of course I tried to call Jose Giraldo about 30 times in a course of a week. I never herd back from him. Do yourself a favor and go and check out the website. Look and see how much they DONT look like English Bulldogs. They used to not look like this. They have gotten really out of hand. Please spread the word about these people. These poor dogs are just going to keep getting abused... The people saying they are great are probably the owners of bullcanes.net. Their prices have gone down a hell of a lot so they're obviously not doing as well as they used to be, so they will do ANYTHING to keep their operation afloat.
This review was chosen algorithmically as the most valued customer feedback.
To whom it may concern, I purchased a puppy from the company Bullmachine Import/Export, Inc." and the addresses listed are Miami, FL and Medellin, Columbia. Here's what I've gone through since her arrival January 29/2010. Paypal doesn't allow them to use the service anymore. They claim they are in Miami but the Kennel is in Colombia. •At her Puppy...
Read full review
The complaint has been investigated and resolved to the customer's satisfaction.
This review was chosen algorithmically as the most valued customer feedback.
I was googling bullcanes.net and found this website of complaints about them and they are completely unjustified! My boyfriend bought a english bulldog male from them that has turned out to be absolutely gorgeous, healthy, and a wonderful addition to the family. In fact, we are now trying to obtain a female from them. My boyfriend went to pick up the pup...
Read full review
The complaint has been investigated and resolved to the customer's satisfaction.
This review was chosen algorithmically as the most valued customer feedback.
Please do not buy from this puppy mill ~ they only want your money and they send you a very poor quality puppy (parasites, genetic defects, no vaccinations, not socialized, and one of the customers I spoke to was sent a puppy 4 weeks younger than she was told). They tell you how much they love their puppies and breed for quality, but this is not true...
Read full review
The complaint has been investigated and resolved to the customer's satisfaction.
This review was chosen algorithmically as the most valued customer feedback.
I bought a puppy from Bullcanes.net. I payed through paypal. A contract was signed, the pup must be checked out by a vet within three days of arrival.This was done and the Vet found several things wrong with the pup, overgrown mandella, hernia and his concerns were with displaysia.The puppy had some difficulty when moving.I sent this documentation...
Read full review
We are here to help
16 years' experience in successful complaint resolution
Each complaint is handled individually by highly qualified experts
Honest and unbiased reviews
Last but not least, all our services are absolutely free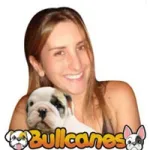 Bullcanes contacts