Zynex Medical Complaints & Reviews - Fraud

Zynex Medical Contacts & Informations

Zynex Medical

Fraud

Complaint Rating:

Zynex medical has long been billing insurance companies for products that have been returned. Anthem finally found out and filed a claim and won. Thomas Sanddgard has also been issuing stock options to employees that do not exist. several people have already filed complaints with the SEC. It is only a matter of time before the company folds. Zynex with charge $4, 000 to the insurance companies for a product that a consumer can buy for $10. His line of credit will also be in default. Please file complaints against this company if you have been mis treated. This company is hurting many people.

Comments
United States
Airlines





Comments

Sort by: Date | Rating

This is a good company it is that when patients return the unit to their Dr and not Zynex like it says in big writing in every bag for the unit, it is impossible to know that the person no longer has it because then the Dr gives it to another Patient. Their customer sevice is great and will do just about anything to help to solve a problem.

If you could spell Thomas Sandgaards name, use proper sentences, and had any sense of grammar, you might be more believable.

And by the way...Which don't exist... The employees, or the Stock..?

Please report "Bobby" to SEC, he is hurting many people.

Why does such a "wonderful" company have so many pending lawsuit's? Look at the company's 10k. Management doesn't have a clue what they are doing.

We are currently going through hell just trying to get this company to stop billing our insurance $500.00 a month for "medical equipment and services". I have filed fraud charges against them in our state as well as with our insurance company. The local rep that gave us our tens unit through docs office said it was supposed to be billed one time as a purchase unit and that they have a problem with zynex not billing properly. They are apparently billing as a leased unit w/monthly supplies suppossedly being sent out (NOT). She is trying to get this corrected. In the meantime this unit that my husband used for two weeks has cost 1500.00 so far. Zynex is giving us and the insurance company the run around - we don't even know how to return the unit - remember it was a purchase so we don' t have any return info!
Never use any medical equipment that is billed out through this company. You could buy it for 100.00 at a local supply co. or craigs list.

Zynex is billing us and won't stop with the relentless way they come after us. We were told we would never get a bill...well, that's not the truth at all! We were lied to by the sales rep and we complained to out therapist and doctor.

I hate Zynex Medical. Unbelieveable unrelenting bullying to squeeze over $400 from me after telling me, my therapist and doctor that I would never receive a bill. How hypocritical. Out and out lies. They don't care about me, they just want my money.

At this time I have only gotten the return bag with a letter stating I need to return the TruWave Tens unit. When I was given the unit by my therapist, I was told it would be mine "forever and ever and ever" and that I will not be billed for it and I will get pads and batteries monthly. So far So good...except for the return bag.
Some months I have gotten 1 set of pads and a 4 pack of batteries, other months nothing and at other times I have received 10 bags of pads and (2) 4-packs of batteries. In fact I just got a refill of pads and batteries 2 weeks ago and now they want the unit back with no explanation. I have been calling this 1-866-940-7030 number for 3 days now and I cannot get a live person to speak with, because of my type of employment, I can only talk on my free time, not when they finally decide to call me back. Now what kind of customer service is that?

I am having the same issue, I used their device 2 times and found it to be of such poor quality that I never used it again. They have continued to send me bags (I've never opened them, I just send them back) and now they tell me that I cannot return the items even though they are unopened. They say that I am responsible to pay for these and that the only thing I can do is donate their equipment to a charity. I wouldn't wish their crap on anyone so obviously I'm not going to do that.

Same deal with me. I was told by the Zynex rep that if I didn't call them within a month, they would go ahead and bill my insurance company for the full cost of the Tru-Wave TENS unit and it would be mine. I didn't call to return it and because of what I was told, I believed it was mine. THEN, I start getting calls to return the unit, then letters. They said I could keep it for something like $349. Uh, no way. I've seen it for so much cheaper. I do love this unit. I turn it up just as much as I can and it really does take my back, neck, leg and shoulder pain away, and I have pretty severe pain in those areas. Will they get the unit back from me? They will have to pry it from my cold, dead hands ;-)

ill be 100% honest i work for the company (I have to make a living) Zynex is fradulent beyond your belief. Zynex will bill your insurance until we get denials and even then while your file is "closed" we still bill. The units are worth about $30 TOPS the MSRP is $1, 9995...Please take my advice DONT USE ZYNEX FOR ANY type of unit... now you all will be recieveing "Letter of Medical Services" which will charge you even though in your hand books it says "OUR COMPANY WILL NEVER SEND YOU A BILL" Thomas Sandgaard is now thinking about opening collections with the company! Believe me go with Empi the units are better quality and you will get better results in the ong run... i wish i could work for Empi or RS medical! Zynex will take all your $$$ and then some... believe me i have had patients on the phone crying because how much Zynex has screwed them over.. PLEASE if you take it from ANYONE just don use this company because you will end up with alot of problems then just medical issues.

What Zynex does is fraud. It is just unbelievable that the company is still around. They were not in-network with my insurance (BCBS) and there was no price on what I signed. I just listened to my physical therapist (and the rep) and signed the sheet "thinking" I wasn't going to be charged until I heard from them. Next thing you know I get a $1, 800 dollar bill for my NextWave. I keep get batteries and electrodes in the mail, even though I just send them back. I am so upset. I keep trying to return the unit and they wont let me. I have contacted the APTA to let them know about the financial situation my therapist put me in, I also spoke with my doctor at that pratice as well. I am at the point of getting an attorney involved because I don't want think to hurt my credit. If anyone know how to get Zynex in trouble please let me know.

Got the product in Beaverton Oregon from our physical therapist. It was a great product and produced exactly the results I was looking for, pain control for my chronic back problem. I understand the IFC mood is much more powerful than a TENs and I am a believer. Our insurance was billed, we got a statement and we had no out of pocket. I think BCBS paid about $300 for it. I got about 3-4 months worth of supplies too. So great machine, great experience, no hassle billing and when I called to talk to Zynex they were straight forward and honest. Not sure what the big deal is. It must be competitors playing games and being babies. My experience was very positive. I love my NexWave.

Unbelievable: Our PT and Pain management Doctor told us that the unit was ours. Zynex called us and said that they would be sending a form for the pain management team to fill out and that it must be returned within a specific time period. We instantly gave that form to our PT and Doctor and they (?) did file them and declare the unit to be necessary for chronic pain with which we were diagnosed. Today, three months after that, we received a letter and a mailing pouch demanding the return of the machine. The Dr.s office told us that they did not know why. This is our sole relief of pain due to a broken bone from an accident a few years back. Oral medications are contraindicated because of kidney/liver issues. Bottom line: We need this machine--one way or the other.

I just noticed today that my insurance company has been billed for the TENS unit I got from my doctor. Apparently it's been happening for months and I never really noticed it because I've never received a bill or anything from them. Has this happened to anyone else, and if so, did you end up paying it? I seriously haven't used the unit at all and just would like to send it back. In fact, I forgot I had it until I saw all the claims on my insurance company's site. This place is ridiculous!

I haven't had any problems with Zynex. A Zynex rep met me at the doctor's office to show me the portable Nexwave unit (IFC, TENS, and NMES, with battery power and AC power options). She explained Zynex would submit the claim to my insurance company, and if it was denied, they would contact me and make (2) offers - return the unit at no charge or purchase the unit for a cash price. She also said if I didn't like the unit, I could return the unit on my own, by contacting Zynex directly via a toll free number on a return card that was in the Zynex bag. Zynex would then send me a prepaid return pouch for me to mail the unit back. She said they tend to offer the unit for a cash price of $300 - $500, and if you can negotiate, you could walk away with the unit for $300. I knew that my insurance company would deny the claim, so I wanted to be informed of the cash price well in advance so I could A) compare prices of other units and B) save for it!!

So the Zynex rep spoke very true. Three months after I got the unit, Zynex sent me a letter saying that the claim was denied by insurance and that I should contact Zynex, which I did. The case worker said I could return it for NO COST or purchase it for $300. She also said the cash price for more electrodes would be $10, and I could order these from Zynex at anytime. However, she suggested that I purchase my own 9-volt batteries, as this would be cheaper than getting them from Zynex.

Interesting to note, there was a price sheet in the Zynex bag that had the unit prices for Medicare patients in each state - $80 for my state. I briefly flirted with the idea of having my mother make a claim for a Zynex NexWave unit, but decided not to do it, as this would constitute Medicare fraud.

The claims Zynex submitted to my insurance company was $250 for the unit, $170 for (4) sets of electrodes, and $40 for (4) 9-volt batteries. Since I had gotten 4 shipments of supplies, the grand total Zynex wanted for all supplies was about $840.

My insurance company told me that if I had a better plan, they would have paid up to $500 for the unit and $200 for all the supplies (4 shipments).

Since Zynex's offer of $300 was in line with what the sales rep originally told me, and since it was well under the contracted insurance price for the unit and all the supplies I had received, I bought it. Zynex set me up on a $50 monthly payment plan, after which I own the unit and will have a (3) year warranty.



Videos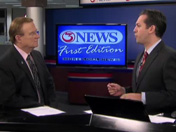 Latest Groups
Today's Mess-Up Photo