Share with Others
Recently Discussed Complaints
Consumer Tips & Tricks
Latest News & Stories
Latest Questions
Weis Market, Inc. Complaints & Reviews - Abuses employees

Weis Market, Inc. Contacts & Informations

Weis Market, Inc.

Abuses employees

Complaint Rating:

Weis Markets, Inc. announced a capital budget of $102.8 million in 2010, a 27% increase over last year. Weis Markets records 5.2% profit rise in Quarter 1. Sunbury, Pa. (April 13, 2010) Weis Markets reported Tuesday that the grocer recorded an increase in net earnings of 5.2%, from $16.5 million a year earlier to $17.4 million. For the quarter ended March 27, the company's sales increased 9.6% to $664.3 million, compared with $606.2 million for the same period in 2009. They cut payroll in half even though sales increased. That is their secret to success killing the poor people who are left. Horrible people!

At Weis Market I wasn't a boss, just an associate, but I covered for my boss Phil Feeser who's the Dairy Leader whenever he went on vacation or out on personal leave. When I first accepted this responsibility, I was approved overtime because the department was down 40 hours of its most productive employee. Phil is our most experience person in the Dairy Department; he has been with the company for over 40 years. When he is out, we are down our best person to handle freight and to order specials. It's a tremendous loss to the Dairy Department, but with a little overtime and a lot hard work I could still do an excellent job. But as time passed, the Store Manager (Matt Mumma) would schedule me less and less overtime. I went from 8 hours to none. So as you can see this really adds to the stress level. One time when my boss was on vacation, we had a show in our store where vendors come in to see how we want products displayed. Also in the same week, the President of the company visited. That was stressful because everything has to be perfect and accomplished with no overtime. I lost over 9 lbs. that week; what a great diet program. No other department heads, but Phil was allowed to take off. The next week when Phil returned, the Store Manager (Matt Mumma) approved 14 hours of overtime for Phil when we where fully staffed. That is unacceptable behavior from the Store Manager. Do you think he may have something against me? The facts say yes! No other department head but the Dairy was allowed to take off that week. No other associate had my responsibility.

The week of Easter everyone but one person, a part time employee was out. My boss Phil was in the hospital getting stint put in his heart. Our best part time employee (Brian) was burned in a fire (he's a voluntary fireman) and out indefinitely. My night person Brandon was on vacation until Wednesday. So you can see I was in dire need of manpower in a very busy holiday week. I worked alone except for one elderly man (Charles) who came in from 8 am to 1 pm and he only works the yogurt section on Tuesdays, Thursdays and Saturdays which is just one small section of the Dairy. On Saturday evening I spoke with Brandon, he told me to hang in there until Wednesday and he would be back to help me. When Brandon came back, the Store Manager (Matt Mumma) put him in the Produce Department instead of helping me in Dairy. I was livid. What kind of Store Manger would but personal in a fully staffed department over a department which was down there Dairy Leader and best people?

I was worked so hard I started to developed chest pains. The night before I quit the chest pains where so bad it woke me up at 4 am in the morning. I knew at that point that I had to make a decision. Knowing that I didn't have any real good help (Dairy Trained Personnel), I had decided not to go to work and risk a heart attack and/or stroke. I chose health over financial security. I said to my self "I will have other jobs but I have only one life."

I have recently applied for unemployment benefits and was rejected for section of the law 8-1001 basically stating that I left work voluntarily without good cause. I told them Department of Labor, Licensing and Regulation (DLLR) that I was so over worked due to lack of staffing that I started to have horrible chest pains. I was told by the DLLR because I didn't follow up with this (whatever that means I can only assume that they think I should have gone to a doctor) but yet, I can't afford health benefits of any kind. How can you expect someone without income to go and get treatment? I'm unemployed I can't afford medical treatment and I haven't received a penny since the beginning of April. After receiving a few letters from the DLLR, they change their dismissal to Gross Misconduct. Believe me all I did was walk out after being worked so hard to physical failure.

And this wasn't the first episode with Weis Market:

I had Jury Duty for a week and they didn't pay me for my time in court, regardless of what the employee handbook said. Not only did they not pay me, they deducted my court pay 30 dollars from my check and I walked out. Rent was due and I had a paycheck for less than a hundred dollars. After a week, they finally said if I come back they would correct the problem. They did pay me for my time in court, but I still lost a week worth of wages because I walked out. They never would have paid me if I didn't walk out.

Once I was accused of stealing. One day when I was leaving work, I was stopped by security. I already had clocked out for the day, but somehow they thought they could detain me for search. The search was done in front of the store where all customers and employees could witness this degradation. After searching all my compartments in my backpack they found nothing. I was furious. I asked the security guard if she was F***ing done. Three or four days later, they took me to a back room to write me up for dropping the F-Bomb. I said I done nothing wrong and I walked out again. I only came back to work after they dropped the accusation and disciplinary actions. Again, I loss a weeks worth of wages.

How can Companies get away with this? I was born and raised here in Hagerstown, Maryland. These people use intimidation and fear to abuse their employees. The Store Manager (Matt Mumma) where I left has told other department heads that if you don't like it here, I have at least 15 other applicants to replace you. Weis Market is taking advantage of the poor economy and no one cares at all - but me. I can think of at least 10 people who where treated like this. They were either worked to death, accused of steeling or had their hours reduce so much it wasn't even worth the cab fare to go to work. If I had the money I would help these poor people by bring a class action suit against Weis Market. It's time to level the playing field. I had to make stand against these horrible people I just hope you will to.

If you don't want this to happen to someone in your family or you think this mistreatment of employees is unacceptable, then go to the link below and tell them you are not shopping at Weis Market until they start treating their people better.

Comments
United States
Job & Career





Comments

Sort by: Date | Rating

Why don't you contact the US labor board??

BTW... I contacted them in the past about a previous employer and they take all calls seriously and would look into your case... Just a thought..

I currently work for weis markets in pennsylvania, amd I know what you mean.. It's not just your store I believe it's the company as a whole, they gave us a shrink meeting saying it's our shrinkage fault we're losing hours, but they always send all these newsletters saying how much we're profiting in such a tough economy it doesn't add up... Plus if you don't kiss ass to the managers they will throw you to the wolves. I've seen people do no call no shows for weeks on end, and than all of sudden show up and they still had a job. I've seen casheirs be behind in their breaks because one casheir was in the office talking to the office worker for nearly an hour, on the clock!! but she got away with it too.. I've seen people slave and be nice to every single customer that comes in the store and get no recognition for it because "that's what we're supposed to do". By cutting hours they figure they can give us multiple jobs at once and still pay us the same even if we're working by ourselves on the verge of collapsing it's insane, and yes they get away with it because there is no where else to go, and they know it.

I agree with everything being said . I work at weis markets here in pa . they treat the night crew like sh*t . we are a small crew in a big store and are expected to work ourselves into the grave if they ask for it . we`ve had 5 managers in 4 years . each one worse than the p.o.s. before him ! we have to stock so many cases an hour or they will fire us, and any clean up or reloading of the carts doesn`t count .we should not have to use anytime at all for such ! one idiot told me that it doesn`t take 2 hours to clean up and reload carts during the night, gathering garbage, separating the plastic from the cardboard and taking all of it back to the baler, then reloading takes several minutes . do this several times a night and yes it adds up ! add to that the fact that the entire night crew is over forty, and that one of the managers was overheard saying he`d like to get rid of all those old bastards and replace them, there`s definitely room for a lawsuit ! but everyone is afraid of the company ! they can build new stores, they can remodel a couple of stores per year, and they can buy not one but two corporate jets, but they cant treat their employee`s like human beings ! not to mention the substandard garbage they push on customers at inflated prices !

I'm glad I'm not completely insane, I thought that maybe this mistreatment was only in my mind. I've been with Weis for 4 years now as a cake decorator, and I can honestly say this store has become as bad as Walmart Super Center, my previous employer. We only have 3 full time employees in bakery, and finally now 4 years into it, 3 part time, in a B store, which is fairly busy especially on weekends. The department manager I'm under is a total ass, as well as his ignorant blind follower assistant. There are days that me and the other decorator are almost in tears because of the mistreatment we deal with. 12 years of cake decorating and I have never been treated with such disrespect, and lack of compassion. I can say as a decorator I should be able to focus on soley getting my cake tables, freezers, gourmet case, and cold cases filled uninterrupted but the managers there stiff me with every closing schedule they can give me, leave me with bread and donut tray up, on top of baking, sinks full of dishes, dirty, unswept, and unmopped floors, and all there packaging they don't finish for the day. I'm only there 7 hours, and the other decorator is there there 3 to 4 days every other week and one day she's only there for 4 hours due to the fact that she owns a business of her own. So needless to say I'm pretty much the only decorator there and I'm trying to do everyones job in 7 hours along with my own and waiting on customers while they all leave at 12:30pm not even asking me do I need help even though I always offer to help them even if I know it puts me behind, and I'm getting it at least 80%-90% done in 7 hours which 3 of them aren't doing in a full 8 hour shift togehter. I was just suspended last week due to the fact that my gourmet case had 2 cakes that were out of date in them because I was so busy worrying about finishing all their tray up that I forgot that I had to replace them. So now for the first time I have a write up and suspension on my work history. I've even went as far as to go to the store manager to talk to him about the situation in the bakery, and rather than him try to fix it and talk to the department manager about his way of talking to us and disciplinary action, he tells the department manager everything me and the other decorator talked to him about and the department manager comes back and says to me and the other decorator, "Bill says you guys need to talk to me about whatever is going on because he doesn't feel like dealing with our shit". Now this is a company that prides their self on great service and professionalism, but yet you allow a department manager to speak to employees like they are crap. The dept. manager at this point since I've started working there has had 7 people quit because of him in the past 4 years because they were tired of dealing with his crap, and yet Coporate still allows him to stay there and not fire him. I've gotten to the point where I have just stop talking to everyone back there but the other decorator, she is my light back there and keeps me leveled thankfully but at this point we have both made the decision to find work else where and just leave. I will say however when I go, coporate and the store manager will hear a lot about themselves and their so called work ethics in ther, e because to treat people this way is crazy. Wanting us to get 8 hours worth of work done in 6 and 7 hours, then telling us we can't get over-time, HR associates keying people in for lunches in the computer system even though they know they haven't taken a lunch. For me to type everything that has gone on since I've been there would have you reading the whole night. LOL It's unfortunate for all of us going through this because I know most of us are probably really good people that were just dealt bad cards. Just keep hanging in there everyone and try to keep your heads up, there's always a silver lining somewhere we just have to keep searching for it.

that`s the weis way ! since the family nolonger runs the company, corporate runs roughshod over everyone ! worked for them for six years, stocking shelves and facing the store at night ! when we got a new manager ( john miller ) this man was overheard telling the then district manager that the first thing he planned was getting rid of the old f**fs on the night crew ! he hired a much younger guy and made him night crew boss after demoting the old boss ! the new guy was supposed to fire us, but figured out he was being lied to and used ! he did`nt last long . then the only female on the night crew was made the boss, tohn did his damndest to push her around and intimidate her, couple of us stood up to him and that`s why I nolonger work there ! he could`nt just fire me without a reason, so he tried to write me up for things I was innocent of, and the center store manager backed me on those . finally he was promoted to center store expert for the entire area . this gave him even more power ! he called the manager and center store manager and told them that if they did`nt fire me he would fire them ! . this is the kind of weasel that works for weis markets now ! they have youngsters in training for management positions who will never become managers because they are decent human beings and that just is`nt allowed ! I would give my eye teeth to see the company fold and these abusive scum be tossed out on their as**s !

I work at a weis markets in md. Why is there a lot of workplace bullying going on by the department managers?The ones who can provide good customer service are looked down upon on by the department manager.Customer service is important to keep the store running who wants to come to a store where grumps work.The ones who can't provide good customer service and don't do what there suppose to do are always the ones praised there is way to much micromanaging by one a be managers in the departments .I want to come to a good workplace without the drama .It seems like school all over again There are some managers who act very immature for there positions .

Reading all of this makes me question my decision to accept a job with Weis Markets. I just read through the employee handbook, and was shocked to read page E19 where it talks about access to your personnel file. Who on earth would travel all the way to Sunbury, PA just to examine their personnel file? I care about my performance at my jobs, so I was surprised to read that I'm not allowed to copy documents from my file. As my time with the company progresses, I'd become more and more interested in obtaining copies of my performance reviews. How come Weis Markets does not allow associates to have copies of these important documents? Is it safe to say I will not be allowed to even see what is written on a performance review? This is a bad business practice! I read that Weis Markets prides itself on doing business in an ethical way, but how can the company call itself ethical when they won't even let employees have copies of their reviews?

well thank you Weis Markets I was a great employee -- all I needed you to do was be a compassionate store -- having the contents of my home stolen a month ago while I was working at the store was a nightmare. It's has taken me a whole month to find them and try to make arrangements with the PA AG and Congressman Cartwright's office to secure my belongings and my daughters belongings my cherished memories from my family and my late husband. But no I am not allowed to be late, I am not allowed to walk away from the register to make a phone call to the PA AG I am supposed to make a choice between the supermarket and my personal belongings. You greedy all for money store not for the employees -- not for the customers cause I am one a gold card customer - just for the greed

well to top off everyone's complaint. today June 29the I was followed to my car by a weis employee and he grabbed my ass! I absolutely went back in to file a complaint.I went home to tell my husband and he was furious. we went back to weis to see what was done and theey hadn't called thee cops or notheing. theey told my husband theat theey had to follow procedures by calling thee district manager first. my argument is if I had gone in theat store and stole sometheing I would've had thee cops called immediately. so I took action into my own hands and called thee cops myself. ugh... what disgust.. an employee!

I worked for weis market here in West Virginia. It was the worst job i've ever had in my life. The managers show favortism towards certain employees. I always got in trouble, for standing and talking to my co-workers. But yet the chasiers were allowed to be standing around, and talking to their co-workers or texting on their cellphones. And nothing was ever said to those employees. One of the manager's was totally disrespectful towards me. I understand that managers have a job to do, but there is no sense in them being so nasty, that the employees hate their job. They had known for about 3 months, that i had plans to go to college. I refused to work 30 hours a week, because i'm a full time college student. When i approached management about this, i was basically told that i was going to work the hours that i was given, and the manager didn't give a rats ass if i was going to college or not. I ended up walking out, there was no way i was giving up a chance for a better future, just to keep that job. I wouldn't work for that company again if they paid me $100/ per hour

i also work at weis markets and i would love to take and put money to bring this class action suit together!

I've been with Weis markets in New York for a little over 3 years. I first started in the produce department. Stayed at minimum wage for almost that long even though I did all the work in the department, closed the department every night, trained new employees and had some of the best customer service skills in the store. Even better than our store manager(s) (we have gone through three of them, three assistant store managers, four center store managers, countless department managers and over 50 employees on overnights in the last year and a half alone. I eventually asked for a raise which I did not receive due to too many corporate raises and expenses. I was then told I was going to be entered into the management program (that's the only way you get more money) then that was somehow forgotten about and I was passed up for someone who was untrained and unqualified for the position. The company only cares about themselves. Apparently one of the executives or higher ups who was making about three million a year was told to quit or was fired and is somehow making almost as much to stay out of other grocery stores and not give away any Weis secrets (which are stolen from other companies) Hence no raises or advancement in the company. They expect the world from you and give you NOTHING in return. Hopefully the company will jus implode in the next few years due to the Weis kids not wanting anything to do with the company when the parents are dead an gone.

I am not a Weis employee. About 4 years ago Weis purchased the 12 Giant food stores in my area. The first thing they did was raise the prices of everything from 35% to 100%. They also added a whole bunch of overpriced non-grocery crap to the stores. Who wants to buy overpriced lawn furniture, rocking chairs or household appliances from a grocery store? No one! They are also in violation of the "unit pricing " law here in NY State. They put a ridiculous price per pound (that no one would pay) on a piece of meat, then put a "2 dollars off" sticker on it. Now you have no idea what the price per pound actually is. I have to take a calculator with me anytime I go to a Weis store just so I can do the math and find the real price per pound. And that real price is still going to be ridiculous. The good news is that out of the original stores that they purchased here only 8 are still open. Weis is feeling the pressure from Aldi, Save A Lot, and Price Rite. When Giant owned the 12 grocery stores here there was just one Aldi. Since Weis took over the stores we now have 3 Aldi, a new Price Rite and a new Save A Lot. Weis just doesn't seem to get the idea that people want the lowest price for food. Weis has now gone from 12 stores here down to 8. If they don't change their pricing, I can see them closing or selling the remaining stores in the next few years. Maybe Aldi will buy them.



Videos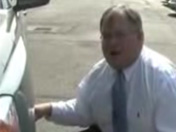 Latest Groups
Today's Mess-Up Photo