United Healthcare, Baltimore, Maryland Complaints & Reviews - Changing of Tier One drugs

United Healthcare Contacts & Informations

United Healthcare

Changing of Tier One drugs

Complaint Rating:

Contact information:
UNITED HEALTHCARE


Baltimore

,

Maryland




United States


Phone:

443-850-2022




When it was time to choose an insurance company for my MEDICARE "gap" coverage I called Medicare and worked with an associate for over an hour to establish the correct insurance carrier that would best serve my needs. I have been disabled with Behcet's Disease since 1986. There was a list of medications that I had been on for over five years when I spoke with the Medicare representative about the best carrier for my needs; the focus for my medi-gap was then and now strictly my medication coverage. With Behcets Syndrome the right dose, route & consistency of medications is EVERYTHING for optimal treatment of the disease and my Quality of Life! Taking these points into consideration the Medicare representative moved forward finding UNITED HEALTHCARE as the one who not only had each of my THEN 16 meds "Formulary". All but one drug (Lovenox injectable) to be in TIER ONE! I signed up right away; even signing up for the EXTENDED HEALTH CARE POLICY to guarantee my meds would suffer no "donut hole" or "gap". All of this extra care to insure these medications would stay within my very limited budget
Effective January 2009 I received a notification from AARP that two of my medications would stop being offered in Tier 1. One medication was taken off the covered list all together! The two medications that were moved to different TIERS were LOVANOX Inj (moved to 4) and FENTANYL (moved to tier 3…After conversations with my RX and my physician was moved up into tier 2). In approximately one month my Tiers 2-4 medications WILL NOT BE COVERED AT ALL, NO CO-PAY, NOTHING!!
I joined UNITED HEALTHCARE with the guidance of my assigned representative from MEDICARE. Our focus when choosing this plan was solely the importance of my medications and the need to have them "tiered" so I could manage to pay for them and by doing so, LIVE.
I have been on these medications for the over five years and took the United Health Care policy in good faith that they would continue to look out for my best health interests. Three of the drugs I have need for have been "adjusted" on UNITED HEALTH CARES-FORMULARY.
An example of one of these drugs and how the "adjustment" of TIERS equates to money coming out of my very fixed and limited income: The FENTANYL PATCHES give me the quality of Life that I need in order to function. This unfortunately is also an addictive drug so you can understand why I am frightened at this change of TIER. With just this ONE drug I will go from paying $5.00 to $6.00, then $7.00 last year (and the years since I signed with UNITED HEALTHCARE). Now, starting January of 2009 the same drug is $39.00 per month, come JUNE I will have no co- pay at all!! The approximate price of $350.00 per month!! That is just ONE drug out of pocket…ONE of 14 drugs that I am on.( I just wanted to note here that even TIER ONE drugs have gone up to $14.00 a co-pay.)
I feel so very ill looking over my potential drug costs when the "Gap-hole" takes place. If I do without I potentially can die. The Tier one drug increase during this "gap" period as well as the TIERS 2, 3 & 4 changes IS NOT what I signed up for. This issue was made clear when I signed up for my Rx benefits. It is not that I have recently been placed on the medications and I can work with my Doctor to find other formulary replacements…NO, I signed up understanding that my representative understood my need to have certain drugs covered. You signed me up with the understanding of MY RX NEEDS WERE TIER ONE, once signed I have no way to change my MEDICARE coverage.
NOW YOU RETHINK THE TIERS WITH YOUR FORMULARY DRUGS! This is unfair and not what I needed or expected!

Comments
United States
Health & Life Insurance





Comments

Sort by: Date | Rating

I have been taking Subutex for 5-years under BC/BS - recently moved to CO and was only offerd United H.C. - when my RX was picked up I was appalled to find out the medication was 1, 000. $500 more than the cost without insurance in FL and was NOT covered by U.H.C. - This medication saved my life and to find that it is not covered and $1, 000 a month was so heartbreaking. I don;t understand why a "health care provider", would take away medicationjs that 1. Save Lives 2. Eliminate future mnedical costs due to complications from not affording your medications and 3. Threaten the lives of their customers by taking away medication. In the long-run it will cost thgem more in hospital bills because people will become ill by not taking their PRESCRIBED MEDS. APPALLING!!! They cover nothing and I am opting to go with an insurance company that covers my medications as the savings between paying their member dues and my medications would clearly be a better alternative. THIS PLAN IS THE WORST I HAVE EVER SEEN!

Same here after my pain management doctor sent in their form filled out to request my subutex it was refused by unitedhealthcare so I guess they want me back to taking more expensive pain killers. So I think i will just go back to oxycontin and let the doctor prescribe oxycontin once again. The oxycontin is even more expensive thant the 2mg 3 daily of subutex. Their out of their minds. I guess it will take someone going ballistic on headquarters to get their attention as to how essential this drug is to a patients' well being. In my opinion alot of chaos will develope in the future between the haves and have nots. So theres my two cents. Wake up UNITED HEALTHCARE and quit letting your customers needlessly suffer, jerks! Jim Shook Charlotte, North Carolina PS I have been on this stuff for three near four years and now pay cash which is five dollars per pill. I have to needlessly suffer behind some rich pricks GREED>

Affinity Healthcare is worse then anyone, A friend on pain medications has had no problems with united healthcare community plan threw medicaid for years now, covering his oxycontin 80mg 8x daily, along with 9 oxy30mg ir for break threw pain. I'am on similar dose's of both meds with Affinity and recently as of JUNE 1st 2012 they sent me a letter saying i was restricted to one pain dr for all Opiate medications. Its a DR iv never seen before, and when i called his office they said all they do is pain injections no pain medicine. So basically affinity picked out a dr that doesn't write oxycodone and restricted me to him ONLY. !!! Scam Artists. I changed to United Healthcare, that just went into affect last week, So far they paid for my oxycodone but a prior authorizations needed for the oxycontin, that takes up to 24 hours if the dr says its urgent or 74 hours if its a regular prior approval. So now im stuck at there mercy for a few days waiting for my long acting meds, That i desperately need... The only good thing is affinity healthcare would have my MD call and approve the PA on the phone within 10 minutes. On the down side they made you wait till the 1st of the month to switch new primary care doctors.. So you would have to wait 20-30 days sometimes to see a new dr, and a specialist would require your primary to give a referral to see them... I guess ill soon find out united's policy seeing specialists as i see a endo every other month... If your disabled, older or out of work USA healthcare sucks, exp threw medicaid... Mostly i pay cash for my PM dr, none will take medicaid in my parts. They run the other way... I know most dr's get $35 a patient, and no check/payment comes for 6 months... Thats why they overbook and spend 3-5 mins with each patient.

United Healthcare exists to rip us off. A brand name drug I take has always been tier 3 with a $50 co-pay. It went generic in December of 2013 and I filled a prescription for the generic version at the tier 1 co-pay of $10. Today, one month later, I go to re-fill the generic and the co-pay is back up to $50 and they have made the generic tier 3. I received no notice of this change. Why would a generic drug be tier 3? Money grubbing bastards.

I am thinking Class-Action Lawsuit.



Videos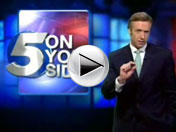 Latest Groups
Today's Mess-Up Photo