Recently Discussed Complaints
1.
(2 mins ago)
DMCI
To aspiring & excited homeowners - BEWARE OF DMCI, Royal Palms
2.
(10 mins ago)
McDonald's
General Store - Product / Service
Consumer Tips & Tricks
Latest News & Stories
Latest Questions
Somerville School NOIDA, Noida Complaints & Reviews - Nursery Admission

Somerville School NOIDA Contacts & Informations

Somerville School NOIDA

Nursery Admission

Complaint Rating:

Contact information:
Somerville School NOIDA


India




Hello Everyone, <br />
<br />
There is an unfair evaluation for giving admissions in Nursery Class of Somerville School NOIDA. <br />
<br />
Though in most of the schools children's and Parent's interactions are done separately, but in Somerville, we all were in the same Principal's room and I got a chance to see my son's performance for the first time. We were very happy to see that our son answered all the questions (like Name, Colors, Shapes, Animal names, Rhymes etc.). Besides this myself and my spouse are also highly educated & have given correct answers to all the questions. But we were not offered the admission letter.<br />
<br />
Reason: <br />
I had subscribed to one of the Noida School Groups discussion forum, where I came to know that the selection was being made on an answer to one question: "DO YOU STAY IN A RENTED HOUSE OR SELF-OWNED HOUSE?".<br />
<br />
In our case we stay in a RENTED house and have given the same answer. But in case of the other parents (whose child was selected in spite of not saying the rhyme), they had their own SELF - OWNED house, and were offered an admission letter.<br />
<br />
Conclusion:<br />
Had this been their criteria of admission, then this should have been made transparent in the news paper advertisement (at the 1st stage itself). They should have clearly mentioned in their advertisement that "Parents with Self-Owned house only apply".<br />
<br />
I want to know why is this school cheating the parents and such small kids (who are yet to turn up 3 next year). Just because we need to get our kids admitted to good schools in the city, we have to send them to play-schools at the age of 2. And in spite of learning everything, the school is cheating them and setting a wrong impression.<br />
<br />
I want all the parents to get together in this drive and help our kids to lead a good quality education from a good school.<br />
<br />
Please DO NOT opt this school. If the school is giving admission on false grounds, then what will they teach our children... will it to to lie.. do wrong things in life...<br />
<br />
Shame on this school...

Comments
India
Schools

More Somerville School NOIDA complaints






Comments

Sort by: Date | Rating

I also got the same kind of feedback about the school that kids from very rich family or with strong source are shortlisted. In my personal experience, we got a call neither for my niece nor for my duaghter.

we also didnot got any call from the scholl for admission till now, i think the reason could be that we are in Rented house...I have heard that they give admission to christians on priority, rest to sibling & to sifarshi tatoos...

I think the main problem is in the admission process time. Somerville school opens the admission very early (September). So, lot of parents apply (approx. 3000 application), but there are only 200 seats. How will they shortlist the candidates? In delhi government has strictly said that admission process should start after 1st december in all schools simultaneously. And 1st shortlist should be announced by 1st week of Jan. Schools in noida are not following this rule.

i too opine that they asked also the same q that we r living in a rented house. after seeing this blog i too agree that they didnt select us for the same reason, though our child told everything they asked infront of us, we both r doctors.

It is surprise to see the schools like sommerville and father agnel has stared education as a business, unfortunately i had also attended the same procedure of nursery admission test, my son has given the answer to all the questions but he has not given admission letter but at the same time one of my friend who has not attended the procedure but having good contacts with NOIDA DEVELOPMENT AUTHORITY senior people has been called and given admission leter.
Shame on you, atleast respect your community.
santosh

I don't agree with most of you.

1. I live in rented house. I was also asked the same question and I gave the true statement.
2. Somerville is the one of the school, which have a good mix of all income classes. Be it rich, middle class or even the poor. If, you want to believe this, stand at the school enterance in the morning, when you will see children getting out from luxary cars, sedan, small cars, buses, autos and also rickshaws & SCHOOL CARTS. I've seen it, so I trust it.
3. As far as admission procedure is concerned, every school has its own criteria and can't be 100% correct in their system. Be it any top school also. This school also has its criteria of selection.

Further, selecting 200 people from 3000 applications is actually a real task. If you make in those 200, you consider lucky & fortunate, like me. If not, you can cry foul, as above.

So instead complaining about others or even yourself, one should work on the child and keep trying for all the options available.

I have a son who would go for admissions in nursery classes next year. I am really confused about which schools to opt for. One major criteria is that the school should not discrimante between children in any way, be it religion, caste, income group whatever. All children must be treated fairly and given equal amount of care and support. However, most schools are like another busineess for their owners. I have no problem in paying a higher fees but, I dont want to be treated like a fool, who can shell out any kind of money if asked inthe guise of educating his child.
With your personal experiences can anyone please sugges such good schools in Noida? I already have a few names where i would definitely not send my child, but needa few where I can safely put my child into. I want him to grow upto a good human being. that is my first priority.



Videos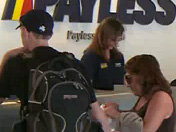 Latest Groups
Today's Mess-Up Photo