Recently Discussed Complaints
2.
(41 mins ago)
STC
stc lottery
3.
(1 hr 21 mins ago)
MaxForCheap.com
Local law enforcement should look into their scam.
4.
(1 hr 31 mins ago)
John Pedro Loans
Rep asks for more money, but doesn't provide loan
5.
(1 hr 36 mins ago)
Yupp TV
bad service
Consumer Tips & Tricks
Latest News & Stories
Latest Questions
Sears Complaints & Reviews - Heat Pump

Sears Contacts & Informations

Sears

Heat Pump

Complaint Rating:

Contact information:


United States


Phone:

703-961-0388




COMPLAINT ACTIVITY REPORT Case # 94184887 BBB of Chicago & Northern Illinois

Consumer Info: Alber, Business Info: Sears Holdings Corporation
800 762-3049


Location Involved: (Same as above)

Consumer's Original Complaint :
I purchased a heat pump plus maintenace agreement from Sears and had it installed in my home on May 8. On June 10 I attempted to report a problem with it and get a service call scheduled. Over the past two days I have spoken to a dozen or more people including people at home office who are charged with customer relations. All have been unable to schedule a service call, unable to have someone contact me who could schedule a service call. Some have given me incorrect information, many have been rude.

I would like my money back and my heat pump repaired.

Consumer's Desired Resolution:
I would like my money back and my heat pump repaired.

BBB Processing

06/12/2008 web BBB Complaint Received by BBB
06/12/2008 web BBB Member or MIP Complaint Validated by BBB Operator
06/12/2008 otto EMAIL Send Acknowledgement to Consumer
06/12/2008 otto BBB Inform MIP Member of Complaint
06/17/2008 WEB BBB RECEIVE BUSINESS RESPONSE : 6/17/08. I received the complaint filed by Mr. Alber. I have contacted him and left a message on his home #. I also sent him an email to assist in resolving any issues he may be having with the HVAC system. If you have any questions please contact me directly at 407-551-5415.
Sincerely,
Michele Compston
SHIP Regulatory Complaint Specialist
06/17/2008 nvv EMAIL Forward Business response to Consumer
06/18/2008 WEB BBB RECEIVED CONSUMER REBUTTAL : (The consumer indicated he/she DID NOT accept the response from the business.)
Hi,
I called Michelle this morning for the third time. Voice mail again. I also sent her an email.
No responses. She called me once, sent me one email. This is typical of the service and response I have experienced with Sears in this matter. My complaint is open and getting worse.
please escalate this above Michelle. I do not believe she has the ability to address my concern.
Thank you
George
Ms Compston called and left me a voice mail. I have returned her call twice, leaving voice mails both times. I have not yet spoked with her.
06/18/2008 nvv BBB Forward Consumer Rebuttal to Business
06/23/2008 BBB MORE INFO RECEIVED FROM THE CONSUMER : Hi correction to my last comment. It was Thursday, June 18 that Michelle told me she would call me back by the end of the day.
As of 5 35 PM EDST, Monday June 23 she has not called me back or responded in any other way.
06/23/2008 BBB MORE INFO RECEIVED FROM THE CONSUMER : Hi Michelle,
On Thursday, June 19, you told me you would call me back before the end of the day with an update from your "senior management". I am still waiting for your call.


Best Regards,
George

----- Original Message ----
From:
To: Michelle Compston <mcompt@searshomepro.com>
Cc:
Sent: Wednesday, June 18, 2008 11:36:52 AM
Subject: Re: SHIP #7905445
Hi,

I have called you twice and left voice messages.

This morning I also got an email from BBB requesting that I close my complaint based on your email. of course, I rejected that suggestion and in fact the fact that you would think that you could close my complaint just by calling and sending an email has made my dissatisfaction with Sears greater.



By the way, do you know the status of my Heat Pump?


Best Regards,
George

----- Original Message ----
From: Michelle Compston <mcompt@searshomepro.com>
To:
Sent: Tuesday, June 17, 2008 2:06:09 PM
Subject: SHIP #7905445
Mr.

Hello. How are you? My name is Michele and I work for Sears in the legal department. I am writing to you in response to the complaint you filed with the Better Business Bureau. I would like to help resolve any issues you may be having with the air conditioning system. I can help arrange an appointment for our contractor to come out there, inspect the unit and correct whatever issues there are. My contact information is provided for you below, and I look forward to hearing from you soon.

Sincerely,
Michele Compston
Regulatory Complaint Specialist
(B) 407-551-5415
(F) 407-551-7188
Email: mcompt@searshomepro.com
06/23/2008 BBB MORE INFO RECEIVED FROM THE CONSUMER : today, June 23, at about 5 35 I heard from Michelle Compston via phone who told me that her senior mgt had decided that my complaint had no merits. She referred me to Ms. Rachel Cheek at 407 551 5408 who is a "Legal Case Mgr" in Michelle's words a paralegal. I think it reveals their attitude toward customers that they would escalate me to a lawyer - well not really even a lawyer, but paralegal.

Comments
United States
Appliances





Comments

Sort by: Date | Rating

I'm going thru the same thing with Michele and Rachel. In fact it's been over two years, a heating system, without warranty, no final inspection ever called by Sears, problems etc. Collection actions by Sears, Citi and
Sears non funded for a chimney lining that never went in. My email is simonstudio@aol.com . Please contact me. My case is being investigate by NY State At. General, finally. I'd like to share experiences re Sears. Sarah

In September of 2009, I purchased a new gas furnace and heat pump from Sears. It's 9 months later and I am still having problems with my (NEW) $8000 unit. My first issue (besides the lage hole left in the bedroom wall) was only two days after installation, when the AC quit blowing out cold air. Supposedly the tech forgot to tighten up something and the freon gas leaked out. Someone came out and fixed the problem (or so we thought). A few weeks later the thermostat quit working, so it had to be replaced. That Winter (2009-2010) the heater didn't seem to keep the house warm. The Heat pump ran all winter long (even when temperatures reached 0 degrees outside). I had ice and frost build-up on my (NEW) Heat pump and had to break ice off the unit daily. I was told that nothing was wrong by one person from Sears, while another person from Sears told me that wasn't normal. (Nobody ever came out to fix, or address our concerns that Winter). When warmer weather came around, we turned on our AC, only to find that it didn't blow out any cool air. I called Sears and had someone come out to fix it. The tech told me that the thermostat is not the correct one for our Heat pump, and that the unit is leaking freon. The tech also stated that having the wrong thermostat is the reason the our Heat pump ran all winter long, and that it wasn't wired up corectly and their was no temp sensor outside to tell the Heat pump when to stop running. My winter utility bill was higher that it had ever been (almost $400). Sears is dragging their feet on this issue. I finally told them to refund my money, or replace the unit with a new one. They assured me that there is no damage to the unit even though it ran all Winter long (then proceeded to tell me that it was normal to run at 0 degrees, even with ice build-up on the blades and outside vents). I'm fed up with Sears, their customer service (or lack there of), and their lies! Next move is to contact the local news and then finally an attorney. I will sue for legal fees, too!

I would no longer deal with Sears at this point. I would however contact your Consumer Affairs Dpartment. Here in KY they work for the people and they get right in there with the program. I have used them on a few occasions regarding different matters, such as unkept promises and non-response from businesses. They are great.



Videos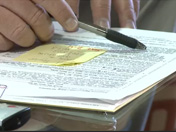 Latest Groups
Today's Mess-Up Photo