Powerade Zero, Indiana, Pennsylvania Complaints & Reviews - Price

Powerade Zero Contacts & Informations

Powerade Zero

Price

Complaint Rating:

Contact information:
N/A


45 Cobblestone Dr.




Indiana

,

Pennsylvania




United States


Phone:

724-463-0828




I picked up two prowerade zero's because the price tag read $0.79 for 1 once I got home and looked at my receipt it read 2 @ 1/1.79 code #04900005072. Total for 2 was $3.58 and due to the fact that gas is high and I am disabled I didn't go back to the store. I wa shighley upset that the price was $1.79 for one.

Comments
United States
Diet Products





Comments

Sort by: Date | Rating

check your local walmart. I've been getting mine for 60 cents a bottle.

I regualry drink powerade and have recently been diapointed after buying the apparently new and improved powerade when infact it plainly tastes like water and i would say bring back the old! The old is far better and i would bring it back into stores. Im not the only one who has had this thought and financly i think you gain from bringing the old one back as you would sell more.
Thankyou for reading.

I was recently preyed upon, unknowingly, being asked if I would be interested in wrapping my vehicle, with the POWERADE ZERO logo's, in turn, advertising for POWERADE ZERO, and more importantly, being compensated $300.00 / week to do so! Now, I am a veteran, when it comes to detecting these internet scams, yet this seemed, somewhat legit, so I let the process proceed, knowing that if I was asked to invest, for my personal banking info, ss#, etc., I would immediately drop out. However, this was never the case, and it proceeded from e-mails, to Texts, to explicit instructions, as to how it would work, who would actually provide the wrapped logo, and installation, again, so far so good. Then I received a text, telling me a cashiers check would be USPS mailed to me, for not only my first week, but also the cost of the wrapping of the vehicle, so I could take my 300, retain the balance, and bring it to a local, predetermined vehicle logo company. OK, so I waited and sure enough, a cashiers check arrived, on the exact day, i was told it would, but with EXPLICIT instructions to deposit the check into my account, wait until the following day, for the deposit to clear, and then, take the balance, as well as my text, to a person, named in the document. At this point, I had a sneaky suspicion, I could be burying myself, or potential, help in committing an actual crime. So instead, i brought the cashiers check to my banker, did NOT deposit it, but asked to CASH it, figuring, if it were real, it would be honored, and at the least I could hold these monies, until all seemed on the up and up. Well you can probably write the ending, to my complaint, and saga, as sure enough my Banker indicated the check was indeed a counterfeit, and if i had indeed deposited it, and paid the majority to another person (the vehicle wrap company) the check eventually would have been returned, and sure enough I would have been buried, owing my bank, and becoming totally responsible, for the TOTAL cashiers check balance. Needless to say, I have filed complaints with my local authorities, and the FTC, as I have been instructed to, and have never heard back, from the supposed POWERADE ZERO representative. Lesson learned, and PLEASE BEWARE AS THIS IS A COMPLETE AND TOTAL SCAM - HEADS UP!



Videos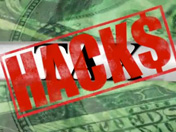 Latest Groups
Today's Mess-Up Photo