Share with Others
Recently Discussed Complaints
Consumer Tips & Tricks
Latest News & Stories
Latest Questions
Penn Credit Corp, Harrisburg, Pennsylvania Complaints & Reviews - Misleading Deceptive Collection Practices

Penn Credit Corp Contacts & Informations

Penn Credit Corp

Misleading Deceptive Collection Practices

Complaint Rating:

This companies representatives lie and decieve the consumers they target. They have been calling me telling me I owe a balance on a Vonage account I closed. They told me on two occasions that they mailed me the detail of the balance due. In fact they did not. On the third call, it was explained to me that they didn't have to provide me billing details because Vonage was a paperless company! I cannot obtain any explanation or detail for the charges yet they expect me to blindly pay them almost $300. After calling Vonage, I discovered they did not close the acount as I requested and continued to bill me for another five months. At the end of the day, Vonage owed me money!

Comments
United States
Telecommunications

More Penn Credit Corp complaints






Comments

Sort by: Date | Rating

My daughter borrowed my car for six months, and aquired 17 parking citations totaling $193 for Down Town Athens Parking. I had no knowledge of these citations until a police officer knocked on my door one morning. The officer asked me why I had not paid the tickets, and I told her that they were my daughters tickets, but because the car was registered to me I would immediately take care of all the citations that very day before lunch. I drove all the way downtown, and paid the tickets in person in cash. End of story...Not quite...Three months after I paid the tickets Penn Credit Corp started calling and sending letters to me stating that I still owed $193. They harrassed me day and night (calls came right up to 9 pm on a daily basis with collectors shouting at me and talking over my explanations) At the first call from them I immediately called down town Athens court house, and their clerk informed me that all the tickets Penn Credit were trying to collect on had BEEN PAID IN FULL. I requested that they send Penn Credit a fax with the information that all tickets had been paid, and the clerk stated she would. Two weeks go by, and again I start receiving calls (up to ten a day) and another letter from Penn Credit asking me to pay for the same tickets. I again called down town Athens parking and they once again faxed Penn Credit requesting them to close my collections account as the tickets were all paid. It didn't do any good...To this date I am still trying to get Penn Credit off my back regarding these same tickets. They seem to have no regard for the work I have done to prove that the tickets have been satisfied, or the fact that their own client is clearly stating that I have paid in full. Therefore I have decided to sue them and Down Town Athens Parking for their total ineptness and disregard for the consumer credit laws of this land.

As a former employee I can vouch that PCC is a legit collection agency. They have credible clients that give us limited information for some of the unpaid bills. If you feel there's a discrepancy you should speak to the PCC rep first to get as much info as possible then go straight to the company that claims you didn't pay their bill. Many Vonage customers didn't read the fine print when signing up for the service. When they become dissatisfied and want to close their account they don't go through the whole procedure and their bill comes to our office. But PCC is real so don't ignore the calls/letter/messages because they do report to the CBR.

Antwackie:
PCC can't call you about the same ticket more than once every three days. Make sure the calls are from Penn Credit and not another unidentified caller. If you are getting a lot of calls from PCC it might be for each seperate ticket. OR your daughter acquired more tickets you didn't know about. Talk to a rep and ask for the information on each of the tickets, make sure you get the dates/ticket #/price/location of EACH ticket. Take it to Athens courthouse and match up the information. Get them to give you some tangible proof that you paid. Have them send it to PCC and to follow up fax it to them yourself. Better yet, have your daughter do it because it's her fault anyway. If you feel that strongly fax a letter of dispute as well as a written letter requesting a cease communication order.

beware of these bastards calling your home looking for someone who does not even live at my home. I unloaded on someone lately and told them not to call anymore. I am going to file a complaint against penn credit from THE JUSTICE DEPARTMENT in my state YES, your Justice Department in your state WILL investigate the problem. This is why you have a justice department. Use this department for ANY problem you have with anyone or any business . They are VERY powerfull. If fact they have more power than most attorney's.. Usually located in your state's capital city DO IT!!!

I just received a call from these bastards again. I thought this was all straigtened out years ago. But it seems that there is another person with same last name that owes money they harrass me constantly about. I OWE NOBODY AND HAVE NO OUTSTANDING BILLS>>>GET IT ASSHOLES!!! Last time it took me over a year to get crap removed off my credit because of these assholes and I am completely fed up with this shit. I want to know if Attorney General can do anything with this. They had my credit so fucked up in the past.
If you confront them, the cowards hang up and then call again the next day to collect for a bill that does not belong to me. They associate everbody with my last name and call for money. I WANT IT STOPPED COMPLETELY!!!
I asked why they were calling me and they said this was the number given. Bullshit, I know the person and they would never have given them my number. They know better!!!

Oh Lord! ... the calls were for my husband's ex wife from debt collection agencies, including Penn Credit and were daily and numerous, 6-7 calls on "light" days.. We changed our phone number to an unpublished number (not even the Operator has the number) to avoid calls for her and the calls ceased for a year or so. Penn Credit somehow found out our unpublished number and the calls started again. I sent them an email that the person in question does not reside at our phone number along with her being divorced from my husband for years. They still called us. I had a screaming match with them due to the fact that my email was ignored along with responding to their rude and horrible behavior by threatening to contact the FCC along with informing my husband's ex wife to have them stop calling us which I am not sure if she did or not.. . After their last call about a week ago they informed us (very rudely after I threatened them with the FCC) that they banned our number and so far the calls have finally stopped for now. I also added our number to the "National Do Not Call Register":.https://www.donotcall.gov/faq/faqdefault.aspx. If it starts up again, we will pursue it legally and place a harassment suit against Penn Credit and/or however or whoever it will apply to. We are disgusted with this whole thing. And the bottom line is, we ARE NOT going to change our phone number again because of this immature and irresponsible nonsense that has nothing to do with us!

Harrassing phone calls and letters over a non existent bill. Rude calls demanding information without telling me why they are calling. They expect me to give them info but they refuse to do the same.

They called me for the first yesterday, June 09, 2014.
The debt collector, Glenn, said I owe the State of Maryland $4500 in back taxes from 2009.
Here is the thing, I have lived in Brooklyn, NY since I came to the his country at the age of 6 in 1994.
Not once have a I left NYC except to go on vacation out of the country.
On top of that, I was a full time student in NYC until 2010.
Since graduating college I have been self-employed and my business has nothing to do with the State of Maryland.
When I asked the debt collector if he could tell me what years I lived in Maryland, when I worked in Maryland, or when I owned or operated a business in Maryland, he very rudely said that "these are questions you should ask yourself."
The nature of my business requires me to interact with customers and suppliers on a daily basis and I have never dealt with an individual who displayed such a lack of professionalism.
I think the best option for me is to contact my attorney and have him call Penn Credit Corp and explain to them that the next time I receive a call from their company, they will receive a lawsuit from mine.

They lied to me about what doubt I was paying. Had me pay I bill that was already forgiven. Don't pay until u know u have confermation on what bill you are paying. They are shady..



Videos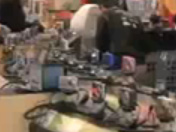 Latest Groups
Today's Mess-Up Photo