Recently Discussed Complaints
1.
(20 mins ago)
Mytriathlon.co.uk
As they had the money they would not respond to countless queries
2.
(32 mins ago)
Davison
SCAM - RIP OFF - DON'T BE A VICTIM
4.
(1 hr 35 mins ago)
montmax.com
Charged me for a FREE watch, with no information.
Consumer Tips & Tricks
Latest News & Stories
Latest Questions
Merchants Choice Payment Solutions, The Woodlands, Texas Complaints & Reviews - Merchant Processing Rip Offs

Merchants Choice Payment Solutions Contacts & Informations

Merchants Choice Payment Solutions

Merchant Processing Rip Offs

Complaint Rating:

Contact information:
Woodforest National Bank


PO Box 8339




The Woodlands

,

Texas




United States


Phone:

800-327-0093


mcpscorp.com


When you start your business, as soon as you register it to obtain a license you will be bombarded by hundreds of these Merchant Processing Companies offering you FREE Services and Equipment with the lowest rate that the market can offer. ALL OF THESE REPRESENTATIVES WILL TELL YOU WHAT YOU LIKE TO HEAR, SO THEY CAN EARN YOUR BUSINESS. If you are approached by a representative of your local banks or independent merchant processing Companies offering you to accept credit cards, you may want to think twice about whom you are trying to sign up with.

My Personal Experience!

I was a business owner in California who was approached by Esmaeil "Ghasemi", a Marketing Director of Delta Card Services ("DCS") d.b.a. Mechants' Choice Payment Solutions ("MCPS") formerly known as Merchants' Choice Card Services and a representative of Woodforest National Bank. Stan Paur is the CEO and President of DCS.

I was made all kind of promises and pledges by Ghasemi to earn my business. After I joined and signed the contract all attitudes changed. From day one, cheating, ripping off, lies and manipulation started. Since, I was not doing much business I did not make it much of a big deal. In one instant, I closed my Business Bank Account, and by the time, I was able to open a new one, some of my customers had paid by credit cards and the money was held by MCPS. By the time I opened my new bank account, more than $200 of my money was in possession of Woodforest and MCPS. When the credit cards transaction fees were deducted by Woodforest and MCPS, I only received about $80.00 deposited into my checking account. When I talked to Ghasemi about it, he blamed me for changing my business bank account.

This is not all!

Since the economy was bad, I was forced to shut down my business. In doing so, I liquidated the entire inventory in my store to one person who was willing to purchase the inventory for pennies on the dollar. Because I was limited in choices, I ended up selling the entire inventory to one guy who paid the proceeds by several of his credit cards. It was a total of $45, 019.98 for which I obtained approval code on every card and Woodforest and MCPS were to deposit the money in my business account within 2 days. This happened on December 30, 2009. It has been almost two months that I haven't seen my money. Woodforest, would not return my calls. MCPS and Ghasemi have every excuse in the book for not depositing the money into my account. To make it even better, in retaliation for the lawsuit that I filed against Woodforest, MCPS, Ghasemi and Paur, they even terminated my merchant account. Today, I am out of my merchandise, and my money, and Woodforest; MCPS; Ghasemi and Paur are all enjoying my money.
If you need additional information or need a copy of the lawsuit, please contact me at legalremedy@juno.com

Comments
United States
Credit Cards

More Merchants Choice Payment Solutions complaints






Comments

Sort by: Date | Rating

I had the same problem too!

The worst rip off in the entire credit card industry. Illegal contracts, illegal methods, and the worst service you have ever seen. NEVER EVER USE THIS COMPANY!

You should know that if you assign a bank account for ACH postings/withdrawals, if you change it you need to have your new account in place FIRST. The monies sent to your bank for deposit came back to sender (your provider) because acct was closed!! Common sense here. Provider may have had to "rekey" them for you, thereby charging addt'l fees. I work for a merchant service provider so I understand where you are coming from. This company called one of our business owners and lied to them, trying to get them to sign up with them - Merchant's Choice Payment - which disgusts me and gives us a bad name. If the cc sales you processed was over your high ticket or volume cap (and I would guess 45k was over), it is held up by provider but just pending confirmation by cc holder. They went way beyond that. Speaking as a merchant provider and having been here 11+ years, there ARE some good and honest ones out here. Miss M

I have a business I Little Rock Ar. After a year of not using their services, still being billed. Called them twice to cancel my service was told that it had automaticlly renewed itself for three years and I would be charged a early termination fee. Ripped me off for thousands. Law suit pending

Joe Wolfe came in my restaurant about three months ago. After looked over my merchant account statement, he told me that I would save at least 70 dollars every month if I witch to Merchants' Choice Payment Solutions. I asked a lot of question before I signed up with him. He promised me with no cancellation fee, no active fee, and no contract. I called him after I received a new terminal from him and told him that I wanted to use my own terminal. He told me that the terminal came with my contract free. One week later, I received a letter from terminal leasing company. That letter informed me that I would charge for leasing a terminal from their company. I call Joe again, he told me it was a mistake during he filled the application and asked me to fax the letter to him, he will correct it right the way. Actually, he didn't fix it. The terminal company charged me twice from my business account $150, $407.88. It was more expensive than buying a new one. I called Joe three times for this issue, he promised me he would fix it and credit full amount back to my account. After two weeks later I called him again because there is no refund back to my account. He asked me to give him one more week to fix it. He didn't leave an origin copy of contract also. This misleading promotion is planned. I realize the whole sale promotion is a fraud, and now he had trapped me into this swindle. After I received the first month statement from WoodForest Bank, the price is about same compare to my old credit card processing company. I called him about $70 dollar saving every month. He told me same thing again, asked me to fax the statement to him and he will fix it. I knew he is crook so I ask him to cancel my account on July 1st. I switched back to my old credit processing company, the agency Miss Zhang sent him a email request to cancel my account. I called he two weeks later, he told me he did cancel for me. However, I received two more months of statements, I called Wood Forest Bank, the number on the statement, the customers service rep told me I have to cancel by my own and there is $470 cancelation fee. I kept calling Joe he hung up on me, and he doesn't answer my phone or resolve my issue. If your company doesn't resolve this fraud sale, I will want all my relatives and Chinese restaurant hear my story and void to do the business with Wood Forest bank.



Videos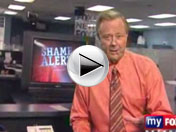 Latest Groups
Today's Mess-Up Photo