Mediacom Cable, Davenport, Iowa Complaints & Reviews - Inetrnet and On Demand Issues

Mediacom Cable Contacts & Informations

Mediacom Cable

Inetrnet and On Demand Issues

Complaint Rating:

Contact information:
Mediacom Cable


Davenport

,

Iowa




United States




We updated to the new 50 MB deluxe Internet package three weeks ago. MEdiacom sent a tech to the house and when he left he advised it was working. I tried it about 15 minutes later and it was not working at all. I called Mediacom back and was advised they would send the tech back AFTER he left the next APPT. I called my employee and told them I would be late by about 1 hour. 2 hours later I called back to Mediacom and was advised the tech would probably show up at the end of his shift between 4-5:30, I asked why I was told something different from the last rep and she said she was sorry and did not know. I called work and got a co-worker to cover me for several more hours. At 5:30 I called MEdiacom again to find out where they were, they advised me that they re-scheduled the appt for Monday (4 days) without even calling me and letting me know this. The customer support rep advised sorry the outside tech should have called you to let you know. So I am going now another 4 days without Internet and I had my husband get off work early Monday to wait for the tech again. They show up on Monday and it takes several different techs showing up and a couple hours to get it to work since this is a new service and they are all learning, they get it working and leave. Several days later it starts to slow down and I am not getting the speed I paid for, I call them back and they set up another appt, they show up today and tell me that they do not know why it's not working and that they are sorry. The tech advises me to switch back to the slower cheaper plan since the Ultra 50 is not working at out house and I have to call customer support to get this done. He leaves I call and they switch me back but state I still have to pay the $99 install fee and after I asked her why should I pay for a service that not only did not work but also caused me to go several days without any Internet and she then hangs up on me.OK? The month before the Internet issue Mediacom on-demand was not working and I called support. They advised they had to send out a tech and made a appt. Of course I had to miss work and the tech shows up and states it is a known issue. So I call them back at customer service and they advised that it is NOT a known issue and schedule another appt in three days and that time of course I missed several hours and this time the tech did not even show up. I called support and she advised he did try to stop by and I was not home. That was a lie! I was there waiting and he ignored the request. We make another appt and the tech comes to the door and advises it is a known issue and there is no reason for him to be there, I asked why would I be advised by support again to miss work and be at home if it is a known issue? At this time the On-demand is sporadic and cannot be counted on to work and our Internet runs slower than promised.

The main consequence was about 12 hours of missed work waiting for Mediacom to show up and fix issues they could not. Plus the fact that I was without my Internet for several days and since my child was taking Online classes she had to make other arrangements. Plus I was out the $99 install fee for a Internet upgrade that does not work.

Comments
United States
Internet Providers

More Mediacom Cable complaints






Comments

Sort by: Date | Rating

I am very sorry the you had this experience with our company.
Please email me your account info at clord@mediacomcc.com and I will look into it for you.
Best wishes,
Chris Lord

I have to agree to this complaint. I own a small computer repair business that I run from home. Because of the work I do I have the pleasure of having access to several computers and make several outside calls to customers around town.

My tcp settings including netsh global settings in Win 7 are fully optimized, no viruses, no spyware, tried different DNS servers, used two different routers, two different modems. I can add a list of things I've tried and 99% of the time I get only 1/10 (one-tenth) of the advertised speed. I've ran speed tests on speedtest.net, bandwidthplace, speakeasy, 2 wire, dslreports, wugnet, and ran the tests on several servers not only on my computers, my customers computers, but also on my outside calls. When going out to look at customer's computers, if those customers have mediacom out of curiosity I run speedtests. It's not just my line, or my computer, it seems to be the whole town.

I am set up for 12Mb down and 1Mb up. I generally get between 1.2 and 2.0 Mb down and 700Kb to 800Kb up. 1 - 2 hours out of every MONTH, seriously, I get full speed, speed test then hit 11.2 to 11.5Mb.. basically like 98% of the time my internet is only a tenth of the advertised speed.

Now I understand that ISPs state "up to the advertised speed", but lets face it if you advertise a speed, dont give the customers 10% of that speed. I've been through the calls and a tech has come out half a dozen times. The tech that come out didn't even know the difference between megabytes and megabits or any internet topology terms, the other more experienced tech who came out a few times did, and couldn't believe how slow the internet was going at my location but nothing ever came out of it.

About to switch back to ATT DSL 6Mb. 6Mb dsl goes 2 - 3 times faster then Mediacom's 12Mb. Very strange.



Videos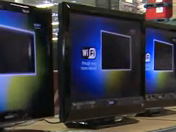 Latest Groups
Today's Mess-Up Photo