Share with Others
Recently Discussed Complaints
Consumer Tips & Tricks
Latest News & Stories
Latest Questions
McDonalds, Franklin, North Carolina Complaints & Reviews - Charging for an extra sauce

McDonalds Contacts & Informations

McDonalds

Charging for an extra sauce

Complaint Rating:

I decided today that I would try eating some lunch from one of our local McDonalds (the one on the Georgia Road in particular), I am usually not a BIG FAN of MCDONALDS, but I thought I would give it a try. My child really likes McDonalds, one of her favorite things to get from there is the Chicken Nugget Happy Meal, needless to say I find it very hard to believe that you only get one sauce with your meal & if you want more you have to pay for it. I bet if you are an employee there you don't have to pay for an extra sauce if you are going to eat chicken nuggets. I really don't understand what the BIG DEAL is about giving someone an extra sauce if they are going to use it. With having a child we do frequent McDonalds & I must say that NOT every McDonalds charges for an extra sauce, but obviously ours do. I really feel that this is going to hurt their business in the long run, but if they can't part with an extra sauce to make a customer HAPPY instead of wanting a little change for an extra sauce & have a PISSED OFF customer that will probably not ever go back to that particular McDonalds, then so be it. Personally if it were me, I would want to please the customer & not get BAD feedback about their business. I have worked in the food industry & our motto was to make sure that the customer is always happy & to never let a person leave unhappy about anything, but obviously this McDonalds doesn't really care that much about making the customer happy, but instead to leave a BAD TASTE in their mouth. I contacted the manager at this particular McDonalds & she didn't even care about trying to fix the situation at all, the only thing that she could keep repeating over was ..."WE ARE GOING BY THE BOOK ON THIS & WE CAN'T HELP WHAT THE COMPANY DECIDES TO DO. So needless to say I WILL NOT BE GOING BACK TO THIS MCDONALDS & I will make sure that I let all my friends now as well. Thank you for letting me share my COMPLAINT with you. I hope that this problem will get resolved in the future.

P.S. WENDYS tried charging an extra sauce for awhile, they lost so much business that now if you want one of every kind, they will give it to you...NO PROBLEM!!! I guess we will start going back to WENDYS for our child, when she wants chicken nuggets, 'cause at least I know that there will be no problem if my child wants an extra sauce, they will SMILE & give it to you with no questions asked.

Comments
United States
Food

More McDonalds complaints






Comments

Sort by: Date | Rating

I worked at McDonalds when I was a teenager, about 15 years ago. Even back then they charged for extra stuff like nugget sauce, extra mac sauce, extra mayo, extra ranch dressing, extra cheese, extra pickles, basically anything that was extra. Most of the employees didn't want to deal with angry customers so they usually gave out the extras for free so that the customers wouldn't write a complaint on http://www.complaintsboard.com.

The rule for nuggets was that you can get 1 sauce per 4 nuggets. So, if you ordered a 9-nugget (it's a 10 now) you can only get 2 sauces if you asked for 2, otherwise they'll only give you one sauce. If you like to drown your nuggets like I do, 2 sauces for a 10 piece is never enough, especially if it was honey. One of those honey packets only last you barely 2 nuggets. The managers would hate it when I gave out handfuls of sauces for free, especially the honey.

McDonalds is also a stickler on napkins. You are only allowed one napkin per sandwich. So if you ordered a big greasy double quarter pounder through the drive-thru, don't expect to get more than one napkin without asking.

I also always ask for no ice in my drinks if I'm going through the drive-thru because they fill your cup almost full of ice and you barely get any pop to wash their nasty food down.

After working at Micky D's for about 3 years, I do not ever want to eat there or any other fast food place again. It was pretty disgusting the way we prepared the food in there. If you ever get a bun that is covered in grease when you first unwrap it, the guy in the back probably didn't use any gloves or spatulas to prepare your burger. He prepared it with his bare greasy hands that he just wiped his face with (because working back there in Grill got your skin and clothes really greasy).

first of all for nuggets or selects u get a complementry sauce but if u want extra we do charge you for it. we wont be able to make money if we just give everything away. we are a buisness and if start giving everything away where will we get money to pay for everything else. and as far as i know, almost in every mcdonalds i have been they have a sign where they say its extra for sauce. i hate it when people say "why is it always this mcdonalds, no other mcdonalds does that" 90% of mcdonalds are franchise owners who are trying to earn a living owining a mcdonlds and the employees too. not every mcdonalds is the same. and as far as i know they are all trying very hard to make it a better place, but with all the rude customers always complaining, we cant always be happy.
also if you do ever get a greasy burger, it doesnt mean they didnt use gloves, yes it does mean they probably didnt use a spatula. everyone should stop judging and saying every mcdonalds is the same because its not.

I absolutely agree. It's absolutely ridiculous. Giving away an extra sauce is not going to harm the business at all. Seriously? I get one honey sauce with my 6-piece chicken nuggets and have to pay 27 cents extra for another. I WILL not be eating at McDonalds ever again! My brother used to work at a Mcdonalds as well, and from the stuff I heard, I believe every disgusting story I hear about that place. I would rather take my money elsewhere.

I kind of agree. I work at a McDonald's and I have a lot of people complain about the charges of sauces. So what I do is give them one extra sauce and they will have to pay for more. Our sauce is only 10 cent and I don't think it is a big deal. For our nuggets, you get 1 sauce for 4 and 6 piece (I give them 2 automatically for 6), 2 for 10 piece, and suppose to be 3 for 20 piece (but I give them 4 and if they want extra, I will give them 1 extra one). But like one person said, we gotta make our money. We can't give away everything. If you think "o, its just one sauce", then just pay for it. Simple as that and there will be no argument.

I agree with the original poster. What I don't agree with is the justification several have given as a reason to charge me for 1 BBQ sauce I'm going to use at McDonalds for my Fry. Example - sk1ttles comment..."we gotta make our money. We can't give away everything. If you think "o, its just one sauce", then just pay for it. Simple as that and there will be no argument" This attitude/reasoning is just wrong. Do they charge for a straw, ketchup, salt, pepper????? How about telling that little old lady you're going to have to swipe her credit card again for 12 cents because she requested a creamer for her coffee! The cost of these condiments are built into and distributed throughout the cost of items on the menu and always has been. Recently greed has made it where companies want to make a higher profit so they are looking at how they can reduce operating costs without changing the base charge for food to the customer.
Until now, I as a customer have always tired to help these places keep cost down by cleaning up after myself. (Note: This is a courtesy I provide to McDonalds and it is perceived as customary to help keep cost down for the business.)

I will no longer continue to clean my table or toss my trash at any McDonalds that decides they need to charge me for something that I feel is a "courtesy/customary" such as these condiments. (Note: This only hurts the greedy guys making the policy to charge for condiments because the average worker is paid by the hour regardless if it's cleaning tables or scrubbing toilets. So let the overhead they have to hire to clean tables eat into the operating costs or profits they intended to make on charging for condiments.

If you agree... LEAVE YOUR TRAY... and let's make a difference.



Videos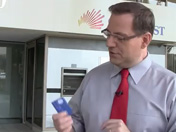 Latest Groups
Today's Mess-Up Photo