Share with Others
Recently Discussed Complaints
Consumer Tips & Tricks
Latest News & Stories
Latest Questions
Liquidation Channel Complaints & Reviews - Items I never recieved

Liquidation Channel Contacts & Informations

Liquidation Channel

Items I never recieved

Complaint Rating:

I bid and won on 2 items on November 22/2011. The total price was only $7.00 but my intent was to give them away as stocking suffers to a teenager. I did not receive the items and despite numerous calls to LC customer service, I still have not received the package. I have made several purchases from them in the past and did not have any problems. Yet over a $7.00 order, the representative tells me I have received the order and an "Investigation" needs to be conducted to find out the whereabouts of the package. I don't know why this "Investigation" was not conducted when I call them on 12/01, 12/15, 12/31 and 01/01 to inquire about it. I would be VERY CAUTIOUS from now on if I order anything from them again. I have been waiting to speak to a supervisor at LC. They DON'T bother returning customers calls.

Comments
United States
Jewelry & Watches

More Liquidation Channel complaints






Comments

Sort by: Date | Rating

This company will sell you an item, immediately hit your credit or debit card, ThEN if you return the item they will keep your money for over two weeks before refunding so they can earn interest on YOUR money without your consent for that usage. I'm filing a complaint with the attorney generals office for unfair business practives and if you wil check the BBB you will find an additional 31 complaints filed against them. IMO they should be put out of business! Buyer beware!

I to have ordered a watch, that was running! so i called cutomer service and told them the watch presented was displayed as being new...with arubber stopper that keeps the watch from running. The customer service rep told me not a problem! we will send you a replacement out; so i waited for 10-days called them back and i was told by the customer service rep...we no longer have them in stock! i said how nice, you could have informed me! but that not all 75% of what i bought is junk!! you have been warned!!! shop at your own risk!!!

I have several complaints. The biggest one is I placed an order on 12-20-12 for a number of items. When 12-26-12 came all the items where there but my favorite, a London blue topaz and diamond ring. I call right away and reported their error. They were so kind and said it is still in stock and the well send it out right away. I thought that it was so kind of them to take care of it right away. On 1-03-13 I called to make sure it was sent. CS said it had been sent. I asked how it would know that it had been sent (it was not on my orders). They said I should get it with in 2 days. Five days past and no ring. I call CS and ask again about the ring, they informed me it was in stock and they will send it out right away.I wasn't sure what to think. On 1-09-13 called again, this time they said sorry this is not in stock and can not send it to me, but they will return my money $7.00 plus shipping $2.99. Since I won it on auction I could not get another for that price. I am really hot by now, so I order a gem I have been wanting and was going to use my credit. When i placed the order it would not use the credit, here we go again. I called CS and ask them about it, oh I can only use it on the TV site. I lose it, i said they can make it good to me and I asked for 2 items and asked them to pay for the shipping because this was their mistake. Oh no we will not give free shipping no matter what. But you know you have coupons for free shipping, sorry no free shipping. I isn't worth the hassle any more. At the beginning i thought they are so tacky on there items to buy, I wouldn't buy from them. Then I bought one item, it was such a good buy, I bought more. Will this lasted about 2 months. But strange things started happening. I would win bids but they would not show I had won them. It happened 2 more times but this time I watched the whole time so I new I had won. I called CS and they just said no it show you did not win. OH OH!!! The last one I checked on this morning sure enough, I bit $15 on the dice gems, and $15 won, i was so happy but again no win. I check to see if there was any in stock, sure enough, for sale on regular place to buy but not on the auction. I am so upset that this did not turn out. I enjoyed the auctions. Talking about that again watch out it looks like??????? some one is now doing real high bidding. Can't get rings like we could before. Right now I hoping for the best, cross my figure still have 6 deliveries to go, I sure hope all items are in them.

I ordered the rutilated quartz bracelet and the stones were cracked class, one even had a finger print on it. I wish every one would read these comments. I collect loose gem stones. I decided to loop them. None of them had any flaws them, which is odd for the price I pay. I think the only way they can stay at the price they sale stones or jewelry is to have lab created gems. I have spent a lot at this crocked channel i wish every one would stop buying and put them out of business. I am senior citizen and this is what made me happy to watch and buy the little i could. Bye Bye LC. I wish they would press charges against Dennis for starting this channel. Get ready readers you are next.

so are they real diamonds or are they fake??? does anybody know that?

I agree with all the comments. I have had the same problems with this company. Ordered something for my mother for X-mas (sadly I never got it in time for X-mas) had the same thing happen - they would do an investigation after I called & emailed them over 12 times!!! I finally filed a dispute w/my bank to get my money back on the items. Finally 2 months later I finally got the items in the mail. Also beware of the quality - the stones in the rings will fall out on you. Their motto is "Exceptional Quality" - well that is the biggest lie of all. Their stuff is plain junk - what you see on TV will not be what you get in the mail. I screamed so much about a ring that I rec'd that had such a bad stone - didn't look at all like what was displayed on TV - they finally sent me a ring with a nice stone- but only after I screamed bloody murder!!!. DO NOT ORDER FROM THESE GUYS IT WILL ONLY BRING YOU HEART ACHE AND SO MUCH DISSAPOINTMENT & ANGER!!!

So far, I've had just a few gliches. I have ordered quite a bit, and if I needed to call them and could not get in touch, they would call me back. I was told by customer service that they had to revamp their customer service department and she admitted that they have had a lot of problems and they have and will continue to work on them to get it right for the consumer. Now if something is not quite right with my order, they have either replaced it or given me credit. I do like my jewelry that I have gotten. So as of now 2013, they have improved greatly and even my stuff arrived before last Christmas. So the latter part of 2012 until as of this date, they have shown me nothing but courtesy.



Videos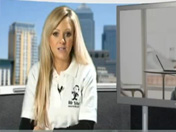 Latest Groups
Today's Mess-Up Photo