Recently Discussed Complaints
3.
(20 mins ago)
enutra-101
receiving pills in the mail that i did NOT order
4.
(31 mins ago)
ATT
Rebate scam/Deceptive Practices
5.
(34 mins ago)
Ryan Smith
I think Ryan Smith tries to cheat out of my money
Consumer Tips & Tricks
Latest News & Stories
Latest Questions
InstantCheckmate.com Complaints & Reviews - don`t be ripped off by instantcheckmate.com

InstantCheckmate.com Contacts & Informations

InstantCheckmate.com

| | | | |
| --- | --- | --- | --- |
| Posted: 2011-12-13 by | | digo | |

don`t be ripped off by instantcheckmate.com

Complaint Rating:

Contact information:
instantcheckmate.com


United States




I saw instantcheckmate.com on my verizon homepage . the background check was$9.95 for six month`s they charged my bank account $ 59.16 instead . I tried 3 background check`s .!st one I know has a crimjnal record . It cme back clean 2nd one has a criminal record it too came back clean so I tried my own name I know it is clean It came back that I have a bad criminal record, All 3 are wrong .I called the first time they only wanted to refund half . So I called back, because why pay for something that don`t work .She said she would refund the whole amount . But instead they went back to charging me the whole $59.16 . I checked online they have complaint`s about selling people`s card number`s . Check out scambook .com so far they have ripped off $312, 038, 45 and growing .Watchout for them so they won`t rip you off too thank you.during these hard time`s the worst thing I can`t afford to have my money stolen by scam artist like this thank you and if they ripped you off too please fight back and report these thieves so they can be stopped sincerly don`t be ripped off by instantcheckmate.com

Comments
United States
Unauthorized Charges

More InstantCheckmate.com complaints






Comments

Sort by: Date | Rating

Pls see the details of complaint lodged with the Company. Till date they have debited USD 60 without my knowledge.

----- Forwarded Message -----
From: Nilesh Patel
To: Instant Checkmate Customer Service
Cc: "support@instantcheckmate.com"
Sent: Friday, 21 June 2013 9:19 AM
Subject: Re: PDF Report Generation Enabled

Dear Sir/ Madam,


I have used the services provided by your site once on 15 th june, 2013 have made payment of round 12 USD. During this i have searched profile of one person only and was satisfied with the results.

Since my purpose was solved i have never intended to avail any further servies or monlty/ yearly subscription offered by you. Howver, its surprising to note that today USD 29 have been debited from my credit card registered with you. This is with out any intimation to me or my consent. i have never clicked any link to avails such services.


I therefore reqeust you to immediately reverse the said charges back to my credit card. Failing which i will be forced to take all possible actions against you and take up my greivance at all possible social forum.

Anticipating co-operation in the matter.


Nilesh

Billing Details

*To get unlimited reports, select a one-month membership for $22.86, a three-month membership for $44.58 ($14.86/mo), or a six-month membership for $59.16 ($9.86/mo). Your membership will automatically renew for the same term unless you cancel before the start of the next term. Instant Checkmate will charge the recurring membership fee of $22.86, $44.58, or $59.16 (depending on the membership option you select) to the same card you use today until you cancel. To cancel, call 1-866-490-5980 between 5am - 10 pm Pacific Standard Time (7 days a week).

THAT IS WHERE YOU PUT YOUR CARD INFO IN ! LEARN TO READ BEFORE SUBMITTING. NO FINE PRINT. ALL CLEARLY STATED ! LESSON LEARNED FOR YOU

I also click on this website believing the amount charged would be $9.95. Did not agree to $59 charged to my account. Looked up a few people and clicked premium by accident which did not give my any useful additional information. I called Instant Checkmate immediately to cancel the entire service. I was told that $89.14 was "already debit out of my account!" I stated I did not want the service and wanted to be reimbursed which became a process of "please hold while I talk to my manager" for 4 or 5 times with me not agreeing to the amount: #1 $19.99 to be credited to my account, I said, "No", #2 $29 credit to my account...I gave same response, #3 "you agreed to the premium amount of $29, plus the PDR reports and the $9.99 included in the total for $89, can deduct $39...I said, "no", #4 "hold while I talk to my supervisor"..."we can cancelled after this month fees are paid", I said, "no", #5 I told the man that I will not accept anything except $9.95 for one month and want this service discontinued after one month..."you agreed to the premium of $29", " I will talk to my supervisor. #5 "I can credit your account $59"...I gave in since I had been on the phone 45 minutes to get reimbursement. This is the worst mistake I've made using an unknown website...they got $21 out of me for being on the site not even an hour...there is no grace period and the websites pricing is deceiving.



Videos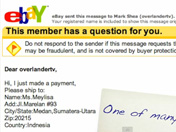 Latest Groups
Today's Mess-Up Photo