Share with Others
Recently Discussed Complaints
Consumer Tips & Tricks
Latest News & Stories
Latest Questions
Home Depot's Behr Paint, Vienna (Merrifield), Virginia Complaints & Reviews - Custom paint colors

Home Depot Contacts & Informations

Home Depot's Behr Paint

Custom paint colors

Complaint Rating:

The manager of the paint section at the Merrifield Home Depot in Vienna (VA) indicated on 2/1/2009 that he could mix Behr paint to match any color from another paint manufacturer using his computerized data base. However, when I got home it was clear the colors were not even close.

Telling customers that Home Depot can match the colors of other manufacturers is just a lie.

Comments
United States
Retail Stores





Comments

Sort by: Date | Rating

I HAD A SIMILAR EXPERIENCE IN THE OGDEN CITY HOME DEPOT. THE PUMKIN SPICE COLOR ENDED UP BEING A GOLD COLOR. SO NOW I AM HAVE FOUR GALLONS OF PAINT THAT I REALLY DO NOT WANT.

that happens anytime you buy colored paint it doesnt matter where and if you by the same brand or not. i bought some red paint at ici paint and ran out. took the can right back to the same store bought the exact same brand and had it mixed whe i painted it it was alittle off. paint will never have an exact match unless you buy a huge amount at the same time mixed by the same person and same brand.so pleasae dont blame the company.

your paint for decks sucks painted 2 years 1year later it peeled we did as you said streped paint cleaned condition all with your products it has peeled again so much for paint that last as you say on product barb klette

you are a mean guy and i am gonna cry now ...

We too painted out deck and after 1 year year in starting peeling and looked worn. Again, we stripped, cleaned with all the professional products Home Depot recommended and the end result was unsatisfactory. Beware of the stains as well, they too don't seem to last, even Thompson Water Seal w/stain.

I painted my house ext. with Behr paint two years ago. The trim color faded from brown to pink. I told Behr rep. I did not save receipts. She said to buy more paint and send receipt to Behr Co. for refund. I did and received a letter saying I will not receive a refund because I did not save orginal receipt.
Tom Bishop

Paint! Never switch brands for color match. Never but more than ne gallon without BOXING, boxing is mixing all your paint together in a 5 gal clean bucket, even a lot # can chage color. Now onto deck peeling. NEVER PAINT A DECK, period. A porch OK, a deck NO! Problem: to much wood movement for a hard paint skin, every wood expands and contracts, especially outside to
the weather. PLUS we all only paint the top surface, woodworking 101, finsih all sides equally and enf grain twice as much. So a deck painted only on the top leaves the underside free to wick moisture from the ground and blow it right through the top paint skin.

HOME DEPOT BEHR PAINT I BOUGHT ONE GALLON OF THERE BEST PURE WHITE SMI GLOSS PAINT ! I HAVE BEEN A PAINTER FOR 40 YEARS AND BEHR PAINT IN SIDE OR OUT SIDE IS THE WORST PAINT I HAVE EVER USED, IT WILL NOT COVER UNDER COAT AND IT WILL NOT LEVEL OUT, IT IS THE HARDEST PAINT I HAVE EVERY USED... STILL ONE OF THE BEST PAINTS IS ACE HARDWARE...PRESCOTT AZ

Dr house is correct when he says that painting a deck is a horrible idea, whether you strip and clean it, or not. paint does not have the same durability as a stain. Whatever you do, DO NOT PRESSURE WASH YOUR DECK! EVER! it causes the fibers in the wood to split and fray off. Ruining the wood on your deck. Decks get alot of wear and tear. Behr paint is great paint if the user follows the instructions and doesnt try to paint over a stained deck or a previously painted deck. Once you apply a product to any type of wood it seals the wood off from having another product put over top. Do not apply paint in the middle of the day, same with stain, itd too hot for the product to handle it, Paint and stains have water in them, if you do it in the middle of the day the water evaporates faster than the product has time to dry. While it looks good at the time, it will peel in a couple months. Do it in the morning! when its cooler out!!!

Also! colour matching will never be the same as the chip, because most paint companies do not put their chip in a flat finish! They use shine on their chips so you cant colour match it. That way you have to buy their paint. If you bring in a sample from your own wall it has to be big enough to colour match, otherwise you need to pick a colour off the colour wall to see if you can get it close to the colour that you have.

I hope this has helped somewhat. Good luck!

Behr Prem solid stain. Consumer Reports 2009, #1 rated for exterior decks. Attempting to remove two coats of Behr Prem solid stain that was put on 400 sqft. cedar deck, 12ft off grounf, june 09. Cedar tone was "pumpkin orange". I mean orange! Paint chips were way off. Returned to HD and they squirted some black in the remaining gallons. Now it's "chocolate". OMG! Deck was painted again the following week. Horizontal surfaces peel. Won't be able to match paint. Not much left to use for touch up. Optioned to strip. Big mistake. Behr Stripper #64 does not work after sitting an hour. Now I'm gonna have to go really caustic. Gonna cost me way to much to do this and Behr should pay on the their "10 year" WARRANTY!

I painted my deck with BEHR in summer of 2010 and by the spring of 2011 it had nearly all peeled off. I talked with a friend who had the same results, same type of deck stain, (semi transparent) and she told me that there was a recall on the same product that we both had used. Would like to find out if this is true and what I need to do to get the matter resolved..My deck looks terrible, and I don't know what my options are. Please advise.



Videos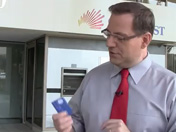 Latest Groups
Today's Mess-Up Photo