Share with Others
Recently Discussed Complaints
Consumer Tips & Tricks
Latest News & Stories
Latest Questions
Higher One Complaints & Reviews - For the past 6 - 8 wks I have not been able to access my account online

Higher One Contacts & Informations

Higher One

For the past 6 - 8 wks I have not been able to access my account online

Complaint Rating:

I am a non-traditional student at UWG. My school began using Higher One in the Spring of 2004. At first, it seemed very handy. Refunds have been made available well before the date expected each time. I figured that I would go ahead and order checks and streamline my finances with one account. That was a big mistake! For the past 6 - 8 wks I have not been able to access my account online. I contacted customer service on two different occassions and explained the problem that I was experiencing. I was promised that they would look into it and I never got any feedback. My husband gave me a check to cover all of our bills out of his account since he would be out of town. I mailed my deposit in (overnight) and I mailed my bills out as well. After a couple more weeks past, I was still unable to access my account online so I finally went to Auxilliary Services on campus to get some assistance. They contacted Higher One and we got my access all straightened out. I printed a statment immediately -and I was completely frustrated with what I found. My deposit was posted on November 22nd. Two checks came in that day and were paid, but they also charged me insufficient funds fee. Mind you I had more than enough money available to cover those checks. On top of this it wasn't until the next business day (23rd) that they returned my check and credited my account back for the check amount. The money was there but they charged me a fee and the next day returned the check and credited my account back...what's up with that? The day after my deposit was posted(23rd), most of the other checks came in and they did the same thing. They showed paying these checks, charged insuffienent funds; it wasn't until the following day that they returned the checks and credited my account back for the check amounts they did'nt pay. Again, my balance was more than sufficient to cover this! My husband checked the date that the funds were removed from his account, and that was on the 24th - the day they "returned" most of the checks I wrote to pay my bills. Not only did they treat my deposit as if it wasn't there on the 22nd, they continued to return checks after they had already received the funds from my husbands account!!! This has been a spiraling cycle since then. Now my account is in the negative. All together, as of yesterday, I have accrued 10 insuffiecent fund fees totalling $320! Not to mention the fees from the merchants that thier checks rejected. I contacted customer service and explained patiently the situation. They emailed my back and said they would credit my account back for only four of those. I called them back and explained that was not acceptable. They are stealing my money and taking christmas away from my family!!! What nerve!!

Comments
United States
Products & Services





Comments

Sort by: Date | Rating

I like how they count a deposit into the account (otherwise known as a credit) as a withdrawal until the funds clear! This is what is known as a scam. I ended up with a bunch of insufficient funds charges because the deposit I made was counted as a debit. Meanwhile, I made a purchase that did not exceed my actual balance. The math was this:

Starting Balance = 156.00
Deposit from Outside Bank = 100.00
Charge Amount = 125.99

Since the Deposit was counted as a Debit, when I made the charge (after depositing the money), this is what my account looked like:

Starting Balance = 156.00
Deposit from Outside Bank = -100.00
Balance = 56.00
Charge Amount = 125.99
Balance = -69.99
Insufficient Funds Fee = -35.00
Balance = 104.99
Deposit from Outside Bank Cleared = 100.00
Balance = -4.99

WHAT KIND OF BANK DOES THIS? After the above debacle I ended up owing $4.99 to these jerks when I should have had a balance remaining of $130.01! This is a total scam designed to rip off students who the bank assumes are too stupid to notice or too powerless to do anything about it (which seems likely to be the truth). They offer the option to deposit your funds directly into a third party bank and not use their stupid account, I'd recommend this option (even though it takes a little longer) to anyone stuck with this BS from their school. I've never had such a load of crap dumped on me by my "real" bank. I'm not going to let them do this to me again, though I doubt there is anything I can do to get my fees refunded.

Any Body that reads this and has done business with this bank please contact me I believe that they are doing this to alot of people. My account balance was $2.31 I have another account that I use and did'nt use this account because I had my work check deposited in there I left the job and did'nt use the account because I no longer needed to use it. I started school and applied for finacial aid and a grant . I then found out that a company was going in my account to get a payment for $54.00 that was'nt there. They charged me 60 fees and my account is -14877.00 they told me to stop ach payments but it willl cost me also I have to fill out a dispute form for each transaction that I'm disputing my. I have finacial aid and grants coming but I cant close the account and even if I close it they will still have access to my refunds intill the disputes are cleared.
Anyone have any information on this let me know. kdn27miypsi@yahoo.com

My experience with Higher One has been frustrating and horrible. My son attends college (his first year) so we are new to dealing with Higher One. At first, it seemed convenient and we're used to using debit/credit card since most of us use it frequently. I setup my son's online account/profile and I often (once every week or so) checked his account online...my son's still a bit immature in handling money. Anyway, I wanted to surprise my son for doing well, in general and every time I visited his Higher One account online, there was an advertisement of easy, online money transfer from another bank and that it can be done by relatives. I've transferred money before online without a problem so I transferred $4, 000.00 so that he could purchase a car. I was able to transfer the money no problem. I checked back the next day to make sure the transfer went through and on the Higher One account, it was noted that the money will be available in a few days. By this time, my son was busy looking for a car and he was so excited. I went back to the website a few days later and I see an alert on the account and his account was frozen. It told me to contact them immediately.

I contacted them immediately and spoke with a customer service rep and he advised me that I need to fax over a statement from my bank showing my activities for the past 30 days with my name, address, account number, routing number and my son's information from his Higher One debit card and the money will be released the next business day from reviewing the statement. I made sure I clearly understood what he was requesting and I faxed over the documents. The next day, the money was not released and I called them back for them to tell me that they need to verify my bank account and that they will find the bank statement to review. The money should be available the next day. This went on for over a week with me calling them a few times a day wanting answers to what happened to the money and why no one can tell me what was going on. I tried getting a hold of a supervisor, manager, anyone who can explain to me what happened.

They told me that they didn't receive the fax and that I need to fax over the statement again! And then a day later, they told me I needed to fax over a notarized letter saying that I authorized the transfer and a copy of my driver's license. By this time, I was furious and I asked them to reverse the transaction and return the money into my bank account. They said that they weren't able to do so and that they could issue me a check which could take up to 60 days and one of the reps even threatened me that they could close my son's account entirely. I have yet to see the money and the transaction took place on the 3rd of Feb. 2010.

I do not think that this bank is fair at all! I was charged an overdraft fee for a check that was returned the next day, okay thats fair I guess. But I called Higher One and told them that I did not want the check to go through again and to see if I could get that overdraft fee waived since I had my account for over a year and never had been overdraft before. Most banks will waive one overdraft fee, they refused, again that is fair they don't have to do that. But they let the check go through a second time. I specifically told them "I do not want the check to go through again". When I called the second time they told me that I didn't use the wording "stop payment" so the check wasn't stopped. That is crazy!!! The person the first time never said I had to do that, this bank is an absolute scam. They then charged me 24$ to stop payment on the check. And I have my grant and loan money depoisted into a different account until they are paid. The schools should have never made a contract with this company. They are taking money from college students grants and loans. They should be ashamed. The old way of mailing out checks or having them directly deposited into a real bank account was much better.

HigherOne stole $1, 558 from my account by charging me a $38 NSF fee FORTY-ONE TIMES!!!

I am now dropping out of school because I can't pay my bills and other costs of attendance and may become homeless.

This bank is a joke! They have done this to me! You can see on my account balance, the beginning balance was $25! How can they charge me an insufficient funds fee? And let me tell you, they are constantly changing around my statement everytime I complain to make me look wrong! They say my deposit didn't clear in time, so how can a payment clear first? And why would my account show a positive amount in my account!? This is very unethical! Also, I have had fees refunded to me before because they wrongfully charged me. Ridiculous. I am bringing this to the attention of my cousin who is a lawyer.
12/21/2011 Fee Insufficient Funds Fee - Item Returned -$38.00 -$13.00

12/21/2011 Returned Item $14.00 $25.00

12/20/2011 Withdrawal ACH Electronic Payment to COLUMBIA GAS OH ONLINE PMT -$14.00 $11.00

12/20/2011 Deposit Transfer From Huntingrton via eCheck (Request on 12/20 at 09:51) $25.00

This company is a joke and not a bank. I can't believe educational institutions really use them as they are awful! If you have a check and a deposit on the same night come in (with plenty of funds to cover the check) they will charge the fee and send the check back even if it is $20.00 and your electronic deposit is $1, 000 - they are that inept. If you are overdrawn you get a message saying do you want to take care of this now? And then, you can't!! I called and they automatically have at that point already sent the item back. I have called and agree the most idiotic staff ever. I just had a gas pump that wouldn't work absolutely no gas and I have a $25 charge hold for 4 days now...not even a penney pumped. I called and an arrogant young man said if I had gotten even 3 cents gas it wouldn't have taken so long it's because no gas pumped? I even called the gas station and they saw no gas and said it not be holding. WEIRD BANK or whatever it is...ripoff to students!

My experience too; not sure I should even write checks anymore as there is no guarantee they won't send it back. I posted that I had a rent check and large electronic deposit come in same day with plenty to cover and not only did I get a late fee...but they sent the check IMMEDIATELY back...how embarrassing and damaging to our lives. I really think this company should be closed. A real bank would charge the fee maybe (I don't think if they come in same night they would) and PAY the darn check not send it back. Ridiculous.

Do not do business with this bank.

This bank is a scam with a name. DO NOT DO BUSINESS WITH THEM!!!

this bank is not good and they rob people. my account was compromised and i filled out a claim form and was told it was corrected and they deposited the money back. my account stays frozen, i am told to send a notarized letter, i send it. in the mean time i get charged a ton of insufficient fund fee's totalling over $1000, even though i had money in my account. finally after they recieve the notarized letter they transfer way less into my account. they basically took all of my money and robbed me!

Higher One did not honor checks that I wrote and then charge me a $38 dollar fee twice, and $24 when i put a stop payment on the check. The money was in my account and they held the check without letting me know it was there. Whenever there is more than $100 in my account Higher One finds a way to charge me fees and take money from the account. Why is taxpayer money going to support these crooks? It is unfair that College Students are being sent to be robbed when they are starting out in life. In 2012, they allowed charges on my debit account which were not authorized by me. It took them over 30 days to finally reconcile my account. The Government should not allow funds to go to this bank.



Videos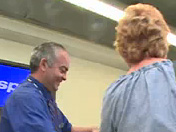 Latest Groups
Today's Mess-Up Photo