Recently Discussed Complaints
3.
(20 mins ago)
enutra-101
receiving pills in the mail that i did NOT order
4.
(31 mins ago)
ATT
Rebate scam/Deceptive Practices
5.
(34 mins ago)
Ryan Smith
I think Ryan Smith tries to cheat out of my money
Consumer Tips & Tricks
Latest News & Stories
Latest Questions
Drive Line Reatil, Arkansas Complaints & Reviews - Run by idiots

Drive Line Reatil Contacts & Informations

Drive Line Reatil

Run by idiots

Complaint Rating:

Contact information:
Driveline Retail Solutions


Arkansas




United States


drivelineretail.com


I worked for driveline for awhile, and at first it seemed legit, and i was receiving very a small amount of compensation for my merchandising services. I continued on my schedule and continued servicing my stores, and then one day I got online after putting in long hours after working my first job.(was working about 16 hours total that day) and when I logged onto their site to report, it would not let me. I called the district manager, Carolyn Patterson, who informed me that all of my jobs had been re-assigned. I never recieved a call or email notifying me of this. Also, I was told that EVEN THOUGH I WAS THE ONE WHO DID THE JOBS, and had the managers at the stores that I serviced to confirm, she told me I would not be compensated for my work, AT ALL. I am a very hard worker, always have been, and it was a slap in the face. She is the new regional for my area, the woman before her was competent and I really enjoyed working for the company while she was my DM. Beware of committing time to this company, or relying on it as a supplemented income...because to put it short and sweet.."they really screwed me!"

Comments
United States
Employers





Comments

Sort by: Date | Rating

has DL hit a new low? using temp services to do resets got a call from one about a reset for a 152 minutes (yes I said minutes) = 2 hrs and 32 minutes no pay fo r travel or milage . 40+ miles away one way travel . they can" t get anyone or keep anyone they do get ..goes to show how greedy this company is using untrained people no wonder retailers complain about the quality of work they put out .

I have to agree with all you people about DRIVELINE, I only worked with them for 2months and already they cheated me out of 4 hours.
And why do they do the min think for the time, to me its hours. And my D.M. Andrea P. she does not return my emails about my time/pay.I will be going to the LABOR BOARD. Does anyone know who the CEO is. I would like to send him a letter telling him about this poor company he has.

I have been though many years of no raises and work reassigned after i confirm it and drive there to find it done already.The new issue is thinking there is an hour of work, but when you get there if you cannot find the product you get 15 minutes when you report your work.Nice surprise when you get home for all your efforts.Seems like there digging in my pockets for mgr.bonus money.

I received a phone call from someone claiming to be with the company and wanting to know if I was still interested in a job in my area. They said that they had sent me a new hire package over a month before and had never received it from me. I told them I was still interested in a job and that I had never received anything from them. They sent me another email with the I-9 and W-2 in it and I sent it back immediately. That was almost 2 months ago and I have heard nothing from them. I tried to call the number that had originally called me and asked me if I was still interested and that number has now been disconnected. I have also called the corporate offices and left a message with the human resources department and have never heard from them either. I no longer have any interest in working for this company but I am scared that I was scammed in some way because they now have all of my personal information including my social security number. I suggest people stay away from this company they seem very shady.

I agree about being screwed by Driveline. I worked with them for 5 months and they are just now getting my pay straight. The RM does not like anyone to tell her she is wrong[ which is most of the time}. If any one stands up to her you can plan on being terminated in the near future for no reason, which is what happened to me today. I did not kiss her butt therefore I was removed and I do not understand why. My jobs were 100% and the managers really liked the work I did., but I guess it was not good enough for the RM. HR will not return my calls or e-mails, but I am not giving up. So long driveline, you lost a good one. Hope you have better luck with all those sub standard goof offs that you have working for you. If the name Leza Bowers shows up as your RM, run unless you are a wimp and bow down to her.

I, too, only worked for Driveline for a very short time - 2-3 months. I had issues with reporting completed work on their website, uploading information for suppliers (i.e. credit card & phone card companies) and photos ( Driveline claims "no photo - no pay for the work done) Good luck getting paid mileage, and yes, got paid MINUTES for work that took hours. My guess is they survive on people such as myself - start work, do it right because it is the noble thing and by the time the realization sets in of how badly one is treated & yes, ABUSED - they have mascaraded through for their customers and gotten paid while the reps get "screwed". I finally had it when I was expected to accepted ADDED PROJECTS by DM to workorders already completed and SIGNED by the store managers. This process changed everything - order ID #, dates, etc. I doubt very much I will get a final paycheck even though in my e-mails and phone calls to DM I emphasized RESIGNATION - he decided to put me on "administrative leave" in hopes that I would change my mind because afterall, "you are doing such a good job".

I was re employed by Driveline again and now I know why so many are leaving. Mostly the pay is low, 9 dollars an hour and while they suggested that I will have hours, I get maybe 4 hours a week to work.
I was assigned another route that in total puts 112 mile son my car and often the stores I am assigned do not have what I need, so basically I made the trip for nothing.
Since I have been rehired I have not been paid promptly or correctly.
According t them I am paid bi weekly. For every company that I have ever worked for bi-weekly means every other week. Not here. Bi-weekly means they hold you back two weeks, and get paid on the third week for only one weeks worth of pay. So something is very wrong. This company actually pays semi monthly according to some of the labor mediators. Consider your pay every three weeks or once a month if you do work for them.
Plus they gypped my husband and daughter from their pay when they came on as "" a helper" and immediate sign on for an emergency major reset.
Now I do like my DM, she tries. Tammy is good and she tries to resolve many problems.
But For me its payroll that has an issue, and sticks by their interpretation of bi weekly meaning hold back two weeks pay on the third for the first weeks work, its frustrating to try and pay bills basedin the irratic pay schedule.

I don't know why I stay with them. This year they've lost a lot of the regular clients. Since Christmas I've had weeks with no jobs, or an entire week with one 30 minute job. If you want a raise, you have to ask for it from your DM. You will generally get between 1 and 2 percent, regardless of how good you are. The highest raise I ever got was probably 10 cents an hour. Other raises were 4 cents an hour, 7 cents an hour...you get the picture. As mentioned, when you accept a job that states that it pays an hour, it's not guaranteed you will get paid an hour. Depending on your answers to the automated questions, you can walk away with 15 minutes pay for a store you spent an hour in and drove 15 miles to get to. There is no complaint department. HR is nonexistent. Payroll can sometimes be helpful, but generally not. While there are good District and Regional managers, it's been years since I've had one in my district. I copy the RM on emails to the DM and hear nothing from her. The DM doesn't answer her phone and only contacts you when she wants something. Driveline prides themselves on passing the buck. If there's a problem with your territory or the time you are being paid your DM will tell you it's out of her control, that it's corporate that does that. But by chance you actually talk to someone at corporate, they will tell you that it's the DM that makes all those decisions. Of course the DM doesn't think any of the reps are smart enough to know what's really going on, so she'll continue to lie to you. I'm just about done with them. What they pay really isn't worth the effort of correcting their mistakes, trying to get your stores (that have been reassigned to new merchandisers to lure them in) back, and disputing the pay discrepancies. From all the negative emails we get from our DM on a regular basis, about jobs not being completed, it's pretty clear that most of the reps in our District don't really give a crap about doing the work. What I don't get is that Driveline doesn't seem to care why one of their largest districts has such poor performance (and why they would put the management of such a large district in the hands of anything less than a top-notch professional manager with virtually no communication skills is, my friends, the $64, 000 question). Employee morale? What's that? Any other company would be talking to their employees to figure out how to fix the problems. Driveline doesn't seem to care if they lose their clients. I guess blaming it on the poor performance of their merchandisers which they have absolutely no contact with, provide no real training to, and give no incentives is how they justify their lack of client longevity. That said, I've done work for the other merchandisers...it's pretty much the same everywhere. If you want a career in merchandising and want to be valued for the work you do, then I suggest that you bypass companies like Driveline and try to get a job directly with the company you're merchandising...i.e., Hasbro, Liz Claiborne, etc. Only then will you find employee recognition, fair pay, steady work, and competent management.

I worked for the ROTTEN COMPANY for 3 weeks. WHAT A SCREW JOB I GOT. My DM Randy Cork Is such and unqualafired jerk, he lied to me from the start and gave me the crap jobs at Family Dollar which sucked, jhe also stated that I would be a territory Mgr. DON'T WASTE YOUR TIME WORKING FOR THIS SH*THOLE OF A COMPANY YOU WILL BE SCREWED!!

well i was going to put in an application but i dont guess i will i got bills to pay i need a regular paycheck not a sometime paycheck...

I worked for Driveline (Oklahoma) for the last 7 weeks. I, along with a friend, was promised to be kept busy until November. Thursday we finished our project - with no more scheduled. Of the 45-50 workers, many were shorted on their per diem expenses (mileage, food, etc.). I was shorted mileage and drive time. I'll be more specific once I've exhausted my avenues trying to get paid my last check and the shortages. I don't want to jinx that just now.

I worked for Driveline for a couple months, district supervisor was difficult to work with, I was expected to work on days which I was unable to, against company policy supposedly, got screwed out of eight hours of work, I've had 15 years of merchandising experience with several firms, Driveline was the worse.

I live in St. Louis. I have been working as an aid for Driveline for the past four months. They recruited me. I didn't have to look for this job. This was a major plus. I am willing to work long hours. I seldom do. I am making about four hundred dollars a month. The work is stress free, though at times physically demanding. The people I have worked with are really great, hard working people just trying to get by. The DM has been very good to me. She has always returned all emails and phone calls in a very timely, friendly, and efficient manner, answering all questions to my satisfaction. The pay and mileage compensation are difficult to comprehend, but I think everything is close enough that I don't have any major problems with the company. The team leaders I have worked with assured me that they have never had issues regarding hours and pay. So far, that appears to be the case. I have read all the bad reviews from disgruntled workers. This is certainly not a job for those who are looking to make a comfortable living. As with any company, there are management types with bad attitudes and poor "people skills." However, I haven't had to deal with any such types as of yet. Maybe it's (not "its") just coincidence, but it seems that many of those doing the most complaining suffer from a basic lack of education, or writing/communication skills. I find it difficult to take seriously any reviews from people who can't express themselves in a grammatically correct manner. There is a yellow triangle above this box that states "Please check text and spelling ". . . . etc. For crying out loud, there (not "their" or they're") is even a spell check box on this page. If you want readers to take you seriously, PROOF READ your reviews. If you can't proofread or use spell check, you shouldn't be complaining because you're (not "your") not considered as valuable as you think you are. I can only assume that if a person can't write, they likely can't express themselves in other ways. If that is the case, don't blame the company. Promotions, leadership, management positions, money, tend to be awarded to those with outstanding communication skills. There is nothing worse than a person who constantly complains about their job. I have been around a long (not "along") time. I have never experienced a situation where chronic complaining improved anything. "I have been with this company for months, years, and I have been 'screwed' over and over. Gee, nobody listens to all my complaints." Duuuuuhhhhh! If the job doesn't suit you or meet your needs. . . . . . move on. NOTE: I just hit spell check. I was informed that there are no incorrectly "spelt" words. Stupid me. I thought the correct word should be "spelled."

Here in Az (the Phoenix area)this company is taking over merchandising Walmarts on the weekends from schwans consumer brands, the company I currently work for. It's scary to think that possibly schwans will completely outsource all the work to this company. Unfortunately it's forsee them doing it, especially if it's going to save the company a lot of money. Looks like the writing is on the wall... :(

I totally agree with the comments here. Driveline is a bad company to work for. Seemed ok in the beginning, but then I realized I wasn't getting paid for my drive time or mileage like Stephanie Ryan had assured me I would. She told me I would get paid for my 86 mile drive. She said oh we have a wonderful system that calculates mileage and drive time for you. She really talked it up of how great it was and that all my mileage and drive time was being paid for. Come to find out, that they also deduct 30 miles each way for National commuting plus deducting the time for the 30 miles each way. We had a conversation about the mileage reimbursement and travel time, but she never mentioned the National commuting deduction. I only found out because I happen to know one of the reps that works here in Wyoming. Stephanie then told me I got paid for my stop here where I live that's only a couple miles from my home, but I got nothing of the sort. Their calculations of mileage for the town I drove to, was also off. I resigned, stating I was deceived. A couple weeks later I got a termination letter. What a joke this company is. They don't pay very well for your time, expect you to drive 45 minutes one way to do an hour job and then not even pay you what they say they are. I was ripped off big time, I lost money with their company.



Videos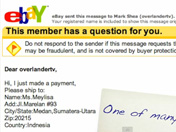 Latest Groups
Today's Mess-Up Photo