Share with Others
Recently Discussed Complaints
Consumer Tips & Tricks
Latest News & Stories
Latest Questions
DirectBuy, Columbia, South Carolina Complaints & Reviews - Can't cancel membership within 3 days

DirectBuy Contacts & Informations

DirectBuy

Can't cancel membership within 3 days

Complaint Rating:

We signed a three year contract Oct 2nd, 2009. However when we tried calling them to cancel within three days no one picks up the phone. We left voice messages and Email along with a letter send to them requesting cancellation. They haven't responded yet. NOt sure if they will cancel as there is no response, however there Indiana corporate office did say we should be able to cancel within three days. I want to get out of this andget my money back.

Comments
United States
Other





Comments

Sort by: Date | Rating

Well I had that same experience with Direct Buy. When we showed up in person the very next day -- not even 12 hours later, to cancel our membership (after realizing what scam artists they are), the rep said "let's grab a table and discuss this". I mean, if I want to cancel, what is there to discuss? It's $5000 we are talking about. And they became so angry when we were "discussing" that we were not happy with their service. The only reason the online password to the catalogues is not available for 5 whole days is because they want the 3 days to go buy and you are scammed out of your membership fee. I think they deserve to be blasted with publicity. How can a business so blatantly unethical remain in business?
Anyhow, they agreed to refund us and hopefully they will credit our account in the 10 days they indicated. If they don't then I am going to to BBB or other agency, and if you have your email proof, then you do the same. I'm sure you have a winning case.

Gunter & Elgie-
Sorry to hear that DirectBuy got you, too. My wife & I are victims also. It's interesting how DB is on you like flies until they get your money into their grubby little hands and then they don't respond...Boy, if I only knew then what I know now! I found out the hard way that unfortunately the BBB can also be a scam. Most of the DirectBuy franchises pay membership & the BBB turns their back if you complain about them.
There is hope on another website. Class action lawsuit (at no cost to plaintiffs) & there's a remarkable lady named Trudy who researches your state's laws & walks people through step-by-step. She's actually been successful in helping people get their membership money refunded in full up to a year after joining. Since you both just joined, you will probably have a better chance at a refund. It will take time and effort (sending certified letters, keeping files, etc.) to get your money back. Good luck. Keep warning people to stay away from DirectBuy!

Here's the link:

http://complaintwire.org/Complaint.aspx/eUMle3o6UwCQIwjJgiKf_Q#p1OYuJzsd8wBXcgjLiBXLAw

File a Complaint with The Attorney General's office in your state. The AG keeps a log on complaints, and will begin an investigation if there are too many.

Chicago North has a clown name BRENT GILLIGAN OR LAN. Who is scum. file with the AG

found a photo of him on facebook. love the web!




thay got us on 10-21 -2009 . we call them back . the next day thay dont want to give us our money. we did not wait 24 hr to call it was 10 hr later . we been back out there but thay left befor i got there .

I assist a patient with a Bi-polar 1 mental disability. She was not taking the correct medication for the BP1 when she phoned for a pass and visited a Direct Buy presentation. She lacks the capacity to make good financial decisions, when functioning in a hyper manic state of mind, and did not understand the condition(s) of the contract. After signing, she gave them $185.00 in cash.

I did know, in advance, that she wanted to check them out and I volunteered to attend with her (so she would not sign something). However, Direct Buy said 'she was the only one who could attend, no personal assistants or a mental health associate was allowed to their "top secret" presentation'. What happened? She signed her life away, thinking she might get a good deal on a small freezer. When she had not made a withdrawal motion in the 3-day period to dissolve the contract (because she was not advised that was an option), it was immediately turned over to a collection agency somewhere in the mid-West. A collection agency is harassing her daily. They insist she pay ~$2, 500. Additionally, she receives bills in even larger amounts from Direct Buy! She was too embarrassed to explain the situation to anyone--until the point that it got out of hand for her.

First, how can Direct Buy management, presenters and advertisers be so socially unconscious that they choose to purposely swindle an person who obviously is suffering from a mentally illness? Her current situation is as follows: she resides with a friend, has no living relatives, and has no verifiable income from social security or DSHS. However, she is attempting to attend college full-time utilizing student loans. I hope that the college education, although it has been slow for her, will positively place her in a job within her personal limits.

What can I do to get her out of this mess? She wants me to accompany her to the store tomorrow. After reading other blogs, I am sure we will be asked to leave the premises. After a complaint is made to The Better Bureau, where can she go next? How can she stop the collector from making these phone calls?

Direct Buy must be sued for their fraudulent business practices utilizing a class action suit. If Wal-Mart employees can do it...so, can Direct Buy patrons. I wonder what lawyer(s) handled the Wal-Mart suit. Maybe we should all call him/her and get something started.

Really… Direct Buy...really…you have the Audacity to Swindle the mentally challenged and your fellow American people who simply want to change their mind regarding a business deal. For me, and many other American consumers, you have no moral compass. Since the Audacity to Hope book, written by President Obama, has shown us a new direction to move forward during this tough recession…I wonder how your company's image with the Audacity to Swindle at its core axis can or will succeed.

I think any one of the many news television reporters across the country, talk radio, and internet reporters just might be interested in exposing the true dealings of Direct Buy. I encourage anyone who would like to see Direct Buy explain their business practices and principals, in front of the nation, should contact the national broadcasting companies, state and your local news agencies. There is definitely a story here that a news agency would be interested in researching, investigating, and then producing. Lawsuits are long and tedious. Nevertheless, by using national and local news reports to communicate that this problem exists wherever Direct Buy operates will paint a dark picture and will either force them to change their refund policy, or simply go out of business. I personally intend on passing this information up to the news reporters, and the National Alliance for the Mentally Ill.

Thanks for reading.

I just went to a Open House at Direct Buy store here in Puget Sound WA. I feel for their sell tactics. The take-away tactic got me even though i knew what it was i still fell for it. Well on the drive home i decided i was gonna cancel it. Well i left the store on a Saterday after closing hours then they are closed Sunday and Monday so had to wait till Tuesday. An after a weekend of reading all the bad reviews of Direct buy service got me worried how difficult it will be to cancel my membership. So on Tuesday i sent them a certified Cancelation letter and went in person to the store to let them know. Then met me and were still friendly when i said i want to cancel my membership. We sat down at a table and i was thinking here we go. But low and be hold he said was sorry I wanted to cancel my membership and will cancel it right now. He credited me back the amount i paid on the spot. I then said i was happy it ended on a good note. I told him of the reviews i read and he said yea some stores are like that but they work on being the best store they can be. I said i appricate it and if i know any body that is building a house i would recommend then. So i had a decent experiance with them

I am in the same situation with Direct Buy. I did not know what I was getting myself into when I signed that contract. I paid them $449 up front with the balance to be paid in April. I have been trying to get ahold of them since them with no success. I don't know what to do and I am making myself sick over this. I am a widow and every penny I have I need. I thought this place was going to save me money on things I need to do in my home but the more and more I am hearing and reading scare the daylights out of me. Please advise me on how to get out of this contract. I want to put a stop on my credit card and dispute the original charge to them mainly because I feel as if I have been scammed and no one answers their phones, nor do they return any calls. This all has happened within the past month but I feel as if it has been forever. Please help

Direct Buy purposely lied to us during our presentation. My husband is a contractor, they told us that we could bring our clients in with us to also get their discount. After signing the contract which mentions their are not responsible for oral conversation "NO Oral Clause", they than give you the Our Vision Booklet that tells you different unformation than that which was given at the presentation. I live in Louisiana, so I wrote them a letter to cancel my contract 6 days later, stating that I was within my writes to cancel this contract in my state. They said they have never heard of a seven day right to cancel. I am getting ready to write another letter stating that I will contact the BBB and the Attorney General. I have already informed my credit card company and am in the process of disputing. I'm sure they will try to hurt my credit since they have sent the payment booklet due for the first payment on May 1st, which I have no intentions of paying. I will picket and pass out flyers in front of Direct Buy if they don't respond. I have not used their product and have no intentions of doing so. Please let me know if you can find a law in Louisiana about canceling a contract within 7 days.

Thank You, Pam Orgeron

I totally agree Direct Buy is a scam. My fiance and I signed up about 2 weeks ago. The website is full of (bleep), the reps face to face or via emails are not helpful or willing to help nor very friendly. In my contract, there is a clause that says Direct Buy has the right to terminate your contract if you are disruptive, so you know what, we plan on going to their office. And will be very disruptive if they reject rescinding this bull (bleep) contract. I will stand there and every single prospective direct buy candidate I will tell them exactly how it is. They CANT deny my access as I am a Direct Buy Member. I will ruin them!! They chose the right one!

My husband and I are did a stupid thing and gave our credit card to the salesman. What a mistake. Did not realize until we arrived home that we did not sign the credit transaction. Got curious and began reading reviews of Direct Buy, did not like what we read and felt uncomfortable about not being asked to sign our credit card transaction so we sent a certified letter and ask to cancel the membership. However the CEO called and said we can not cancel cause South Carolina does not honor the 3 business day law. My husband said we already notified our credit card company to dispute the charge. The CEO said that they will send it back through. My husband asked him that you want to have unhappy customers. He could not comment. We are doing all we can to get out of this contract. We have a son in college and really can not afford this huge amount of money that would take away from our son's college. We done all we can and now we are putting it in the HANDS of GOD. This people are DEVILS. Devil get out of our lives in the NAME of JESUS.



Videos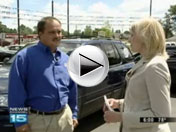 Latest Groups
Today's Mess-Up Photo