CitiMortgage Complaints & Reviews - Here is email for CEO of Citimortgage

CitiMortgage Contacts & Informations

CitiMortgage

Here is email for CEO of Citimortgage

Complaint Rating:

My complaint is with Citimortgage's trial modification. My story is very similar to everyone elses on this site. We were in a trial modification for 5 mos, then denied. They wanted their money back immediately or they were going to foreclose. Couldn't get a straight answer from anyone at that company, transfered to a million different departments, hung up on, ect.
My story is only different in that I'm in a chapter 13 bankruptcy, so they are now dealing with my attorney. I didn't think it needed to go that far, but now I'm grateful that I don't have to deal with them anymore!

Here is the email for Citimortgage's CEO Vikram Pandit:

Vikram.Pandit@citi.com

Also, the phone # for the executive response team:

1-877-245-2511

Comments
United States
Mortgage Companies

More CitiMortgage complaints






Comments

Sort by: Date | Rating

I am in the same situation ... I live in Louisana, would you mind giving your attorneys' name, i think the same thing is going to happen to me within the next few weeks w/ Citi ... thanks andy help greatly appreciated

B Smith

Thank you very much dijmart! I have emailed the CEO because I am currently in foreclosure due to these Citidiots! I will be calling the number you posted as well first thing monday morning!

Citi is a joke!!! I'm currently having the same issue. I went through a loan modification and while going through it they hit my credit report 2 different times. During the modification time i received credit letters stating I was delinquent on my payments. Every time i received a letter i would call and they assured me that it was just there system generating letters. Also telling me that they wouldn't hurt my credit and the letters would stop once all the paper work was final. Now I am currently trying to get another mortgage and can't get approved due to there mistake. They are extremely hard to work with. I keep getting transferred to different departments and getting hung up on multiple times. Its great to see that there customer service is out standing. I will never use this company again nor will anybody I come in contact with. I will never recommend this place to anybody again.

Ok so its been a week and still no response from the email i sent to Vikram.Pandit@citi.com. I've made several phone calls to 1-877-245-2511 I was told Derek was handling my case and after 4 messages that I left on his voicemail STILL NO RESPONSE! I am determined to get results w/ this stupid company ! As soon as I get everything squared away with them the first thing Im going to do is try to get someone to buy my mortgage or change companies! This is JUST UNACCEPTABLE!

To all of y0u who are having extreme trouble with this criminal mortgage company, i to have fallen to there prey. If anyone knows who to contact in the federal government to file a complaint and get a real response please let us know who to talk to. It is a shame that our government allows mortgage companies to operate as citi mortgage does. Mr Obama likes to pat himself on the back for supposedly creating a program to help people who have had financial difficulty stay in there homes. This is A Bunch of Bull, The fact of the matter is that the only people he and his staff have helped are the MONSTER Mortgage Companies such as Citi Mortgage and others. There has got to be somenoe who can help the thousands of people in this country who have been robbed by this company. I to have heard all of the same crock of Lies from this company and am about to lose my home. There modification progtam is nothing but another way for them to continue to suck as much money as they can from you before they take your home anyway. There Modification Program is nothing But s LIE. Jim F and Family

I agree with you on this one. I heard the same thing and they wouldn't do a modification with us unless we went on this so -called six month program, which we are barely able to meet each month with our medical bills, and this will be okay, maybe, in september which we have to reapply, and then if they don't approve, which I heard they usually don't, they will foreclose anyway. It has been a nightmare with them but worse with HSBC. Our second mortgage. Separate category which I'll complain about in a minute.

I have been going thru this modification crap for seven months now. I have had three different "specialists" and they all ask for the same information over and over and over and over and over...see where i'm going with this. Finally ask for a supervisor and she said they DID HAVE all the information they needed and my account was turned over to the "underwriter" for approval. NOW, my "specialist" will not call me back or answer my emails, so I contacted my previous "specialist" by email and she did answer me and said they needed more information...ie. Form 4506T EZ (which supervisor admitted they already had) and more bank statements (which they had them all at the time they said my account had been turned over to an underwriter, but my May bankstatement has JUST NOW become available and my account was suppose to have been turned over to the underwriters nearly a month ago!!! A month ago they had ALL my bank statements from October thru April !!! We have to stop these criminals. I have contacted my state rep., and gerneral attorny. I am going to contact any and all media that will listen to me. This is a bunch of crap, OUR government gave them BILLIONS that BILLIONS is with a B, to help people like us that are trying to do things right, and companies like Citi and Bank of America are stabbing us in the back!!! If anyone knows a solution to this problem or knows someone to contact that may actually be able to help, please let us know. Thank you, lmbstory@hotmail.com P.S. the CEO of citimortgage is now Sanjiv Das'. If you know how to contact him or have an address for him please post it.

citimortgage corporation has been foreclosed by oppt check [http://i-uv.com/] for more info

To file a complaint with the Federal government go to www.FTC.gov- it is the Federal Trade Commission. The more complaints the FTC has on a company (CitiMortgage) the more likely they are to follow up.!
And people when you're referring to the company or other people/a group of people the word is "their" not "there".

I really dislike Citi mortgage and would never gone with them if I knew they were going to be this disappointed with their business. My complaint is with Citimortgage's trial modification. My story is very similar to everyone elses on this site. They wanted their money back immediately or they were going to foreclose. Couldn't get a straight answer from anyone at Citi, transferred to so many different people, gave me phone numbers of people that they say I needed to contact, and I never got an answer back, just left voicemail after voicemail and til this day I still have not gotten any response back from anyone. They are quick with taking you to foreclose and taking you money, but when you need and answer and some type of help that is totally out of the question. This is one of the worse experience I have ever had with Citi Mortgage. I do not know how they stay in business with so much unsatisfied clients.

Here's an email we sent to the CEO Offc. Unbelievable the run around we have received on this file.

I am writing you today in hopes that you will be able to provide the much needed help I am seeking to finalize a short-sale that has been delayed. While I have been working to find a resolution that will satisfy all lien holders and allow the family to move, I have encountered many obstacles within CitiMortgage that have led to numerous delays. It is hard to believe that documents are being lost or misplaced but I can think of no other reason why multiple departments must ask for the same documents over and over again when they are all working on the same file. Surely the constant need for the duplication of documents is not only unnecessary but inefficient and confusing. Additionally, further requests for additional information have continued to be made by separate departments that do not apply to the process further delaying the completion of this short sale.

The subject file/ loan #: 630040995-7 has been bounced back and forth from the Citi Short Sale Department, the Citi Bankruptcy Department, the Citi Recovery Department, back to the Citi Bankruptcy Department, and now is at the CitiMortgage Executive Office. This is a bankrupt account that has been charged off by CitiMortgage, we have an "Order on Motion to Avoid Junior Lien on Principal Residence" signed by the bankruptcy judge and is unopposed by Citi. We were told by the Citi Recovery Department that with this notice the borrower would not owe CitiMortgage any additional monies. In turn, we asked for a satisfied lien release. We were then transferred back to the Citi Bankruptcy Department where representative Shaconie Bell demanded additional information and forms that did not apply to this file. She was incredibly rude and in no way helpful. After Tweeting about the "run around" I have experienced, the CitiMortage Tweet department (Social media team) asked me to call the CitiMortgage Executive Office. I have done so and representative Ras Brantley has been professional and helpful. He has taken over the file and stated that the BPO is over a year old and would need a new BPO. I stressed that this account is an active bankruptcy and a charged off account and that the first and the third lien holders have approved the short-sale. I asked him to please take this file to his VP for review and exception. He did take the file to his sales manager who only took a day to decide to decline waiving of a new BPO even though there is no reason for Citi to insist on further delays for such a file. So, while this file has been dragged along at a snails pace for a month by multiple departments it suddenly is stopped by a sales manager who made this decision in a day. Please understand that I am in no way suggesting that the file should have sat on the sales managers desk but with so much to consider I am concerned that he did not care to take the time to truly review the file and even more concerned that the file never did make it to a VP.

I am asking for a moment of your time to review the file, loan #: 630040995-7. The only logical solution is to finalize this file with a waiver of a new BPO and allow CitiMortgage approval without a new BPO.

Thank you in advance for your time and consideration.

I also had a mortgage through Citi. I lost my home to foreclosure in April, 2012. Five days before we were to vacate, someone changed the locks on the house and garage. Before I could find out how to get in to finish moving, they had a company come in and clean out my house and contents, saying the only things left in the house was "debris". The garage was full of car parts to a '96 Mustang, tools, etc. The writ that I was served stated specifically they (Citi) was responsible for removal and STORAGE. It was taken supposedly for disposal. I have faced all the same problems everyone else has; the major run around! After all the battles and time, I've been told my account is closed and they did nothing wrong. Silly me! I'm thinking going into my house early and disposing
of private belongs sounds like theft!

I've contacted an attorney about this and he agrees this is all very wrong, but he says we could easily spend the same amount I'm trying to be reimbursed on legal fees. He says you rarely win when going up against giant corporations. I'm sick of all the BS and just want compensation so I don't have to pay out of pocket AGAIN to replace all our things. Would LOVE to see them brought to justice!



Videos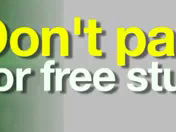 Latest Groups
Today's Mess-Up Photo