Bluegreen Vacation Club Complaints & Reviews - Stay away from this scam!

Bluegreen Vacation Club Contacts & Informations

Bluegreen Vacation Club

Stay away from this scam!

Complaint Rating:

My husband and I purchased a timeshare through Bluegreen at ShoreCrest I in No Myrtle Beach, SC. We have 12,000 points every other year. As, GT McDaniel, we soon learned that we didn't have enough points to use the timeshare for an entire week. Whenever I called to make a reservation, there were never any openings. The $149.00 week stay rather than using our points, never heard of. We also have RCI bonus weeks that are useless! We were definitely mislead. We pay outrageously high interest to a mortgage company owned by Bluegreen, Conflict of interest. No attorney was present at the loan closing. We were never told about the maintenance fee, which is exorbitant, between the monthly payment and the maintenance fee I don't know how much longer we can hold out. We tried to sell our timeshare back to bluegreen, they refused, referred us to a real estate company (Pinnacle Vacations) owned by Bluegreen...I paid Pinnacle $35.00 in 2005 and again in Dec 2006. Nothing! Hope we can do something about this. Thinking of going to the Atty Gen.

Thanks for listening.

Comments
United States
Mortgage Companies





Comments

Sort by: Date | Rating

I purchased a Bluegreen Vacation Club package in August 2006 at Mountain Loft, Gatlinburg, TN. This was undoubtedly the biggest mistake I ever made in my life!! Bluegreen will lie to you and tell you everything you want to hear, but when you go to use the plan you THOUGHT you purchased, you will find that everything they told you is a lie or a real stretch of the truth. Bluegreen's sales staff is encouraged, paid and rewarded to tell you EVERYTHING BUT THE TRUTH about the plan you purchase. They tell you that you can vacation when and where you want; that you can use your points anywhere, any time; that you can sell it back to them and won't lose any money; that you are getting a great deal and won't ever have to pay for a vacation again!! Those statements couldn't be farther from the truth. You can vacation IF you go wherever they have availability - that might be in Minnesota when you want to go to Florida, or Missouri when you want to go to Hawaii. They tell you that they own all the resorts where you can get space. That is another lie. Some of the resorts they do own, but in most all the others, they only have a 'usage agreement' and may have as few as 8 to 10 rooms available for Bluegreen users at any time. If you want to sell your package back to them, they will tell you to list it with a timeshare agent - not their people as they told you when you bought it. And as for not paying for a vacation - that is another untrue statement. You'll be paying for this the rest of your life - either in the payments you are making to them, or the maintenance, usage and taxes that they levy on you EVERY YEAR FOREVER!! And these can go up on a whim, whenever they choose. Even your heirs will be forced to pay these fees, ranging from a few hundred dollars to the thousands, depending on what you buy. But you will still be in the same pool with the rest of us, fighting for space at your chosen resort, which most likely won't happen. Bottom line - BUYER BEWARE OF BLUEGREEN!! If I never went on another vacation, I still wouldn't choose Bluegreen. Think twice!!

I am curious if you or anybody has experience with the "Free Bahamas Vacation Giveaway" offered by Blue Green as a ploy to get you to Orlando to do their 2-hr presentation. I "won" this trip for 2, a $2500 giveaway involving a 2-day, 2 night? Cruise to Nassaua, 4 days in a 3-star hotel in Orlando, and 2 nights at a "Whyndam or equivalent" hotel. 2- 2-day VIP passes to the Disney World properties, and a 'free' rental car.

It sounds like the $2500 total cost to them, for a 7-day vacation package, must involve staying at the Notell Motel, and the cruise ship must be a converted tug boat.

If anybody out there has done this trip, or knows somebody who has, please comment on this forum.

I won pretty much the same thing i was looking around to see if anybody has taken the trip yet and to see if it is on the level. Does any one know if it is true or a scam (they did specify the cruse to Nassaua was the Royal Caribbian)?

Sales Agents are not Trained to tell you ANYTHING BUT THE TRUTH. I worked for B.G. For two years, and witnessed many of my fellow employees fired for even the smallest lie. Now getting in to one of the resorts is kind of tough, But I have had little porblem using my points, I Just Have to plan ahead. And book as soon as you want to go. I guess it helps that I purchased of site.

Our nephew "won" a cruise and happened to be out at sea in the Caribbean during a major hurricane. He and his wife loved the experience, were taken care of 24/5 even thoough their cruise was supposed to be 24/3 -- they were our at sea for an extra couple days because the dock for their return disembark took two days to repair so the ship could dock. They say they had a marvelous experience, even though the circumstances were strained. Since their experience, they have joined Bluegreen and love it.

why do people think they will not have to pay MF all timeshare owners pay them. You pay for them at home dont you so why should a timeshare be any different.
Join the Bluegreen group on Yahoo then you will get to know how to use your points

IF Blue Turd is so gooood why do we see so many complaints on them? They do lie, I was lied to so were lots of other people.

I was lied to also. Now I am attempting to find about Pinnacle Vacations. Blue Green told me I should list with them. I can't find anything positive about their work. No one that I can find has sold their time share with them.

I've started a Facebook page in the hopes of starting a class action lawsuit like the one in Pennsylvania. Were you lied to at your sales pitch? Join the movement to get a class action lawsuit going. http://www.facebook.com/home.php?sk=group_180578055325962

We are in the same boat. We had every intention of selling after taking one trip, but during the owner update, we were told we were not "charter" members, and needed to upgrade (read purchase more points) in order to be able to sell for the amount owed. They said that both accounts would be "rolled together." The chick we talked to also told us that if we decided to sell after adding the points, to call her first because she would get commission for the sale. So when I decided to call her, she just gave me a phone number for Pinnacle, and told me to call them. All I got when I called the number was a voice mail account. Someone from Pinnacle did call, but she told me because we have two biennial accounts, we would be unlikely to be able to sell either, let alone both. I am all for a class action suit. Maybe they didn't outright lie about a lot of things, but they were definitely less than forthcoming with the information that we needed in order to make an informed decision. Bluegreen points are so cheap online right now, you could go to ebay and buy 15000 points for $199. What a rip off.

Am trying to sell my timeshare now it's been a lose cause wuth these people I will never do this again

Anyone who is interested, there is a facebook page of people upset with Bluegreen and we are looking to bring a class action suit soon. Look for it and join!

Thinking of going to the Atty Gen. I would go. her name is Pam Bondi.
Bluegreen is not friendly to military either. they don't lie but leave out important information! they tape the signing so they claim no need for council.

To make a long story short, my husband and I both were lied to and persuaded to buy BlueGreen timeshare. they also told us "we will sell back your timeshare for $75 if you dont want it anymore" They are trained to say "Pinnacle will sell your timeshare" when you call them to sell it. The free Cruise they gave us just to go hear the 2hour seminar which was 7 hours long, well the free Cruise will cost us $600. we called to make the reservations for the free Cruise and there is nothing available but we can upgrade for $600. Found a cheaper cruise to the same place and same amount of days on Carnival Cruises. Now when my husband and Pass away our children are responsbile for your financial mistake we made buying into Bluegreen. We will be seeking an attorney

What they fail to tell you is they own Pinnacle, if you check both company's addresses they are the same. And Pinnacle never sells anything. They want to sell Bluegreens from the sales presentations not compete with themselves selling a timeshare they have already sold. I used this against them and got out without hiring an attorney.



Videos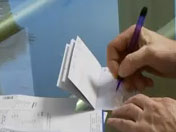 Latest Groups
Today's Mess-Up Photo