Recently Discussed Complaints
3.
(20 mins ago)
enutra-101
receiving pills in the mail that i did NOT order
4.
(31 mins ago)
ATT
Rebate scam/Deceptive Practices
5.
(34 mins ago)
Ryan Smith
I think Ryan Smith tries to cheat out of my money
Consumer Tips & Tricks
Latest News & Stories
Latest Questions
American Income Life, Indiana Complaints & Reviews - AIL is a SCAM!

American Income Life Contacts & Informations

American Income Life

AIL is a SCAM!

Complaint Rating:

Contact information:
American Income Life


Indiana




United States




Okay, so I posted my resume on Monster. It was part of a freshman business class in college. I work at a local tobacconist, and I love my job. I get a phone call from so-and-so at AIL, wanting me to come in for a interview. They said after searching over Monster for days, they finally found me and only me, as the single fit for their company. I asked the basic questions, and right before we hung up, the lady tells me pay is between 80k-100k. Hmm, for a college kid, that sounds freaking awesome!

So I go to this interview. I walk in the door of this house-converted-office, and am greeted by a older lady. Oh, you must be ... We've been expecting you. Fill out this sheet here, and take a seat. I fill out the sheet, and sit down. Ten minutes pass and this decent looking girl comes out of the back, and tells me to follow her for a interview.

So the interview starts, and it's a pretty basic interview, she says everything is going great, and she'd love for me to stay and meet the head honcho. Alright, so I sit back in the waiting room, and get ushered into this other room. In this room are about ten other people (so much for me being the 'perfect fit'). We waste about a hour of our time listening to how great it is to work at AIL, all these success stories, and all these other lines of bullshit. Apparently I was the only one smart enough to sit there and realize how this is turning out.

Finally this hour and a half presentation ends, and we get ushered back into the waiting room. I look at my watch, shit, I have to be to work here in a hour. I get called back to the back room with the decent looking girl for a follow up. So we're talking and she tells me they'll be calling me back. Awesome.

I get a phone call that night, and go in the next day, where a new girl is talking to me about what the job entails, a little more information, and bam, my pay got bumped down to about 30-50k. What the hell? How did that happen!? Ok, still 30k in college is still a solid chunk of change. So we're talking and talking, and she pops the question. Do you want this job? You'll have to quit school. Did I mention this girl has no teeth? Yeah, by the way, she's missing her top row of teeth, and keeps talking to me like I am from the ghetto. I mean, unprofessional slang, stuff like that. "I got a big load coming my way this week". "I be making bank." Just a few I remember off the top.

Well, what do I have to do to get this job? Oh, you just have to pay $XXX up front, and we'll get you licensed. So she pulls up this web page, and tells me to fill out my credit card information. Thank God I forgot my wallet at home that morning. I left, to never return again. My education is far too important to me, to give it up. AIL is a scam. Through and through. They want you to go and take advantage of lesser educated individuals. That's the end of it. Their website is cool, the employees seem alright, but man, I was happy I didn't take that job.

Take it from me, don't waste your time going to this interview. Go ahead and read all the other complaints on this site. Obviously all these people can't be wrong. AIL is NOT a company you would want to work for. Pay is purely commission based, even though they claim salary, you have to spend money up front. No matter what they tell you, you're starting at the BOTTOM of the barrel, and truthfully I didn't see any way of working my way up the "ladder". These guys that claim to be making the big bucks, I didn't see any nice cars parked in the parking lot? My car was the nicest there (not trying to brag) I saw some older beat down trucks, a few 2000-2003 camrys. Nothing that wowed me, or screamed "We're making bank!"

Like I said, and I will say it again, AIL is a scam.

Comments
United States
Employers

More American Income Life complaints






Comments

Sort by: Date | Rating

I too was called for an interview by an AIL rep who said she (Lady X) had my resume and was told by her director to set-up an interview with me. The next week, I arrived for my interview, if you can call it such, 15 minutes ahead of the appointed time. The process was impersonal--more like a cattle call (I was in a room with about 15 other "candidates", some of which were to be interviewed by the same Mr. X., and some to be interviewed by other staff (from an HR standpoint, I find this unprofessional to have candidates all "huddled" together. Anyway, after a 10 minute wait, my name was called and a Mr. Z (not Mr. X as indicated when I was first contacted) greeted me, and escorted me to his office. Mr. Z did not ask me the "typical" recruiter/HR questions, in fact, his approach was more like he was attempting to sell me a vacuum cleaner, or a used car. When he completed his "script", I asked exactly which position I am being considered for, but he too just like Lady X, never gave me a direct answer, but instead said, "well we'd like to see if everyone we talk to is a "good fit" for us, and if "AIL" is a "good fit" for every candidate, but then instantly he asked me, "how is your work ethic". Mr. Z then tells me that he is going to escort me to a conference room where he would like me to sit, interact, smile, take notes, and ask questions for AIL's overview of the company, and "try to be noticed". Mr Z said this overview is necessary to see "who is a good fit". At this point, my mind is turning on all cylinders. As Mr. Z and I walk to the conference room, he hands me a "personality profile form", and he tells me to complete this form in the conference room while I am waiting for the overview to begin. The profile is 4-5 pages. When I entered the conference room, there are at least 20 so-called "candidates" already seated, filling out their "profiles", and waiting for the overview to being. At this point, I asked Mr. Z to, "point me to the direction of the restroom before I get started with the profile and overview". Mr. Z walks me over to the restroom, and greets me good-bye with, "I'll see you after the overview and have a good day". I waited in the restroom for 5 minutes, then went back to the receptionist and told her, "I am unable to stay", and I left the building and drove away in my car. AIL, in my opinion, scams people to get them in the door to a "so-called" interview, but in reality, they are looking for telemarketers/sales people; however, they never disclosed this piece of information when they initially contacted me, or when they had me meet with Mr. Z. To ask "so-called candidates" to sit for a 1 hour overview of their company, fill-out paperwork, and "try to be noticed" is beyond comprehension from an HR perspective.



Videos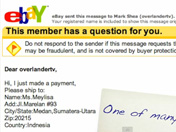 Latest Groups
Today's Mess-Up Photo