Share with Others
Recently Discussed Complaints
Consumer Tips & Tricks
Latest News & Stories
Latest Questions
247 Green Street Complaints & Reviews - Illegal Payday Lender

247 Green Street Contacts & Informations

247 Green Street

Illegal Payday Lender

Complaint Rating:

I took out internet payday loans trying to get ahead of bills. After I consulted with a debt management counselor I found out that payday loans are illegal in New Jersey. I believe that the company is not licensed to lend monies at the fees that they charge. I sent a revocation of ACH and they replied with a letter saying they are only halting communications and collections until the case is investigated. They told me they are in Canada and their laws prevail. I don't understand that because I live in New Jersey I didn't go to Malta to get a loan.

Comments
Malta
Loans





Comments

Sort by: Date | Rating

247greenstreet.com -- The staff are completely unprofessional, they charges are ridiculously high, and on top of that they take forever to make funds available. I needed fast cash right away, and I filled out an application on the March 25th and it's March 28th and I still haven't received anything. They're telling me that it's my bank that won't release funds, but my bank is claiming that 247greenstreet hasn't sent anything. Grrr... I am so frustrated and irritated. Why claim to give out cash fast when it's taking longer than three days? That defeats the point of fast cash. I probably won't receive funds until Wednesday. If I don't get it tomorrow, I am canceling -- hopefully there are no issues with that. After this point I will never give this company my business again.

24/7 green street are crooks, they bulled me, hustle me, an stress me out over some money i apply for then cancel in there 48 hours cancellation policy.. then they called me at work an try'd to make me take the money, after i said i didnt wont it...I called an email an called an email, then they try'd to wait to the last min to send me a reply ''''talking bout if i dont call or email them giving them permission to get there funds, that i didnt wont in the 1 place, that i cancel with in the 48 hours''', that i would be charge an have to pay the fee of there services, . what i bunch of bull, , they are crooks, they are hustler, an so un-professional...i mean i cancel before they even put there money in my acct. an because i cancel with in 48 hours, they still try'd to make take there money, even though it wasn't even in my back acct.'''''''''''WARNING''''''''''' DONT DO BUSINESS WITH THIS COMPANY THEY ARE A BUNCH OF CROOKS...

Dear "The Victom336", Unfortunately I viewed your comment after I submitted the request for a loan of $400.00
They stated that a deposit would be made by end of business today 10/31/11, but for some reason there is nothing there. Maybe they are afraid of depositing in Wells Fargo. This might be a blessing in disguise for me. Princess.

Just to inform you that I borrow money from this company. The money was in fact deposit in my bank account that same day. I haven't had any issues thus far... they do charge a rate for services / interest (example of expected payback was about $22.6 / each $100 borrowed). I guess being a first time borrower from this institution was risky, but it seemed to have worked out for me. I would not hesitate to borrow again if need be.

I recently borrowed from them, and i had NO PROBLEMS my money was deposited in less than 24 hours, I WILL USE THEM AGAIN if needed, to those who had problems I understand your frustration especially when you are in dire straits for CASH, .

worked well with me at first... i borrowed 7 times and paid back on time. My only complaint is that the last time i could not pay all of the amount back on time, and they immediately began calling me, threatening wage garnishment before we had even had a chance to settle or make payment arrangements! I tried to call them, and they said my "caseworker" Jazz or something like that was not in, and she was scheduled to call me back at a certain day, blah, blah..every time she calls, she leaves weird messages, and if i call right back, i can never get a hold of her. i would close my account and keep in trying to make arrangements.. oh and how ironic in the abc spell check on this website they misspelled the word misspelled!! Check the abc box to the side...tooo funny!!

smartest thing...just avoid payday or internet loans..period!!

This company is diffidently crooks they will take you for every penny they can and then try to get more. If you tell them you can only make payments they threaten you and will continue to. Don't let them bully you they are in Malda India and try to make you think there laws are our laws. if you have problems with them check your state laws there is a very good chance that there not license or your state might have limitations on the amount that can be charged for fees number of loans you can have out and the total for those loans. Know your laws and push back.

They are robbers i borrowed 500$ and when it was time to pay back agreement was 700$ but when i went to my account my whole check of 950$ was empty. I then talked to my bank and they printed statements and proof there it was. I then called them and cursed someone out and they sat there and try telling me that my bank was lying. Lmfao i still going thru stress because of them. They harrass ppl. Plus if u think about it the always pull money out in two transaction s if ur bank has fees believe it messes with you

I have had to borrow from them numerous times and I was well aware of their astonomical interest rates before signing on the dotted line. I have always paid my loan back as agreed, never late. I highly recomend this company. You are better off paying the high interest rate with them then being late paying off a credit card. I use these loans to stay current on my credit cards. If your late with the credit card companies they not only harass you they report you to the credit angencies and that causes huge issues with your credit rating.
If you pay back your note on time this company is a great resource for quick cash to cover emergencies. I recomend them highly.

Trying to serve my mom papers to take her to court. Its been a year and we have the email stating that the loan was paid. But they are saying that she has'nt and they want 8oo dollars now when the loan was only for 2oo over a year ago.

STOP WASTING YOUR MONEY AND PAYING ALL INTEREST! YES! I SAID ALL INTEREST! I JUST FOUND OUT ABOUT DOING PAYDAY LOAN CONSOLIDATION! IT'S THE BEST THING IN THE WORLD! I GOT A VOICEMAIL FROM BE FREE FINANCIAL AND CALLED BACK. THIS COMPANY IS LEGIT AND HELPED ME SAVE OVER $7940 ON MY 5 PAYDAY LOANS. STOP PAYING THESE CROOKS!! CALL THEM ASAP IF YOU NEED HELP!

888-926-1337
www.befreefinancial.com

I've been dealing with 247greenstreet for over a year now and have had no problems at all. The funds are always available quickly and are promptly and accurately removed from my bank account on the day they say it will be. I've even canceled once within the 48 hours and it was a smooth process. The rates are a little high but it's better than being late on other bills that have long lasting concequences.



Videos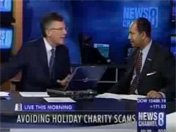 Latest Groups
Today's Mess-Up Photo